Rotary International, the only service organisation to have a seat in the UN Assembly (Non-voting), has appointed the first female Sri Lankan Governor of Rotary Sri Lanka Gowri Rajan as the Vice Chair of the Rotary International 'Futures Committee' which is the first of its kind globally.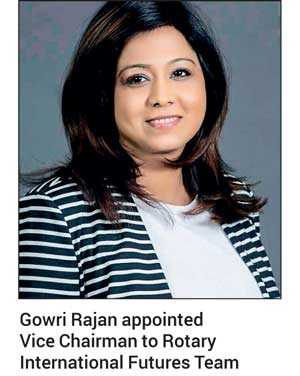 The Futures Committee will review issues related to the governance of Rotary International, including governance procedures utilised by the Board, and provide advice and recommendations to the Board as it deems appropriate or at the request of the Board.

Gowri also sits on the 'Rotary Young Past District Governor's – Global Committee', where six selected top performers provides the insight of younger leadership to help the Rotary International Board that make strategic decisions that will attract younger professionals into the organisation and into Rotary leadership positions.

A respected business personality from hill country of Sri Lanka, Gowri Rajan is the Group Executive Director/CMO of Sun and Asoka Group of Companies, market leader in the safety matches industry has today become a diversified conglomerate in the business of bottled drinking water, printing, hauliers and education.

Academically a graduate from the University of Bangalore, she read for her MBA from the University of Peradeniya and is currently reading for PhD in Business Administration.

Gowri has the distinction of taking the challenge to raise over $ 400 million by pursuing public private partnership on several humanitarian projects including the setting up of the first ever Human Heart Valve Tissue Bank in Sri Lanka and the one million tree planting project that was launched by Miss World in 2015.

Her visionary leadership resulted in Sri Lanka being placed number two globally for highest per capita giving to the Rotary Foundation. She was recently awarded the Rotary's highest accolade of Service above Self Award by Rotary International which is-bestowed upon not more than 150 Rotarians among 1.2 million members globally.

She is a double awardee of the WIM – 'Most Inspirational Woman of the Year' in 2013 and in 2017 together with the World Bank (IFC)/WIM recognised her as the Top 50 Professional Women in Sri Lanka for the 'Best International Women leadership Award'.