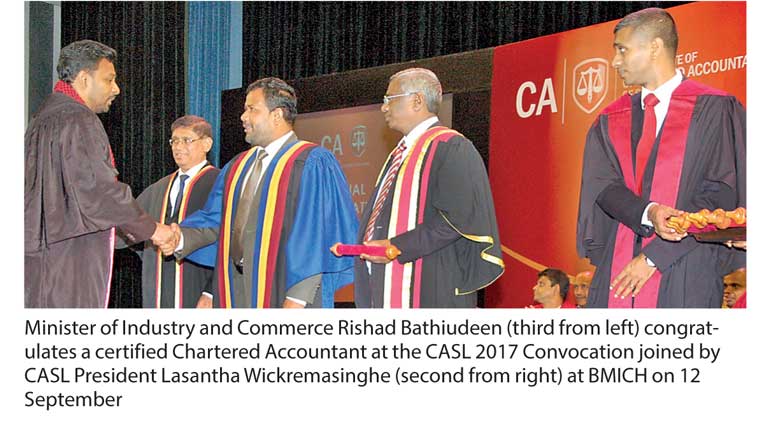 'Upcoming Certified Accountants' incorporation problematic for CAs' – Rishad
Says will arrange discussions between the MP & CAs 'to sort out'
CASL growing: 44,000
CAs, another 5,400 in Member Grade at present
"CAs highly employable" – Rishad
Says upcoming Certified Accountants can affect high standards
Sri Lankan accountants' role in proposed economic reforms cannot be overstated – and any new accountancy bodies to be established should take care to not to degrade the worldwide reputation and integrity of Lankan chartered accountants.

"As we prepare for more and more economic reforms, the role of accountants too has become increasingly important," stressed Minister of Industry and Commerce Rishad Bathiudeen on 12 September. Minister Bathiudeen was addressing the 2017 annual convocation of Chartered Accountants of Sri Lanka (CASL) at BMICH. CASL falls under the purview of the Ministry of Industry and Commerce. CASL was established by an Act of Parliament in 1959. Joining Minister Bathiudeen at the convocation was CASL President Lasantha Wickremasinghe. At the event Minister Bathiudeen too awarded some certificates to new Associates and Fellow Members.

"CASL has played a great role in producing Chartered Accountants for over 57 years. As we prepare for more and more economic reforms under the Unity Government of President Maithripala Sirisena and Prime Minister Ranil Wickremesinghe, the role of well qualified accountants has become increasingly important to the economy. Sri Lankan Chartered Accountants earn high respect both at local and international levels and due to the high quality and integrity they show their reputation is widely known. This is the reason they are highly employable," said Minister Bathiudeen, and added: "Every year the institute produces hundreds of new Chartered Accountants who go on to become corporate professionals and leading accountants. I congratulate the latest batch of graduates and the existing Members who are being conferred Fellowship status today. I commend the institute for propagating the importance of this qualification to every part of Sri Lanka affording the opportunity to the youth in the country including rural areas to realise their professional dreams while commanding local and international recognition and respect. I am given to understand that a new Certified Accountants' institution is to be established as a private MP bill and the Chartered Accountants of Sri Lanka are worried as they are not pleased of its accounting standards and it could overcrowd the profession here and bring down the standards. I believe any new Accountancy bodies to be established should take care to not to degrade the reputation and integrity of Lankan Chartered Accountants. I shall facilitate some discussions with the relevant Member together with you and to sort this out. The fact that the institute offers a large number of scholarships annually is yet another encouraging development and shows CASL's commitment to promote economically backward but promising students across the country."

CASL, under the purview of Ministry of Industry and Commerce is one of the largest accounting and financial professional bodies in the country with a growing 'Student Member' strength (over 44,000 at present) and with another 5,600 'Professional Member' strength.