A unique training and development program themed as 'Power of Effective Communications and High Impact Presentations' has been designed and will be launched on 27 September, from 9 a.m. for a full day, at Cinnamon Lakeside, by Spectrum Trainers and Corporate Consultants.

Spectrum is dedicated to nurturing, transforming and empowering corporate team leaders and corporate executives as well as aspiring professionals to hone and fine tune their skills of leadership and personal capacities to be able to contribute at incremental levels to achieve sustainable performance excellence.

The vision of Spectrum is to build leadership skills and personal capacities as a means of supporting career growth of the next generation of corporate heads.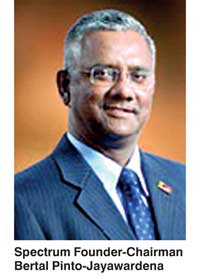 This latest training program by Spectrum has been structured, based on research amongst corporate executives and participants at the previous very successful training program. Those who were surveyed provided valuable information on career growth needs and on corporate expectations. It is based on this invaluable feedback that the program on communications and presentations has been designed and structured.

This program has accordingly been designed to be an exclusive empowerment, coaching and mentoring program that will inspire participants to further sharpen practical application of communication tips and presentation skills that will provide the edge to sharpening personal capacity and capabilities.

This program has been structured with a mentoring and peer review aspect being incorporated into the practical, hands on personal development that will be encouraged during the program. There will be follow up actions that will be required to ensure that participants can apply the training absorbed into further personal development. It is a specific objective that this will be a training program with a difference – and that it is not restricted to the day of the program; but that it has a unique, on-going personal developmental learning aspect, that enables participants to monitor their own progress.

Spectrum has brought together an experienced resource panel for this next program to be held on 27 September.

Spectrum Founder-Chairman Bertal Pinto-Jayawardena, a Chartered Accountant by profession, counts over 37 years of senior corporate leadership experience. He has gained valuable exposure in many of those years, in building up successful teams that have helped to transform businesses. His efforts have resulted in building leaders and empowering highly successful career growth in many of his former team members.

He is also the Founder Trustee of Unity Mission Trust, which to date has touched the lives of over 9,000 youth leaders across Sri Lanka, in the pursuit of fostering unity and integration and building of bridges of friendship through personal leadership development and capacity growth.

Associated with the Founder as Resource personnel for the next specialist program of Spectrum are two very experienced persons.

Shehara de Silva, a highly experienced Marketing and Communications specialist, who has held senior corporate leadership positions both in Sri Lanka and overseas. She has been head of a leading global brand consultancy organisation and has been strategy head of a multinational communication company based in Malaysia.

Major General Udaya Annesly Perera, who has recently retired from the Sri Lanka Army, brings his years of experience on communication from the field. He is also a specialist in teaching methods and higher education and has obtained MSc's from both USA and India. His last position in the Army was as Commandant of the Defence Services Command and Staff College. He is currently a lecturer at seats of Higher Education in Sri Lanka. His passion too is in educating, developing and strengthening young people.

Also partnering Spectrum's efforts is Kshyahla Pinto-Jayawardena, who is a Design Graduate, with award winning oratory experience. She will be demonstrating practical aspects of communication and presentation skills for use in a corporate environment.

Spectrum also offers corporate advisory services that range from business transformation to financial management and MIS systems as well as fine tuning of performance monitoring and reporting systems to facilitate better decisioning.

The portfolio of services includes a personally developed toolkit to assist corporates that need such support to fine-tune business performance in order to achieve growth and sustainable success.

The personally designed toolkit by the Founder of Spectrum, includes a dashboard for business performance management; liquidity management decision box; traffic light system linked to implementation of managerial actions; building milestones for performance planning and target setting; using a run rates system against team and business targets and the practical linkage of promotion, PR and marketing to bottom line targets, as well as guidance on operating effective corporate governance and operational risk management systems. Also included is a successfully proven Performance Incentive Model to reward achievement.

Spectrum undertakes developing of strategic plans as well as annual business performance plans for corporates and financial control systems for such companies that need professional expertise to fine-tune important structural aspects to achieve financial breakout and sustainable success.

Specific in-house training programs are also available to corporates that need this specialised input to inspire and motivate their functional teams.

Such programs will be developed based on consideration of the unique business situation of each corporate, specifically tailored to adapt to competition faced, challenges to be overcome and opportunities available being built into the team building as well as high potential staff training programs that will be on offer.

More information on the special program on 'Power of Effective Communication and High Impact Presentations' or on other consultancy assistance can be obtained from the company's website: www.spectrumconsultants.lk or by telephone on 0766043913/0768360103.