Shiraz Latiff, CEO Consulus Lanka and Managing Director of Hummingbird International, addressed the Shape the World Summit 2019 at the National Design Center Singapore on 21 June.

The global innovation consultancy, Consulus and one of Asia-Pacific's leading multi-disciplinary infrastructure and building management consultancy, CPG Group Singapore jointly organised the summit, on the theme of 'Designing a More Equitable Economy'. The event had more than 300 participants, which was held over two days and with speakers from over 16 countries.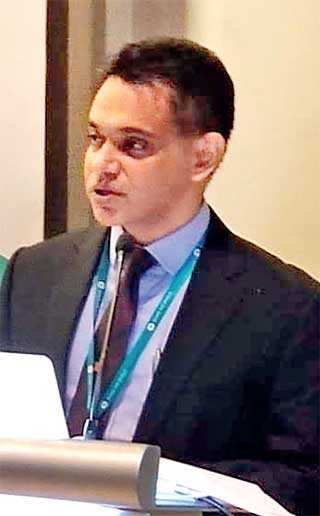 Shiraz Latiff
Keeping with the conference theme, the speakers were seeking to imagine new ideas for a more equitable world.

The speakers represented diverse backgrounds and shared how companies needed to do their part to address the World Economic Forum's clarion call for reshaping socio and economic rules to enable wider participation and sustainability.

The summit provided the opportunity for the participants to get insights from experts on creating an economic system that is fair and inclusive and addressed our social and societal injustices of inequity. Participants also had the opportunity to put their own ideas into practice though specific design labs scheduled each afternoon. The focal point of the conference was the 15th anniversary celebrations of Consulus as an Innovation and Design Consultancy. Since 2004 Consulus has served leaders, companies and cities in the Americas, Asia, Europe and Oceania to meet their innovation needs through a unifying approach that integrates business strategy, organisational development and experience design.

In Sri Lanka, Consulus is represented by its subsidiary Consulus Lanka Ltd., headed by Shiraz Latiff who was also the inaugural Global Chairman of the Group and is the Managing Director of Hummingbird International, a leading organisational design and technology consultancy in Sri Lanka.