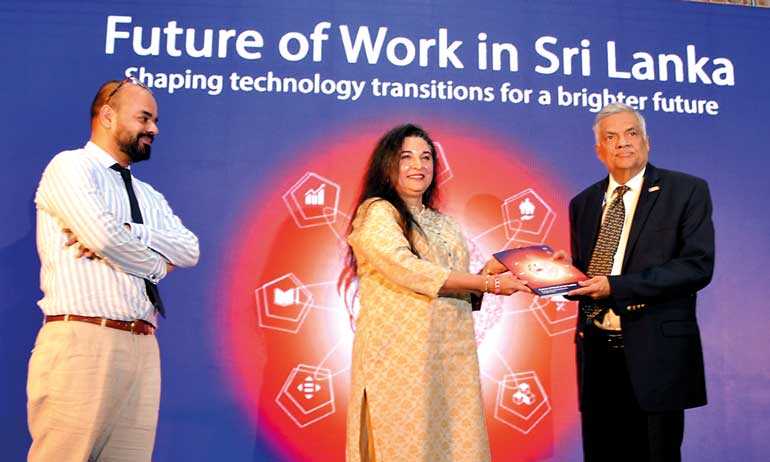 ILO Sri Lanka and Maldives Country Office Director Simrin Singh handS over the copy of 'Future of Work in Sri Lanka' ILO Centenary Report to Prime Minister Ranil Wickremesinghe. The report's lead author Dr. Vikrom Mathur is also present – Pix by Lasantha Kumara
---
ILO Sri Lanka launches 'The Future of Work in Sri Lanka' report


The International Labour Organisation (ILO) Country Office for Sri Lanka and the Maldives has released a milestone report: 'The Future of Work in Sri Lanka: Shaping technology transitions for a brighter future'. Prime Minister Ranil Wickremesinghe graced the event as the Chief Guest.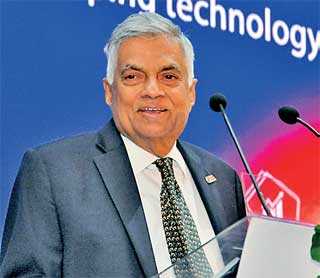 Prime Minister Ranil Wickremesinghe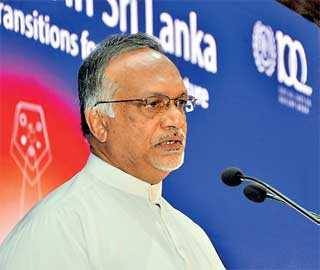 Labour and Trade Union Relations Minister Ravindra Samaraweera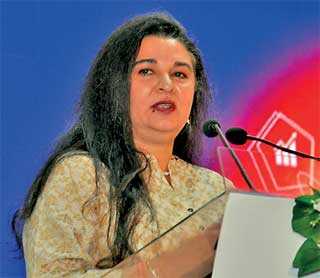 ILO Country Director Simrin Singh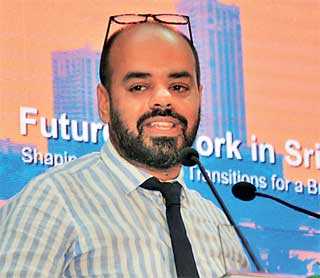 'The Future of Work in Sri Lanka' Lead Author Dr. Vikrom Mathur
The report by TANDEM Research tries to fill a genuine gap in the current debate on the impact of emerging technologies on the world of work in developing countries. Automation and job displacement; employment conditions (with an emphasis on labour welfare and social protection), and labour inequities, are the lens through which the Future of Work in Sri Lanka is examined.
In keeping with the ILO's Decent Work Agenda and mission of social justice, the recommendations in the report include policy suggestions for education and skilling for future jobs, technology and innovation to harness greater entrepreneurial potential and employment, labour protection to regulate and protect workers in the platform economy, and redistributing gains from technological transitions.

The report also develops 'propositions' on how to shape a better future of work for Sri Lanka from the point of view of the vulnerable, with implications to increase women's labour force participation, to tackle youth unemployment and under-employment challenge, and to care for a rapidly ageing society.

As Sri Lanka faces technological transitions, three vital 'bright spots' for are highlighted: the care economy, tourism, and green and sustainable business.

"While the impact of technology on the future of work is a global phenomenon, it is critical to reflect on and analyse these changes through a local lens. This report investigates the implications of Sri Lanka's unique local political, legal and socio-economic structures against an unsettled global backdrop and is a vital contribution to understanding the challenges and opportunities in the world of work for the next two decades," commented ILO Country Director for Sri Lanka and Maldives Simrin Singh.

"Many young people in Sri Lanka will not be interested in manual jobs but will not have the education and skills for the advanced jobs. The social and political consequences of a large pool of young people who can't find jobs that meet their aspirations could be challenging. Skilling and constant re-skilling need to be the most critical priority. Vocational skilling will not be enough – a focus on foundation education is critical for ensuring aptitude for life-long learning," noted lead author Dr. Vikrom Mathur of TANDEM Research, speaking about the changing world of work in Sri Lanka and its implications for the next generation.

This landmark report in the ILO's centenary year is a result of multiple consultations with the ILO in Sri Lanka's tripartite constituents, youth, platform workers, entrepreneurs, exporters, academics and development practitioners. It provides the basis for anticipatory policy frameworks and to spur social dialogue to ensure that no one will be left behind in the world of work in Sri Lanka.

The International Labour Organisation (ILO) is the United Nations agency for the world of work. Devoted to advancing social justice, it promotes a Decent Work Agenda based on four strategic pillars: rights at work, decent employment opportunities, social protection and social dialogue.

It is the only public international organisation which is tripartite, where workers and employers enjoy equal rights with governments in representation and decision making. Together they set labour standards, develop policies and devise programs upholding decent and productive work, in conditions of freedom, equity, security and dignity for all.

Created in 1919 as part of the Treaty of Versailles that ended World War I, the ILO became the first specialised agency of the UN in 1946. Today it is recognised as the world's authority on the world of work, offering over 100 years of knowledge, experience and achievements.

Sri Lanka became a member of the ILO in 1948. In 1984 the ILO Country Office in Colombo was established. In 2009, the ILO Country Office expanded its coverage to include the Maldives.
Since 2006 Sri Lanka has designed and executed three Decent Work Country Programs (DWCPs). The ongoing fourth Decent Work Country Program (2018-2022) has three Country Priorities, and these are the creation of sustainable, inclusive and decent employment; better governance of the labour market; and rights at work for all; and with greater data and knowledge generation as an enabling priority across the DWCP.

The ILO's social partners in Sri Lanka include the subject ministries for Labour, Foreign Employment, Skills Development and Vocational Training, the Employers' Federation of Ceylon, and trade unions.