---
Prominent media and marketing personality Saranga Wijeyarathne delivered keynote addresses at two international forums in China and Cambodia last week– the China-South Asia Cooperation Forum (CSACF) in Kunming, and the Asia Media Summit in Cambodia.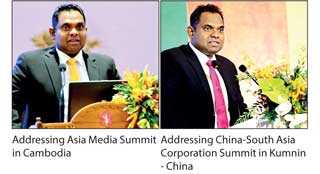 Saranga, the Director General of Sri Lanka Rupavahini Corporation, spoke on the theme 'Stronger Media Corporation to Strengthen Bilateral Relationships' on 11 June in Kunming. Two days later, he gave an address on'Digitalisation and Media Credibility'at the Asia Media Summit.

The China-South Asia Cooperation Forum was organised by the Foreign Ministry of the Peoples' Republic of China, focusing on enhancing economic, trade, investment, connectivity and social development between China and other Asian nations. The forum had delegates from 23 countries and Saranga was among media heads from China, India, Korea, Nepal, Bangladesh, Iran and Afghanistan who delivered speeches.

The Asia Media Summit in Cambodia, on the theme of 'Media Digitalisation: Focusing on Developing Markets', had more than 600 participants from 43 countries and Saranga delivered his speech at the CEO roundtable which was chaired by Fayyaz Shehryar, Director General of All India Radio. Other speakers at the CEO session were from China, South Korea, Malaysia, Fiji, Philippines, Bhutan and Iran.

Several high profile political and business leaders from various countries attended the inauguration ceremony of the forum at which the Chief Guest was His Excellency Hun Sen, Prime Minister of Cambodia. This was the 16th edition of the Asia Media Forum which is regarded as the largest gathering of electronic media professionals in the Asia Pacific region.

Saranga was the only media head from a Sri Lankan media organisation to give a speech at both these summits.

While speaking at the CSACF in China, Saranga highlighted the importance of giving more opportunities for media professionals to understand priorities, sentiments and opportunities of China and other countries as they shape opinion of people in their respective countries towards having a better understanding and respect among people of these countries. In the Cambodian forum Saranga presented facts on the development and acceptance of new media across the globe and how it has affected the decrease of credibility and trust of media as a whole.

Saranga was a prominent speaker in numerous forums worldwide and his speech at Asia Media Leaders' Summit 2019, Hainan – China on 'Responsibility of Mass Media for the Development of Asian Region' was the most recent engagement before these two forums in China and Cambodia. He has delivered the keynote address at the World Printers Forum of the World Association of Newspapers in the Netherlands, Middle East Newspaper Congress in the United Arab Emirates, International Printing Summit in Germany, Publish Asia in India, the International News Design Conference in India, and the International Conference on CSR in Colombo.