Sri Lanka Technological Campus (SLTC), Sri Lanka's only corporate-powered, research-based, fully residential Engineering and Technology university campus, is attracting a record number of student registrations for the 2018 intake for the newly-launched BSc (Hons) & BTech (Hons) degree programs.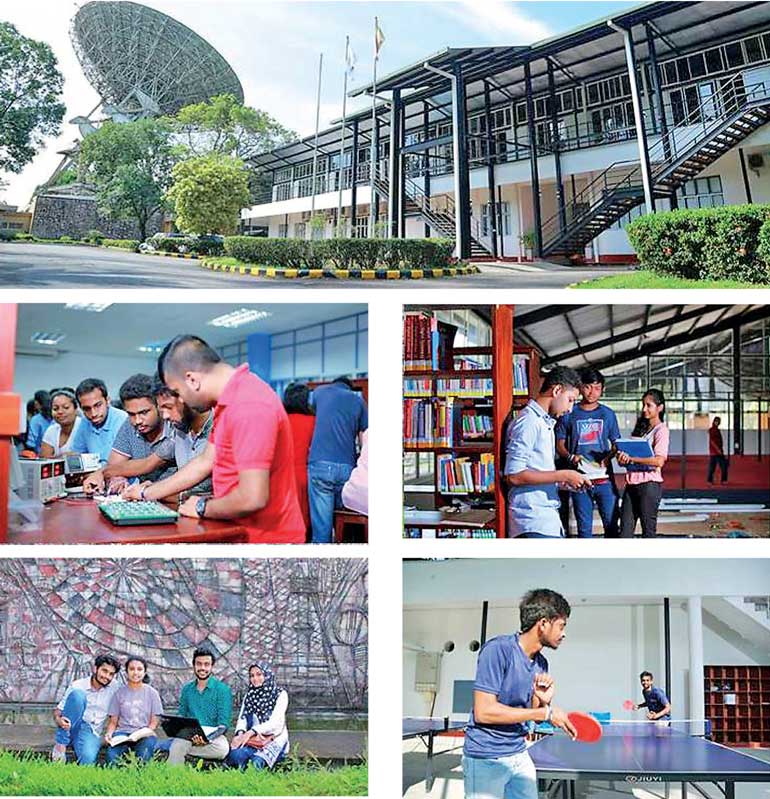 SLTC, identifying the increasing demand for quality graduates in the fast-progressing engineering and technological fields, has introduced six new degree programs in those respective areas this year, namely: BSc (Hons) (Eng) in Mechatronics, BSc (Hons) (Eng) in Civil Engineering, BSc (Hons) in Quantity Surveying, BSc (Hons) in Bio Systems and BTech (Hons) degree programs in Agricultural Technology, Environmental Technology and Financial Technology.

Launched with the aim of fulfilling the national need to provide much-needed quality higher education to Sri Lankan youth, SLTC conducts undergraduate and postgraduate degree programs on par with international standards, in collaboration with globally reputed and highly ranked universities. Currently SLTC offers degree programs partnering with Lancaster University, UK and Deakin University, Australia. A fully-owned subsidiary of Sri Lanka Telecom PLC, SLTC is the only government-accredited residential Engineering university campus to offer Engineering and Technology degree programs in the country.

"SLTC was created with the clear vision to fill the vacuum for quality higher education in the spheres of engineering and technology. As the country progresses towards development, the demand for qualified professionals in these disciplines becomes increasingly relevant and rapidly increasing. Just like the existing degree programs, our new degree programs are designed to provide sound theoretical, practical and analytical knowledge with the fundamentals of engineering and technology," said SLTC Founder, President & CEO Ranjith Rubasinghe.

"As Sri Lanka's only corporate-backed higher education institute, we offer our students many benefits that cannot be competed with. These include guaranteed internships, and countless other benefits stemming from our many global affiliations and corporate strengths. We are the only Sri Lankan university campus that's geared to provide on-campus residential facilities to all our students. We are very well equipped to transform our graduates into professionals capable of taking the country forward. In order to create more opportunities for students, we have also introduced the special scholarship scheme; ENTECH which is the only A/L merit based scholarship scheme in the country. We are confident that this scholarship program will contribute much to build the next generation of Sri Lankan engineering and technological professionals,'' Rubasinghe further added.

SLTC's ENTECH Youth Excellence scholarship program is the only one of its kind in Sri Lanka, where deserving students who excelled in their GCE A/L's are presented the opportunity of world-class education at affordable fees. The eligibility criteria for ENTECH scholarships presents a wide array of grants ranging from full scholarships to part scholarships, based on the students' AL results. Thus, the students with 3 A passes at GCE A/L are eligible for full (100%) scholarships and students will receive a 30% grant for each A pass, 20% for each B pass and 10% for each C pass under this pioneering scheme.

SLT Campus is the first academic institute in Sri Lanka to practice student-centred and outcome-based teaching methods with a heavy emphasis on research. As a result SLTC graduates are equipped with the knowledge and expertise to immediately start working in their specialised fields. It is a university campus that is committed to the personal and intellectual progress of its undergraduates and provides an environment that motivates them through broad imagination, critical thinking and collaborative work to propel knowledge.

The campus is located at the iconic SLT Satellite Earth Station in Padukka, which is easily accessible from Colombo via common transport modes and can accommodate students in a comfortable environment located on a sprawling 35-acre property. The campus also has all required facilities including laboratories, classrooms, auditorium and libraries. The administrative office and the city campus are based at TRACE expert city in Maradana.