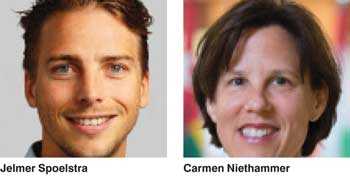 The Sri Lanka Association for Software and Services Companies (SLASSCOM) will bring together leading HR professionals and corporate leaders from global IT/BPM companies to discuss and create awareness about world-class HR practices adopted by progressive companies at the 'SLASSCOM HR Talk and Networking Session' today. Organised by SLASSCOM, the discussion will be held at 4.30pm at Shangri La Colombo, to provide an opportunity for the knowledge industry HR teams to share information, agree on compliance and standards, share best practices, elevate industry practices as a whole and also network closely.

ISM eGroup Global HR Director Jelmer Spolstra will deliver the keynote address on 'Future of Work', while Women in Work at International Finance Corporation (IFC) Program Manager Carmen Niethammer share insights on 'Effective anti-sexual harassment mechanisms'.

The SLASSCOM HR Talk and Networking Session is targeted at HR professionals, senior leaders, HR students and business managers who are responsible for people strategy.

The discussion will also enable organisations and individuals to leverage the new perspectives in their own companies.

SLASSCOM acts as a catalyst of growth of the Sri Lankan IT and BPM industry by facilitating trade and business, propagation of education and employment, encouragement of research and innovation, and by supporting the creation of a progressive national policy framework.

The Association of Human Resource Professionals Partner (HRP) is the Official Partner of the event, while the Hospitality Partner was Shangri-La Hotel, Colombo. Daily FT is the Print Media Partner.