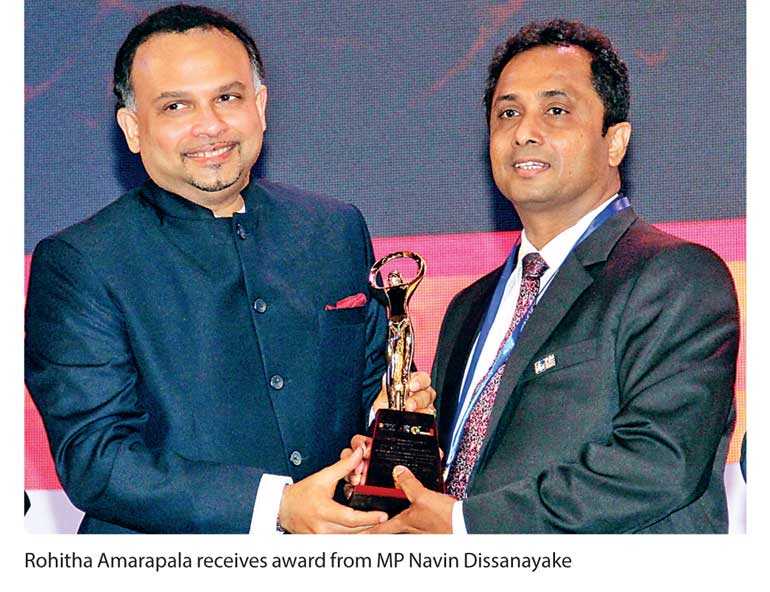 IPM Sri Lanka, the nation's leader in human resource management, presented the prestigious IPM Lifetime Gold Award 2018 to an experienced human resource professional, Rohitha Amarapala at the inauguration ceremony of the recently concluded IPM National Human Resource Conference (NHRC) 2018.

Amarapala was selected as the IPM Lifetime Gold Award 2018 winner after an extensive evaluation process conducted by the IPM Lifetime Achiever Awards Committee in an impartial and transparent manner. The committee comprised of reputed personalities from the corporate sector as well as the HR fraternity including academia.

IPM Sri Lanka presents the IPM Lifetime Gold Award to one individual in the HR fraternity every year who has made an outstanding contribution to uplift and strengthen the HR profession in Sri Lanka by evaluation of their overall contribution to the profession at organisational, national and international levels.

"Rohitha Amarapala is indeed an outstanding HR professional who has contributed immensely towards uplifting the HR profession in Sri Lanka as well as the region. His many initiatives have contributed to the expansion and the achievement of a high level of recognition of the HR profession in Sri Lanka while helping to position HR as a rewarding career for young aspiring individuals," said IPM Sri Lanka President Prof. Ajantha Dharmasiri.

Rohitha Amarapala, currently serving as the Deputy General Manager-Human Resources, Employee Relations and Administration at Sri Lanka Insurance, counts over 20 years of senior management experience in the field of HRM, development and general administration in reputed public, private and multinational organisations. He is a versatile professional with a high level of professionalism, personal credibility and integrity. Amarapala is a specialist in organisational transformation and development initiatives involved in complex business models (Restructuring, Organisational Development, Re-modelling, etc.), and is an able communicator with excellent networking and people management skills with a proven track record of academic and professional achievements. He served in organisations such as John Keells Holdings, People's Bank, Galle Face Hotel Management Company, Ceylon Hotels Corporation Ltd., Hutchison Telecommunications Lanka Ltd., Coca-Cola Beverages Sri Lanka Ltd., Taj Group of Hotels and Pan Asia Banking Corporation PLC holding senior roles during his illustrious career in the industry.

Sri Lanka Insurance Chairman Hemaka Amarasuriya expressing his views said, "I am pleased to note that Rohitha, our Deputy General Manager-Human Resource Management has been awarded IPM's 2018 Gold Award for Excellence. It is a lifetime achievement award which is restricted to the best HR practitioners in our country. As a member of our management team, Rohitha plays a very important role in the key area of HRM to bind the company together as one group. Our strategy today along with Rohitha is to bring the whole organisation towards one direction. So, I am very happy to note Rohitha's excellent work in the HR area over several organisations in several fields is being recognised and rewarded by IPM."

Commander of the SL Army-Mahesh Senanayake commenting on Rohitha's achievement said, "I am happy to hear that one of our officers who served with us in combat is being awarded the IPM Lifetime Gold Award for the year 2018. We as soldiers and officers are very proud to hear that one of our brother officers who sacrificed his younger days to bring the peace that is enjoyed by everybody today is being recognised by the professionals of HR with the highest medal. I am very happy to see that he has been recognised by the professionals and awarded this important, prestigious medal which is an inspiration for the other officers in the armed forces to understand that the Army, Navy and Air Force train them in a way that they will lead this country forward."

"I am delighted that my contributions to the HR fraternity and my efforts to uplift the HR profession in Sri Lanka as well as in the region have been recognised with this prestigious award. I take this opportunity to thank all my previous organisations and fellow HR professionals at IPM Sri Lanka who served in the various committees to make these initiatives bear fruit," said Rohitha Amarapala. Amarapala holds an MBA from the University of Western Sydney, Australia and National Diploma in HRM from IPM. He is the immediate past President of IPM and a fellow member of IPM and Chartered Management Institute UK. He is also a winner of the prestigious 'Pride of HR Profession Award' the highest honour that an individual could receive for his or her contribution to the HR profession at the World HRD Congress 2010 held in Mumbai, India. Amarapala was conferred the "Rana Soora Padakkama" gallantry award on two occasions by the President of Sri Lanka for acts of bravery and distinguished conduct during his military career.