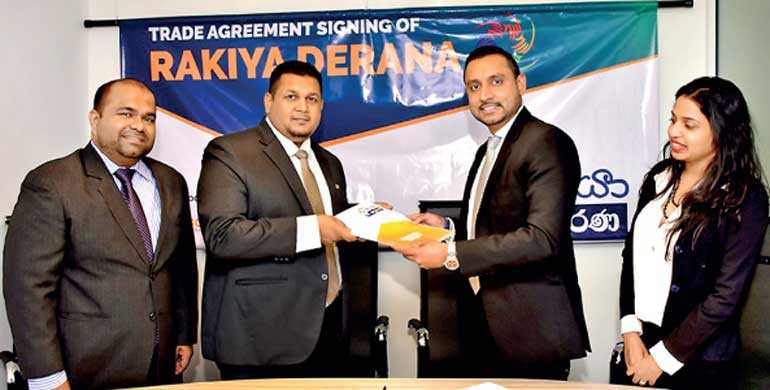 ---
Capital One Holdings and O2 Software signed an agreement marking the first such agreement to mark the commencement of Rakiya Derana that tries to help youth find local and foreign jobs.

Capital One Holdings Managing Director Veranga Vithanaarachchi and O2 Software Chairman Roshan Haasim signed the agreement.

Around $ 1.3 million is expected to be invested on Rakiya Derana. Initially a data bank of job expecting youth will be created that will link youth looking for jobs and companies with vacancies. Moreover a special initiative will be implemented to provide necessary training and qualifications.

One does not need a computer or an internet connection to register with Rakiya Derana. Those without such facilities can send in an application via post.

Rakiya Derana also expects to focus more on foreign jobs and is trying to be a hub that links youth with foreign employment agencies. This will also help with our balance of payments issues. Remittances by Sri Lankans working abroad is our main source of foreign revenue. However those funds are diminishing and other countries of the region are passing us by. They are encouraging youth to obtain necessary qualifications to find jobs abroad. Rakiya Derana however attempts to change that trend.

Rakiya Derana also attempts reach out to foreign employment providers in other countries. In the future Rakiya Derana will be expanded to India, Nepal and Bangladesh.

O2 Software Chief Operations Officer Salman Fariz said that Rakiya Derana is not like an ordinary job bank. "This is something that will reach other countries. Anyone looking for a job can register at Rakiya Derana. Local companies as well as foreign employment agencies are involved. Thus any company can find the kind of people they are looking for."

"If there are youth who have not completed the necessary qualifications for a particular job, Rakiya Derana will help them achieve these qualifications. Rakiya Derana is also linked to foreign employment. Right now most people leave the country as housemaids. We need to change this and send professionals out. Rakiya Derana will thus link those looking for foreign employment with those provide foreign employment. We don't act as a foreign employment agent," he said.

Rakiya Derana will increase chances of obtaining foreign jobs. As with local companies, youth who need to achieve certain qualifications needed for foreign employment will be assisted.

The concept forwarded by a software company is being propelled forth by Capital One Holdings.

Vithanaarachchi said that Rakiya Derana attempts to bridge the gap between job seekers and those who offer jobs. "There is a gap between the skills candidates have and what companies want, we will address this too. Rakiya Derana will provide a quick fix to this. As a company we think of expanding markets and increasing jobs. In Sri Lanka people with qualifications struggle to find jobs. Rakiya Derana attempts to create a culture where you find a job based on your qualifications and not on connections. Through Rakiya Derana foreign employment will also increase and these jobs will be safe."

Rakiya Derana is expected to start early this year.