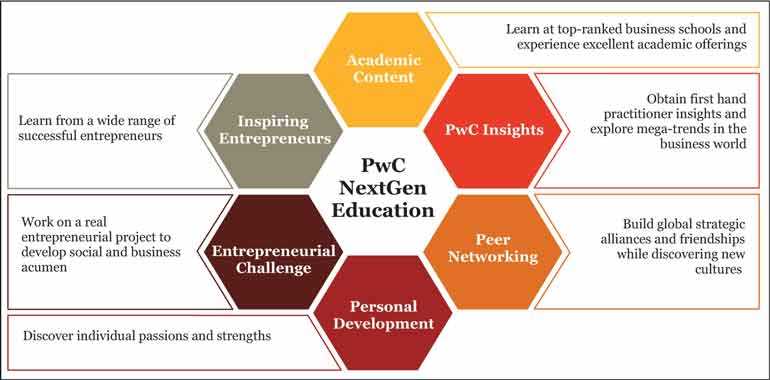 ---
During a period of extraordinary transformation, how can the next generation of family businesses play a role in tackling digital disruption and rapid globalisation while preserving the values of business? The PricewaterhouseCoopers NextGen offerings have been designed to support next-generation members of successful family businesses across the globe as they acquire knowledge, confidence and leadership skills they will need to rise to this challenge. PwC through its office in Colombo will be making this unique opportunity available to all leading Sri Lankan family businesses.

Planning for business succession depends on a wide range of considerations – not least the decision by the next generation whether a future in their family's business is right for them. Regardless of whether or not they do take over the family business at some point, understanding the value of entrepreneurship will be key to their personal and business growth. PwC's global advisory services on family business has committed itself to supporting young entrepreneurs and successors on their individual journey to success, with an array of cross-cultural networking and educational opportunities. PwC works closely with a multitude of family businesses across the world to support them with areas including succession planning and next generation development as well as private wealth management.

PwC NextGen 2019 – is a holistic approach to guiding young entrepreneurs and successors through their individual journeys to success. The courses are conducted at renowned international business schools, enabling a perfect blend of academic knowledge, professional advice and peer networking. In a setting that is both exclusive and inclusive, young people from around the world can – within just one week – not only explore their strengths, accelerate their knowledge and learn how to lead, but also bond for life with a select group of their peers.

The Leader Academy Programme is designed for successors and entrepreneurs aged between 26 to 36 years old who want to create a leap in value for their businesses and build their own legacy and would cover topics including but not limited to family business challenges, family business governance and case studies, technology disruption and digitalisation and entrepreneurship and innovation in emerging markets.

The program would be jointly conducted by PwC and the China Europe International Business School in Shanghai, China. China Europe International Business School (CEIBS), a joint venture for management education, was co-founded by the Chinese government and European Union in 1994, with Shanghai Jiao Tong University and Brussels-based EFMD serving as its executive partners. It is the only business school in Asia to have been ranked in the Financial Times' top 30 list of MBA, EMBA and Executive Education programs.

Ruvini Fernando, Director of PPP Advisory and Deals Strategy PwC Sri Lanka commented, "Given that the majority of successful and pre-eminent Sri Lankan businesses are family-owned, their contribution to the local economy is significant. Therefore, the focus on succession and rapid growth of family businesses over multiple generations is vital and helping families carry out the process of transitioning from one generation to the next is a key focus for PwC globally."

Further details on this program can be obtained from the PwC office in Colombo.