A Continuing Professional Development (CPD) seminar on 'Digital Innovation and the Future of Accounting', jointly organised by the Department of Accounting, Faculty of Management and Finance, University of Colombo and the Institute of Certified Management Accountants of Sri Lanka will be held on Tuesday, 21 August from 5.30 p.m.-7.30 p.m. at the Faculty of Management and Finance of the University of Colombo.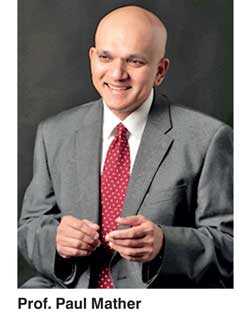 The seminar will be conducted by Prof. Paul Mather, MA, PhD, FCA (England & Wales), FCPA, GAICD, Professor of Accounting and Corporate Governance, La Trobe Business School, La Trobe University Australia and Divisional Councillor, CPA Australia. Prof. Mather is also a member of the Advisory Council of CMA Sri Lanka.

The objective of the seminar is to explore the impact of technological innovation on accounting and the resulting challenges and opportunities

The seminar will cover the following: the 4th Industrial Revolution; robotic process automation, AI, the proliferation of data and the impact on accounting and the way accountants work; the need for accountants to embrace change and enhance the value of their contribution to business and society and opportunities around capitalising on big data through data analytics.

The seminar will conclude with a question and answer session where participants will also have an opportunity to discuss practical applications and obtain any clarifications.

The seminar is meant for professional accountants, university graduates, government and state corporation accountants, finance professionals, MBA, academics in finance, accounting, management and technological professionals.

Those who wish to attend are requested to contact Shanthi on 071 4705536 or e-mail registrations@cma-srilanka.org on or before 18 August. Registration is free but limited and will be on a first-come, first-served basis.