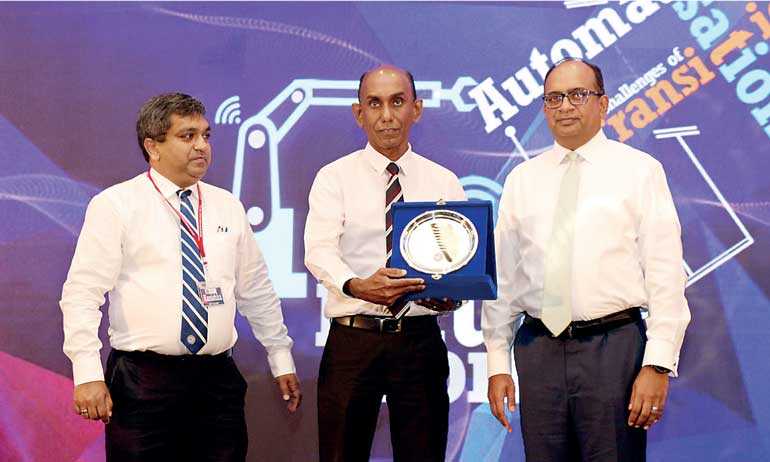 People's Bank sponsored the Employers' Symposium 2018, which was held at Galadari Hotel recently. Organised by the Employers Federation of Ceylon, the Employers' Symposium 2018 focused on a gamut of issues shaping the future of the work, including Impact of Digitalisation and Automation; Challenges of Transition; Future of Work and Managing Diversity under the theme, 'Shaping the Future of Work'.

The sponsorship award was accepted by Rasitha Gunawardena – Designate Chief Executive Officer/General Manager, from the Association. The event was attended by corporate leaders who shared their opinions. The Symposium comprised of a broader discussion based on case study presentations and panel discussions by eminent experts representing business, policy makers, corporate management as well as employers selected from a wide array of sectors.

As one of the largest employers in the country in the banking arena, People's Bank attributes its success to its base of over 10,000 employees. The national bank, which is driving digitisation aggressively across the enterprise, is having a positive impact on employees as well. People's Bank's digital journey is empowering its employees to leverage on technology to deliver a more customer oriented service to valued customers while delivering greater workplace satisfaction.

Since its inception 57 years ago, People's Bank has opened its doors to customers across the country, from all walks of life, providing them with banking services that meet their unique needs and uplift their lives. People's Bank currently serves over 10 million customers through 738 branches and its connected network of over 4000 ATMs is linked to the Lanka Pay gateway. The bank also continues to play an important role in encouraging various industries including agriculture, real estate, commercial development, small and medium enterprises and exports and this in turn has helped support communities across the country. People's Bank has always been a driver of financial inclusivity and was also the first bank in the country to commence bilingual operations in Sinhala and Tamil, and thereafter also introduced Sri Lanka's first trilingual cheque book.