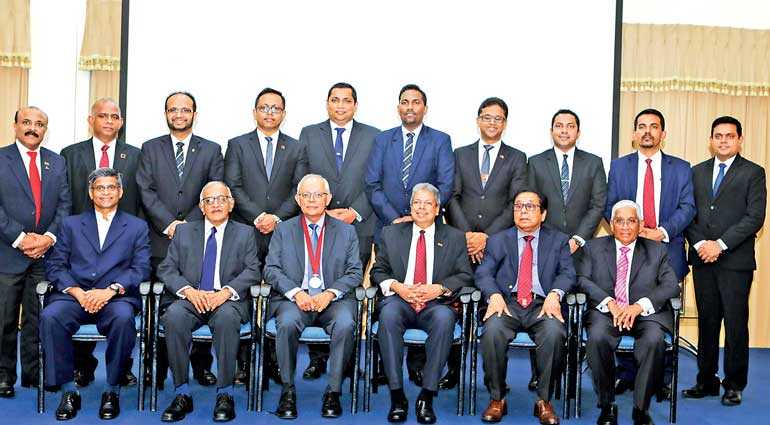 The Oration Operational Committee standing from left: PIMA President Jayala Hewawasam, SLIM President Suranjith Swaris, PIMA Vice President Denzil Perera, Sanjika Perera, Manthika Ranasinghe, PIMA Past President Dinesh Hamangoda, Dr. Jayatilleke, Dr. Rathnayaka. Oration Guidance Committee seated from left: Deepal Sooriyarachchi, Eardley Perera, Dr. Mahesh Amalean (Orator), PIM Director Prof. Ajantha Dharmasiri, Dr. Lloyd Fernando, Dehan Senevirathne
---
The Postgraduate Institute of Management (PIM) recently held the inaugural memorial oration for late Sri Lanka's finest marketing guru Prof. Uditha Liyanage, who played a key role as a senior faculty member in Marketing at PIM for over 20 years and had served as the Director of PIM and Chairman of the Institute's Board of Management. Prof. Liyanage was also the Chairman and President of CIM and SLIM respectively.
The event was graced by the mother of Prof Liyanage, wife Shriyani Liyanage and daughter Chathuri Liyanage.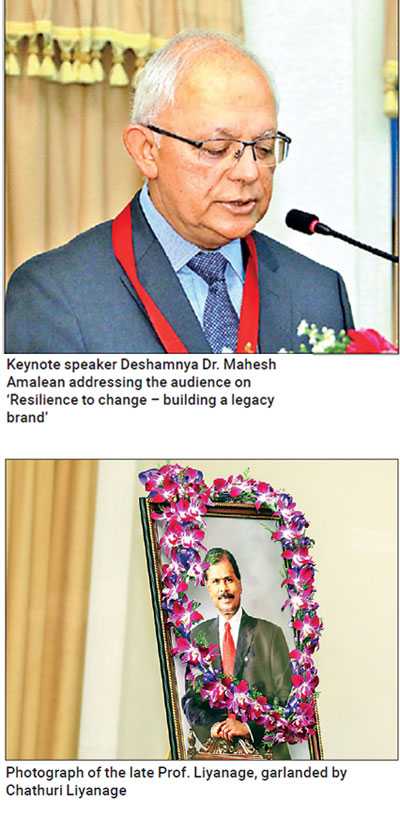 The event commenced with Chathuri Liyanage garlanding of the photograph of the late Prof. Liyanage, followed by a video presentation that walled the audience through Prof. Liyanage's life, showcasing his vibrant personality, his achievements and the immense contribution he had made to Sri Lanka's marketing landscape.

Prof. Liyanage was the first-ever Sri Lankan Honorary Fellow of the Asia Marketing Federation and was a Chartered Marketer and a Fellow of the Chartered Institute of Marketing (CIM). He was an Adjunct Professor of Management of University of Canberra, Australia and counted over 15 years of experience in the industry, having held senior marketing management positions on the boards of some of the leading companies in the country, such as Commercial Bank, DIMO, Chemanex and Ceylon Cold Stores.

He had published many articles on branding and strategic marketing, consumer insights and leadership in leading journals, both here and abroad, and had addressed numerous local and international conferences.

The keynote speaker at the inaugural memorial oration occasion, MAS Holdings Chairman and Co-Founder Deshamanya Dr. Mahesh Amalean addressed the audience on the topic 'Resilience to change – building a legacy brand'.

He emphasised on the importance of building an organisation on strong foundations of values such as honesty, integrity, trust, mutual respect and humility and in ensuring that every employee embodied these values and uphold them in all aspects of the business operations.

He stressed on the importance of investing in people and added that empowering employees and encouraging accountability was something Uditha had been passionate about. He said MAS had collaborated with Uditha to introduce the Postgraduate Diploma in Apparel Marketing at CIM and today has a large number of MBA graduates that serve leading companies in the apparel sector at all level of management.

Speaking on staying ahead of the competition Amalean stated that businesses must predict, predesign, prepare and deliver to continually stay ahead of changes which he described as the 'cycle of renewal'. He quoted Prof. Liyanage's thoughts on this subject and cited "Having a clear vision for the company supported by a robust strategy and a steadfast determination for implementation will enable a company to be successful".

Participated by many leading personalities in the field of marketing and education, who had at some point in time have had close association with Professor Liyanage as a teacher, mentor or an advisor. The full house of attendees at the occasion showcased the impact left by Prof. Liyanage as an unmatchable, exemplary personality that raised the bar of marketing to a new pedestal in the nation.

The event was organised by the Oration Operational Committee headed by PIM Alumni President Jayalal Hewawasam. The Committee consisted of PIM Alumni Vice President Denzil Perera, Immediate Past President Dinesh Hamangoda, SLIM President Suranjith Swaris, EXCO Members of SLIM Dr. Dilhan S. Jayatilleke and Manthika Ranasinghe and CIM Sri Lanka Past President Sanjika Perera. The inaugural oration was an idea of the Oration Guidance Committee, which is led by PIM Director Prof. Ajantha Dharmasiri. SLIM and CIM Sri Lanka region Founder Eardly Perera who guided the oration and the oration organising committee. SLIM Past President Dehan Senevirathna, Deepal Sooriyarachchi, Dr Lloyd Fernando were among the members of the oration guidance committee.

The oration will take place again in two years as it's a biennial oration.