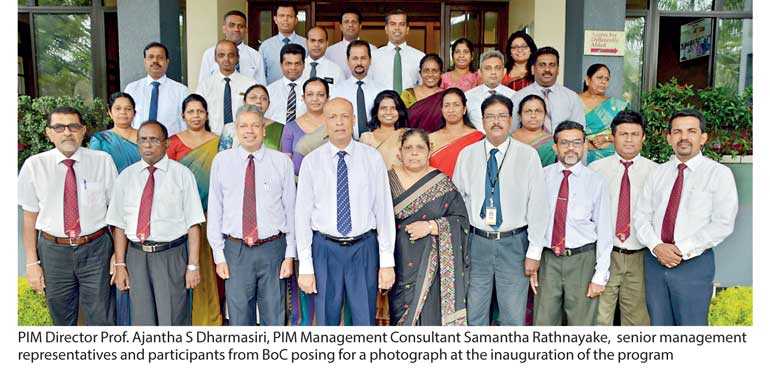 The Postgraduate Institute of Management, as the nation's management mentor, continuing its long-standing relationship with the Bank of Ceylon, the bankers to the nation, initiated an advanced course in strategic management through Glo-Bus simulation. The objective of the course was to enable senior leaders in the bank to get hands-on experience of a structured approach to run a business with a futuristic view.

The 5-month course was designed to help participants gain a competitive advantage by enhancing the ability to think strategically. The strenuous course structure includes regular lectures and class discussions on strategy concepts, multiple case-studies on strategic applications and Global Business Simulation (Glo-bus) Strategy game, a world renowned business simulation program.

PIM Director Prof. Ajantha S. Dharmasiri, Glo-bus Simulation Senior Consultant Dr. A K L Jayawardana, PIM Management Consultant Samantha Rathnayake, Deputy General Manager (Human Resources) K E D Sumanasiri, Assistant General Manager (Training and Development) A D S Indrani, BoC Chief Manager (Training & Development) S Vimalachandiran, and members of the PIM Faculty were present at the program inauguration.