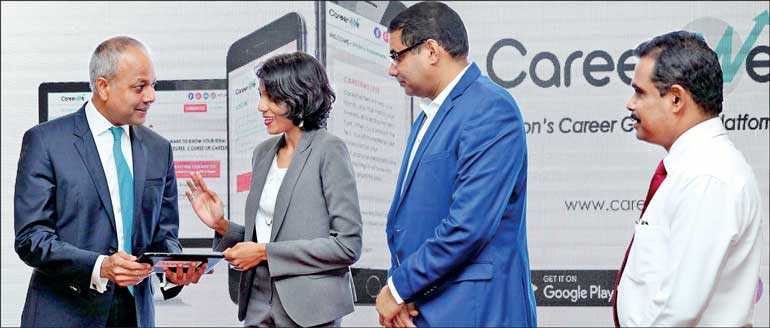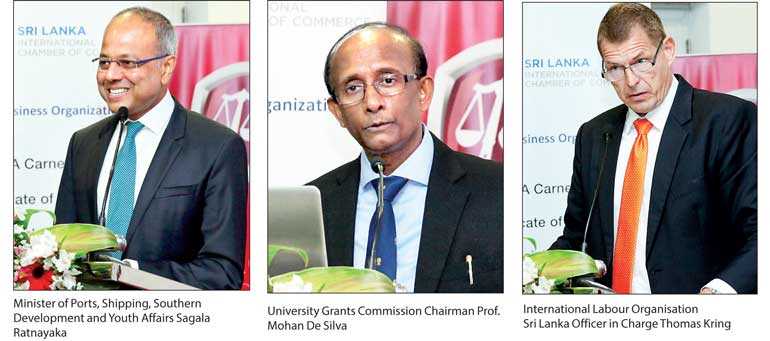 ---
CareerMe mobile app for career guidance launched
Minister says change in youth attitudes must to move forward
By Ruwandi Gamage
The CareerMe mobile app, a free, first of its kind mobile app in Sri Lanka, was launched by CareerMe recently, making it easier for students across the country to get career guidance at the touch of a fingertip.

The app is available on Google Play Store; access to the career guidance platform is available through www.careerme.lk. The app hosts free, interactive online career tools that help identify the best career and education paths, with personalised career guidance for students who have completed secondary and tertiary studies.

Speaking at the launch, Ports, Shipping, Southern Development and Youth Affairs Minister Sagala Ratnayaka mentioned the importance of attitude change in the youth of Sri Lanka towards employment in the face of technological disruption. He stated that in order to capitalise on the ever-changing challenges and opportunities, the Government and the private sector need to up-skill and re-skill the workforce, and also be geared towards attracting new human capital that is vital to meet the skill requirements of the modern era. The Minister further stated that although Sri Lanka has one of the most hardworking and productive human workforces, their skills never stay within the country.

"If the public and private sectors, the youth, the clergy, and the civil society don't come together and work together, we will get left behind in this fourth industrial revolution. We need to step in the right direction to do this, which is to get the attitude right. Because most of the people who come to my office with the need of a job placement, they request for a Government desk job," he stated.

According to a report done in March by the International Labour Organisation Sri Lanka (ILO Sri Lanka), about the future of work in Sri Lanka, it has been found that while in the short-term the tourism sector continues to hold a significant potential for employment creation, in the medium- to long-term, the care economy is expected to be seen with an increase of importance in job creation.

"The world is aging. By 2050, the total dependency ratio is projected to increase significantly, mostly in Europe (by 24.8%) but also in Asia (by 8.5%). Care personnel and facilities will be in increasing demand, both in Sri Lanka and abroad," ILO Sri Lanka Officer in Charge Thomas Kring added.

Kring further added that other sectors in Sri Lanka which are facing changes will be the plantation sector and in logistics, with automation and advanced technologies likely leading to a change in the current business models and the composition of labour.

According to this report, the type and quality of employment created in Sri Lanka will be impacted by two factors. One being the changes in types of employment, and the other, technological advances."Labour moves from traditional sectors with low productivity, and low salary, to sectors with higher productivity and higher pay. With Sri Lanka now a higher middle-income country, these are the changes that we already see happening. Each worker must be more productive. This means that he or she has often to use technology, in various forms, and that puts a demand on that worker's skills level and ability to quickly gain new skills," Kring said.

Kring explained how jobs which were largely unheard of 20 years ago, such as big data analyst, AI learning specialist, and e-commerce and social media specialist, are being created, while traditional jobs such as administrative and executive secretaries, financial analysts, cashiers, and ticket clerks are becoming redundant.

"When looking at the skills which are expected to be trending by 2022, the key words are analytical thinking, complex problem solving, technology design, and programming. While we may be uncertain about what kind of jobs technological advances will bring with it, we do know that they will be associated with higher skills requirements and more specialisation," he added.