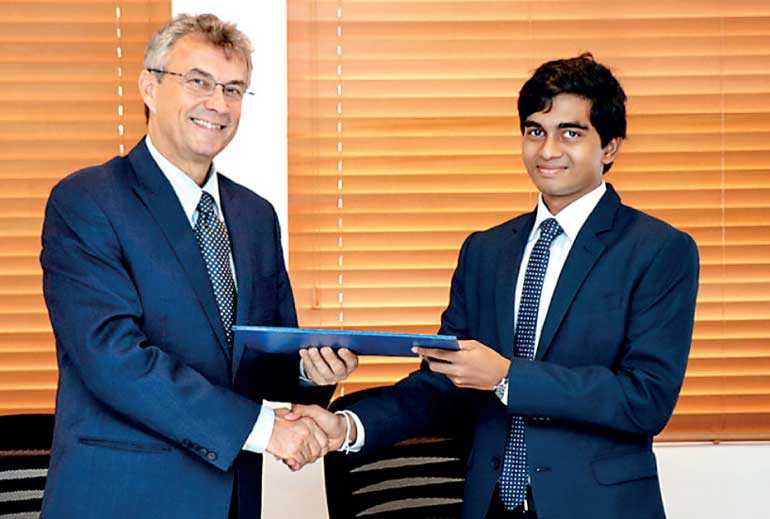 United Nations Development Program in Sri Lanka (UNDP) Country Director Jorn Sorensen and National Youth Model United Nations (NYMUN) Deputy Secretary General Amrit Edirisooriya signed a Memorandum of Understanding (MOU) as a partnership to enable youth in the country to express their perspectives on current development issues through the UNLOCKED platform.

The 'UNLOCKED' platform, an initiative by UNDP Sri Lanka following the launch of the National Human Development Report [NHDR] 2014, is a youth and development-themed online platform exclusively for young voices.

Building on the success of the pilot phase, which featured 11 young bloggers online over a period of three months, UNLOCKED has now grown to 60 bloggers with trilingual blogs being featured online and on print media. Through this partnership, NYMUN will provide one article per week written by a delegate of the organisation on the theme of 'youth development', which will be translated to local languages and published.

NYMUN is a two-day conference that functions as a national simulation of the United Nations and its affiliated organisations, for youth aged 16-30. NYMUN seeks to give delegates an insight into the workings of the United Nations, and expose them to the dynamics and dimensions of the international political system by assuming the roles of UN representatives and members of other international bodies.

Speaking about this partnership, NYMUN DSG Amrit Edirisooriya stated, "The National Youth Model United Nations (NYMUN) is glad to partner with UNDP's UNLOCKED initiative to help empower the voices of Sri Lankan youth regarding concerns we share for our country and the world. We are thrilled to open this platform to participants of NYMUN from across the island in the hope that their perspectives and concerns will be heard and addressed."

With over 50 years of experience working in Sri Lanka, UNDP continues to place youth at the forefront of its work towards achieving the 2030 agenda. The UNLOCKED platform encourages youth of Sri Lanka to discuss, debate and engage in development issues, and helps UNDP to tap into a vast network to engage on other youth and innovation initiatives in the country.

Speaking about UNDP's role, UNDP Sri Lanka Country Director Jorn Sorensen stated, "We are very pleased to partner with NYMUN which has a wide network of young individuals who are passionate on development issues in the country. This partnership will open doors to more youth writers from across the country, and encourage young leaders to learn to communicate, compromise and reach sustainable solutions within their communities."

The signing of the partnership took place on Wednesday, 13 June at the Citra Social Innovation Lab in Colombo.