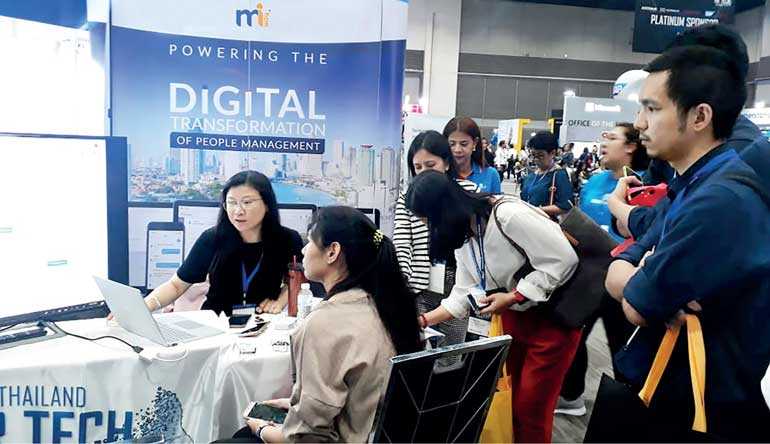 The world of traditional HR is being rapidly disrupted as Cloud, Social, Mobile and Analytics continue to change the way businesses run across South East Asia. In order for companies to keep pace with these trends, it is essential to take their HR processes into the digital era to meet these challenges head on. This was the clear message delivered by MiHCM at the recent Thailand HR TECH Conference and Exposition, held in Bangkok, Thailand.
Thailand HR TECH Conference and Expo is among the largest HR technology events in Thailand. The two-day event was planned by the HR professional association with the aim of enlightening an audience of 10,000 HR professionals on HR digitisation. The program included a series of keynotes and presentations delivered by C-level executives, IT and HR professionals.

Highlighting the importance of transforming from conventional legacy HR systems to sleek and streamlined processes over a digital platform, MiHCM Manager Marketing Nayanika Wijekoon says, "In such a dynamic environment, companies need to rapidly respond and transform in order to keep pace. Taking HR into the digital era with a platform that is designed for the future generation of digital natives is the only way organisations will be able to attract, retain and motivate the right talent and remain relevant."

By 2020, these digital natives will comprise more than 50% of the global workforce, bringing a new set of challenges for business leaders and HR professionals, among them employee engagement and development, attracting top talent, retaining and rewarding this talent, and performance management.

Delegates at the conference heard how moving to digital platforms via cloud, mobile, social and analytics, and AI, plus localisation of digital HR software solutions, will facilitate more open communication with instant feedback and recognition, more frequent assessments and greater social collaboration. "Organisations and their employees, can leverage the localised mobile application in Thai to conveniently manage their HR needs anytime anywhere on their preferred device," adds Nayanika.

The digital MiHCM solution, developed by MiHCM, enables companies to maximise the full potential of digital while receiving a consumer-grade user experience that is intuitive and interactive. The solution works seamlessly on web and mobile. "MiHCM enables seamless scaling across functionalities, where organisations can further innovate and deliver compelling services to all their stakeholders," adds Rachadapon Prasomsub, Managing Director of iOperation Co. Ltd., MiHCM's partner in Thailand.

MiHCM Asia first established a formal partnership with iOperation in late 2018 and the MiHCM platform was localised for the Thai market using iOperation's extensive local knowledge and expertise.

MiHCM Head of Global Partner Program Himashie Perera says, "Expanding our profile in the region through our partnership with iOperation Co. Ltd. is an important part of our growth plans. Thailand is a rapidly evolving market and companies here are keen on ensuring that they capture and retain the best talent for their growing organisations. MiHCM can help them achieve this, and in a flexible way." MiHCM is available on an As-A-Service subscription basis, enabling companies to access the latest technology without large capital outlays up front.

Rachadapon Prasomsub adds, "The Thailand market is very dynamic, particularly with regard to HR and managing and retaining staff here can be challenging. Having already localised the MiHCM solution for Thailand using our knowledge of the local environment there has given us an excellent grounding for taking the solution to potential organisations in the market."

MiHCM offers a comprehensive platform from Core HR to talent management. Features include advanced organisation set-up for multi-country/group structures, advanced workflows, configurable business rules, natural language query and people analytics across all functions. Apps for iOS and Android provide fully mobile functionality.

MiHCM runs on Microsoft's Azure Cloud, selected for the best security and efficiency that it offers, key considerations for deploying a solution in the HR space where confidentiality of sensitive data is paramount.