---
Argues Govt. has not done enough to recruit unemployed graduates
Questions why holders of external degrees are left out of recruitment
Wants proper mechanism to give employment
By Ashwin Hemmathagama – Our Lobby Correspondent

Opposition Leader Mahinda Rajapaksa on Wednesday critiqued the Government in Parliament for failing to deliver on election promises to resolve unemployment in the country starting with graduates.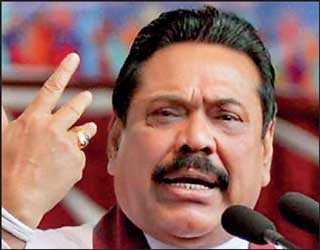 Mahinda Rajapaksa


MP Rajapaksa referring to the Central Bank Annual Report under Standing Order 27 (2) said: "This Government has not introduced any proper mechanism to direct graduates for employment opportunities. Instead, it has destroyed the opportunity to generate over 400,000 new jobs by putting graduates into a grim position. The Government should explain the reasons for not being able to establish a proper mechanism to generate employment opportunities for graduates."

Requesting the Government to recognise the external degree holders and grant them employment as well, MP Rajapaksa held that there are many irregularities in the selection process carried out by the Government to offer jobs to graduates.

"Last year, there was a ceremony held at Temple Trees to handover appointments to selected graduates. This was done based on their scores in several of examination. However, it was reported that some graduates were asked to leave the ceremony saying that they were external degree holders. How can the Government marginalise external degrees when giving employment opportunities? What kind of a good governance policy is this?" questioned the Leader of the Opposition demanding an explanation from the Government.

According to MP Rajapaksa, the graduate recruitment registers maintained at District Secretariats do not include external degree holders.

Government is to response during the next Parliament session.