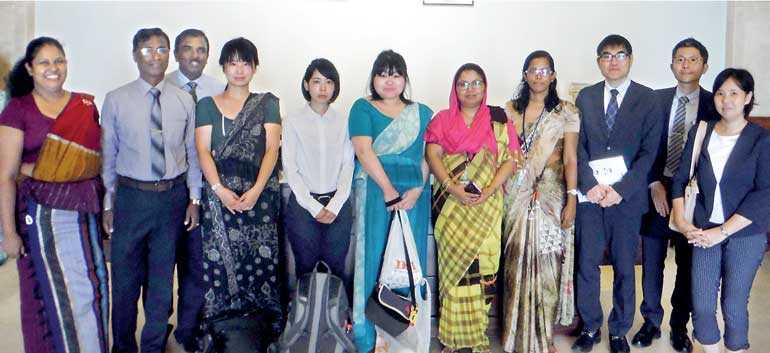 The latest batch of JICA volunteers arrived in Sri Lanka on 5 July. These young Japanese volunteers are here to provide services in their specific fields of expertise. JICA volunteers are sent to developing nations as a part of the Japanese Government's Technical Cooperation Program, and their activities are aimed at providing assistance in economic and social development at grassroots level. All such volunteers undergo prior training in the languages of their host countries, and with regard to Sri Lanka, they conduct their activities in Sinhala or Tamil, depending on the region they are assigned.

This new batch of seven JICA volunteers will be engaged in the provision of services in a wide range of fields which include: pre-school education (in Badulla and Kilinochchi); IT (in Seeduwa); environmental education (in Mannar); primary education (in Vavuniya); elderly care (in Kurunegala); and soccer (in Hatton). The volunteers will be attached to institutions coming under several Ministries. Six of the seven volunteers will work in Sri Lanka for a period of two years, while the other will be in the country for a period of 20 months. Currently, there are 74 volunteers working in all 9 provinces, and since the introduction of the program in 1981, over 1100 JICA volunteers have served in Sri Lanka.

On 2 August, three Japanese young volunteers were introduced to their host organisations at an assigning ceremony, which was held at the Department of External Resources (ERD). The occasion was graced by ERD, JICA and officials representing the volunteers' host organisations and other institutions. Three volunteers introduced themselves and expressed their determination to carry out their 2 year assignment in the Sinhala language.

After the ceremony, the three volunteers will start working in each Sri Lankan host organisation. They will be working in Seeduwa, Badulla and Kurunegala from 3 August.

Japan International Cooperation Agency (JICA) is the executing agency of Japan's Bilateral Official Development Assistance (ODA). JICA, the world biggest bilateral aid agency, works in over 150 countries and regions. In accordance with its vision of "Inclusive and Dynamic Development," JICA supports the resolution of development issues in developing countries. In Sri Lanka, Japan has been providing financial and technical assistance since 1954 and is one of the largest donors to the country. On behalf of the people of Japan, JICA contributes to improve the lives of people in Sri Lanka.