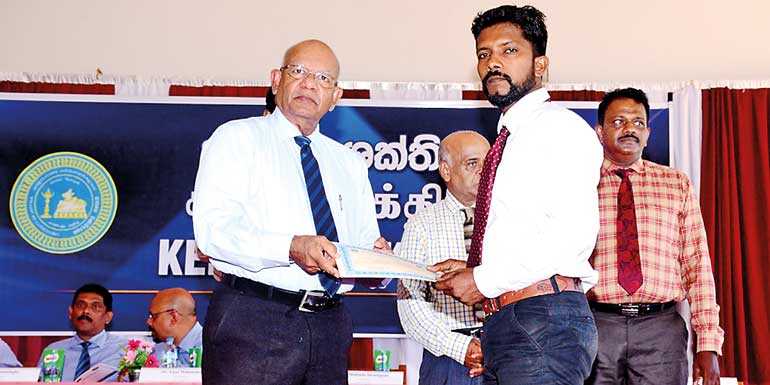 Kelani Cables Director/CEO Mahinda Saranapala presenting certificates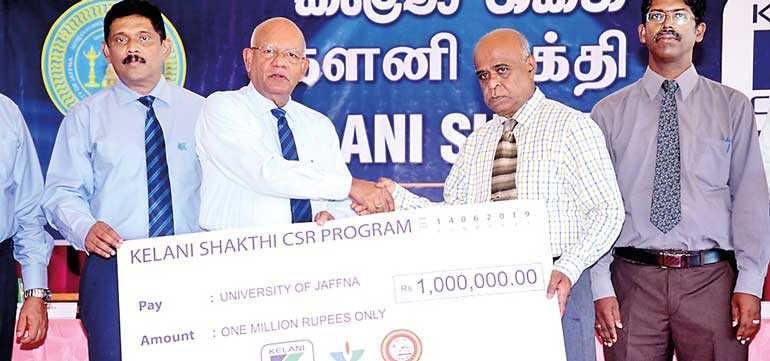 Kelani Cables Director/CEO Mahinda Saranapala presenting the sponsorship cheque of the Kelani Shakthi program to Professor Kathirkamananthan Kandasami, Competent Authority of Jaffna University

Students of Kelani Shakthi who received the certificates
Kelani Cables PLC, Sri Lanka's number one company in the secure electrical and communication cables manufacturing sphere, in a bid to groom youth in the Jaffna peninsula as electrical technicians, launched 'Kelani Shakthi' professional development program in 2015.

The third batch of students on completing this one-year training program received their certificates in 2019 at a function held at the Jaffna University engineering faculty in Kilinochchi.

The occasion was graced by Professor Kathirkamananthan Kandasami, Competent Authority of Jaffna University, and Mahinda Saranapala, Director/CEO, Kelani Cables PLC.

36 school leavers who selected electrical technical field for self-employment were bestowed with internationally recognised certificates that endorsed their know-how in domestic and industrial electrical wire laying.


Certificates were presented by Professor Kathirkamananthan Kandasami, Competent Authority of Jaffna University, and Mahinda Saranapala, Director/CEO, Kelani Cables PLC.

Presentation of certificates to the third batch of 'Kelani Shakthi' students was graced by Dr. A. Athputharajah (Dean, Engineering Faculty, Jaffna University), Prof. T. Thiruwaran (Head of Electrical and Electronic department), Prof. Thushyanthi Mikunthan (Dean, Agriculture faculty) with Anil Munasinghe (General Manager – Marketing, Kelani Cables PLC), Upul Mahanama (General Manager – Operations), Channa Jayasinghe (Brand Development Manager), Chaminda Waidyathilleke (Sales Manager – Distribution), Ralph Roshan (Sales Controller), Suranga Pathirana (Sales Manager – projects) and Jayantha Wijesinghe (Coordinator – Kelani Shakthi) .

This coincided with the selection of a new set of students for the fourth batch of 'Kelani Shakthi' by short listing thousands of applications. Since 2015 to date 84 professional electricians have been groomed via Kelani Shakthi program.

Kelani Shakthi professional development program was initiated by 'Kelani Shakthi and 'Kelani Saviya' program coordinator Jayantha Wijesinghe and Jaffna University Engineering Faculty Dean Dr. Athpothurajah with the blessings of Kelani Cables PLC Director/CEO Mahinda Saranapala.

Mahinda Saranapala stressed at the event, although Kelani Cables engages in various CSR programs throughout the year, 'Kelani Saviya' and 'Kelani Shakthi' CSR programs are unique to the company.

He said, "Kelani Cables Company functions in its 50th year now. During this long period we have initiated many noteworthy CSR programs for the benefit of Sri Lankans and we are proud about it. Our company was recognised with international awards many a time for these CSR initiatives."

He added, "School leaving students and novices who aspire to become self-employed electrical technicians are given an opportunity by 'Kelani Saviya' and 'Kelani Shakthi' to gear themselves with a comprehensive knowledge in domestic and industrial electrical wiring laying and installation. In addition, they are awarded with a globally acceptable certificate. We as a Sri Lankan company are proud to be a part of this endeavour. I wish these youngsters for a bright future with this newly gained knowledge. Kelani Shakthi program would also add a great impact towards nurturing cordial relationships and brotherhood with the people in North."

Kelani Saviya CSR program in association with the engineering faculty of the Peradeniya University has been progressing since 2007. Kelani Shakthi program spearheaded by Jaffna University is an extension of Kelani Saviya. The MOU in regard to Kelani Shakthi was signed in 2015 between Jaffna University Vice Chancellor Senior Professor Vasanthi Arsaratnam and Kelani Cables PLC CEO Mahinda Saranapala.

Professor Kathirkamananthan Kandasami said it should be the vested interests of Sri Lankan companies to contribute towards rejuvenating lives of youth in the north.

"The whole of north should pay gratitude to Kelani Cables for pioneering to fulfil this need. We are happy to announce Jaffa University will do the necessary value additions to make this a comprehensive program in the future," he said.

Kelani Cables PLC is a 100% Sri Lankan company serving the nation for 50 years manufacturing electrical and communication cables. The company achieved 'Super Brands' status in the electrical and telecommunication sector in 2008 for professional supremacy it demonstrated in the electrical and communication cables sphere. The company is ISO 9001and ISO 14001 certified. In 2017 Kelani Cables won World Class Global Performance Excellence Awards and the company won the Gold Award for B2B Brand of the year at the SLIM Brand Excellence in 2012, 2013, 2016 and 2017.

CNCI industrial excellence award consecutively for three years from 2006 to 2008 and for this achievement was recognised with CNCI industrial excellence crystal ward in 2008. The company clinched Taiki Akimoto 5S Gold award in 2007, National Safety Gold Award in 2010, SLIM brand excellence 2013 Gold award in B2B category and SLITAD people development Gold award in 2013. In 2015 and in 2016 Kelani Cables was awarded Asia's Best Employer Brand Award. The company won Best Green Reporter Gold award at 2016 Presidential Environmental Awards and 2016 National HR excellence Silver award. Kelani Cables was awarded the prestigious National Quality Award in 2016 for the company's sustained business excellence.

Kelani Cables PLC is one of the first companies in Sri Lanka that is signatory to National Green Reporting System. Owing to its health and safety oriented culture and environmental stewardship, Kelani Cables PLC has been certified globally recognised 'Responsible Care' charter.