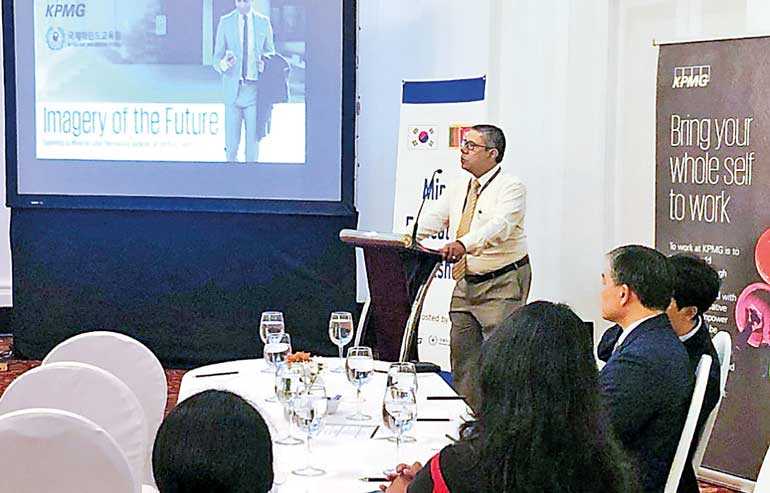 KPMG in Sri Lanka Managing Partner Reyaz Mihular delivering the keynote speech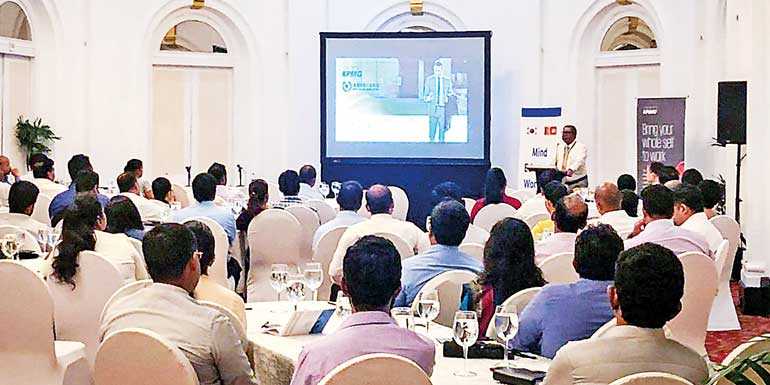 Participants at the workshop
---
When hope is gone, the courage to move on is halted. The mind would not strive to identify winning strategies and a great damage and defeat is experienced. This could be concerning personal life, corporate as an entity or as a nation!
What could be the cause to lose hope? A crisis or an overwhelming challenging situation! Crisis could strike at the most unexpected moment devastating everything that was beautiful and peaceful.

How important is it that we be a people that thrive and overcome such situations triumphantly – be people prepared and ready to skate the waves of challenges with joy and not with fear and reluctance? People who don't lose hope, no matter what!

Only people who understand the great learnings that come with challenges and the people who understand the importance of building a strong heart would have this joy of facing challenges!

This was the theme of 'Imagery of the Future', the workshop organised by KPMG in Sri Lanka and facilitated by International Mind Education Institute (IMEI) of South Korea on Thursday 20 June. IMEI teaches 'Mind Education' in many nations across the world.

Why South Korea? It is a nation that experienced extreme poverty and hopelessness and rose within a short span of 50 years to become the 11th economic superpower in the world, increasing GDP per capita 300 times over! The mindset that overcame boundless challenges resulting in this transformation is something to pause and take note of.

KPMG in Sri Lanka Managing Partner Reyaz Mihular in his keynote speech stated that building strong minds through the Mind Education program is an initiative he considers a Corporate Social Responsibility of sustainable value for the greater good of our nation. He emphasised the importance of building people with strong minds and connectivity who can overcome challenges as teams.

IMEI President Dr. Jae Hong Kim together with Director IMEI for Sri Lanka Hyeonyong Choi presented the main lecture that analysed the cause of an 'ill-heart' and its dangers, the importance and the mechanism of gaining a strong heart, the secret of surviving in vulnerable situations through connectivity and focus. The lecturers from IMEI – Ahn Juyi, Minju Ji, Lee Jung Min and Lee Seungyi discussed the idea generation and crisis coping ability through the examples of Google and Japan specifically in terms of:


Creative ideas and voluntary work of staff
Leadership: that is speedup by prioritising ideas and instantly gets into action
Organisation: providing opportunities through infrastructure


They also explained the secret of the Redwood Tree that survives for over 3,000 years amidst adverse conditions and grows to be of majestic height of 120 m.

The question was posed, 'If crisis strikes the corporate or the nation what would we do? What is the mind to thrive?' An interestingly interactive unique approach called 'Action Learning' was engaged that initiated brainstorming sessions for developing 'action based decision making'. It included a cross functional presentation method that enabled every participant to make a presentation and a 'block vote system' that identified the best teams that were awarded with token gifts. The session was lightened by young Korean musicians who entertained with classical instrumentals and popular Sinhala songs such as 'Hela Jhathika Abimane' and 'Lowe Sama'.

The workshop was held at Hotel Taj Samudra – Crystal Ballroom and was well-attended by the participants of over 40 organisations.