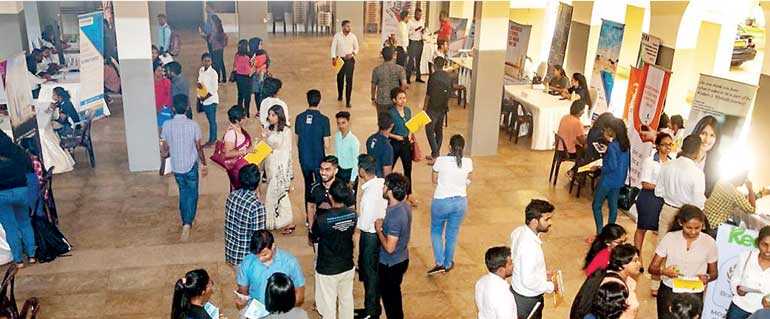 Participants at the Career Fair

Panel Discussion
---
"We had a great event with industry professionals. We got the soft skills that every employee needs for the base level of his career. I came all the way from Galle and this is the best program, a great learning experience," commented Prabodh Bentotage, an undergraduate of the University of Moratuwa who participated in John Keells Foundation's latest soft skills program for university undergraduates.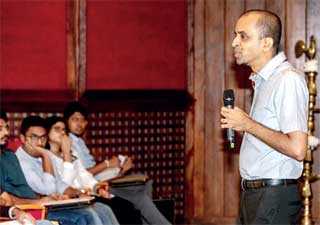 CV writing and interview skills by Niresh Samaranayake, Head of Talent Aquisition and Development John Keells IT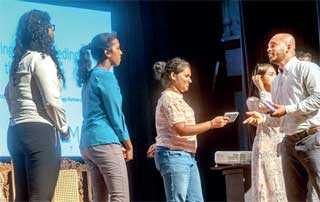 Entering and Succeeding in the Workplace - an interactive session by Sandun Fernando - Performance Strategist Blue Mango Partners
'STEP UP to Careers' was launched by John Keells Foundation, the CSR entity of the John Keells Group, under its education focus area. An extension of 'The Final Step' – the popular series of soft skills workshops conducted at local universities over the past 14 years benefiting over 5,000 university students, 'STEP UP to Careers' is a one-day program comprising a panel discussion, training workshops and a career fair open to both state and non-state university undergraduates with the objective of enhancing their employability.
The inaugural program conducted in partnership with the University Grants Commission (UGC) and supported by youth organisations AISEC, Rotaract and Leo clubs, was held on 1 June at the Defence Services College auditorium and saw the participation of 113 students representing 27 universities.

Addressing the audience, John Keells Foundation Operations Head Carmeline Jayasuriya said: "This initiative is called 'STEP UP' because it facilitates you to go beyond academic learning and step up to the 'real' world. It has been designed to equip you with tools to develop a winning personality, improve your leadership and team skills, vision, goal setting, problem solving and understand the importance of the right attitudes and values. It is our hope that at the end of this program, you will enhance your practical skills to help you find and succeed not only in your career but also through life."
The workshop commenced with a panel discussion covering employer expectations of a graduate employee including skills, competencies, attitudes and values. The panellists comprised business leaders John Keells Holding Group HR, Legal and Secretarial President, Group Sustainability and CSR – Dilani Alagaratnam; John Keells Holdings Vice President, Head Brand Marketing Cinnamon Hotels and Resorts and Cinnamon Life Mall CEO Dileep Mudadeniya; Abans CEO Sriyan D.S. Wijeyeratne; Film Island Director Sandya Salgado; John Keells Assistant Vice President and John Keells X Head (Corporate Start-up Accelerator) Wishanth Wijesinha and an introductory address by John Keells Executive Vice President and John Keels Group Property Group Sector Head Nayana Mawilmada representing diverse fields such as HR, Leisure and Tourism, Retail, Software and Telecommunications, Mass Communications, Property Development and Entrepreneurship.

Commenting on the program, panellist Sandya Salgado stated: "More and more people benefit from a program of this nature. During our time as undergraduates we really didn't have this opportunity. I think this is a great opportunity so make use of this program, come for more of these programs and participate and learn more."

It was followed by interactive workshops conducted by professional trainers on topics such as personality and confidence development, entering and succeeding in the workplace, personal grooming and social etiquette as well as CV writing and interview skills. The program concluded with a career fair, where students were able to network with HR personnel from 17 companies of the John Keells Group representing seven industry groups.

The program enabled the participants to reflect on their future career path in greater depth and understand what they need to do to get there as well as the current openings and opportunities in multiple industries and businesses.

John Keells Foundation is the Corporate Social Responsibility entity of the John Keells Group which works in the six focus areas of Education, Health, Livelihood Development, Arts and Culture, Environment and Disaster Relief all aimed at its vision of 'Empowering the Nation for Tomorrow'.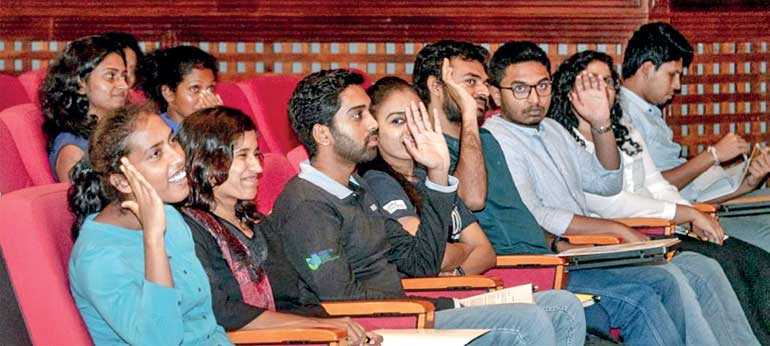 CV writing and interview skills by Niresh Samaranayake, Head of Talent Aquisition and Development John Keells IT

Participants registering at Step Up to Careers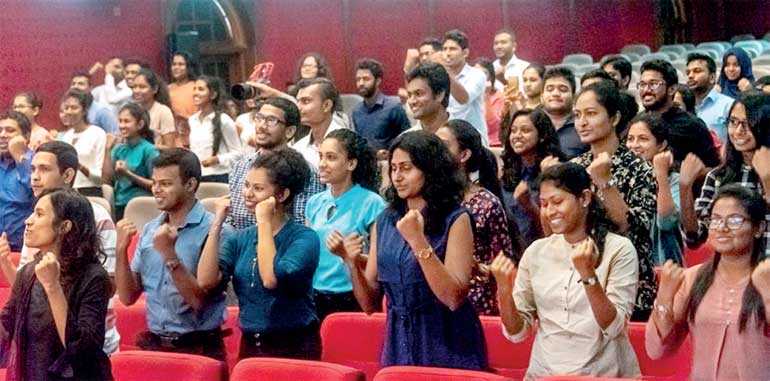 Entering and Succeeding in the Workplace - an interactive session by Sandun Fernando - Performance Strategist Blue Mango Partners