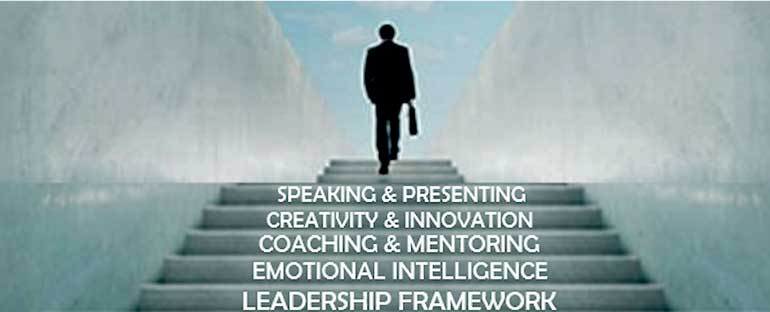 Intrinsic Leadership Academy has launched an informative website on leadership. It explains how to develop leaders who can sustain organisational success in an increasingly turbulent world. Backed by over 55 online references, this 8,000-word website extensively covers the diverse aspects of leadership. It will benefit CEOs and Human Resource Managers, right through to MBA and graduate students.
Leadership in today's VUCA world
Organisations need leaders who can guide them to success against growing competitive pressures under increasingly volatile conditions. Developing such leaders remains one of the biggest challenges from a practical perspective. Despite numerous models and theories, there is no common language for understanding what leadership is all about. Published articles and books don't provide a practical framework for developing leaders. Every organisation is facing this complex problem in today's VUCA world (Volatile, Uncertain, Complex and Ambiguous – an acronym coined by the American Military to describe extreme conditions in Afghanistan and Iraq).

In a comparably complex business world, there is no proven formula for leadership. Any proven set of actions by leaders will not always lead to predictable results due to the fundamental nature of business uncertainty. Leaders need the competency and communication skills to guide their followers in new strategic directions. They have to exercise managerial control while encouraging innovation. They have to be assertive and forceful at times, and supportive and enabling at other times. They need the foresight and skills to lead their teams and organisations through unchartered territory.
Character-based leadership
There is a big difference between leading some group or activity and being a leader. Not having a clear leadership model has led to the proliferation of position-based leaders, where a few people in higher positions were considered the leaders. No attempt was made to ensure they had the necessary skills for leading others. This is especially true in family-owned businesses. A study has found that about 70% of them fail or are sold before the second generation gets a chance to take over.

A fast-changing business world now requires rapid responses to both threats and opportunities. Organisations now need Character-based Leaders who adopt the attitudes of a leader, regardless of their hierarchical position in the organisation. Our character isn't a list of traits or behaviours. It is who we are deep inside. Intrinsic leadership development nurtures character-based leaders by awakening our vast inborn human potential.
Intrinsic Leadership Development
"Conventional extrinsic leadership development is based on a complex and bewildering multitude of theories built around rational skills. This has failed to produce leaders who can sustain organisational success in today's VUCA world. Intrinsic leadership development sharpens our inborn analytical, intuitive and creative abilities that we instinctively use to guide our families to success, often under difficult conditions. This is a better approach for developing leaders for today's uncertain and unpredictable world," explained Dr. Asoka Jinadasa who founded the Academy.

Intrinsic leadership development is based on his award-winning, six-dimensional model of leadership, symbolised by Heart, Mind, Body, Passion, Focus and Health. This holistic model blends modern management science with ancient wisdom. It nurtures leaders with emotional intelligence and high mental, emotional and physical energy. It develops their analytical, creative and intuitive skills for making complex decisions in an uncertain business environment. It empowers them to make difficult judgements where success and failure depend not only on their actions but also on unpredictable external factors.

Intrinsic leadership development nurtures the two most important skills needed for managing change: Wisdom (knowing what to do next under fast-changing conditions) and Skills (being able to do it or get it willingly done by others). These two universal skills are developed using the holistic six-dimensional competency model of leadership. The Wisdom-Skills matrix provides a practical framework for identifying leadership potential and training needs regarding work-related hard skills and attitudinal and behavioural soft skills.
Nurturing leaders
Inborn intrinsic leadership abilities can be awaked through five 1-day workshops. These produce leaders who can inspire and help others to create the future of their organisations while consolidating present successes in an uncertain business world. These workshops empower participants to self-learn new things through intrinsic motivation. They use human energy techniques combined with behavioural psychology and neuroscience to boost their mental, emotional and physical energy to remove mental roadblocks that obstruct learning.

Each workshop provides practical leadership tools that are easily understood and applicable in everyday work: Leadership Framework (develop Heart, Mind, Body, Passion, Focus and Health); Emotional Intelligence (recognise and manage emotions in you and in others); Coaching and Mentoring (boost team performance by unleashing human potential); Creativity and Innovation (awaken creativity and channel it for focussed innovation); and Speaking and Presenting (speak confidently and present new ideas convincingly).
The six core competencies underlying leadership

Biggest ROTI
Developing leaders gives the highest Return on Training Investment (ROTI) by sharpening your competitive edge in today's fiercely competitive commercial world. Brandon Hall's leadership development benchmarking survey has found that successful companies spend an average of 32% of their training budget on leadership development.

Structured leadership training produces empowered leaders who help their teams respond innovatively to the opportunities and threats posed by VUCA conditions. They influence the hundreds of decisions made every day in every department. They are at the heart of organisational success and make a huge impact on the bottom line. According to a global study of leadership, 60% of employees said the way their supervisors treat them influences how well they do their job.
The Academy
Headquartered in Colombo, the Intrinsic Leadership Academy nurtures leaders who can sustain organisational success under changing conditions. It was founded by Dr. Asoka Jinadasa, who is a UK-qualified Chartered Engineer with a US PhD in Business Strategy, and a renowned authority on human potential and leadership development. Its co-founder, Arosha Jayasundera, is a UK-educated Lean Six Sigma Specialist in productivity and service excellence, specialising in nurturing Lean Leadership.
Leadership programs
Intrinsic leadership development programs conducted by Dr. Jinadasa have successfully transformed managers into leaders through five 1-day workshops. Lakshitha Dharmawansa, General Manager of an American multinational company in Sri Lanka said, "He transformed our management team into leaders at a critical time. A great program and trainer. Innovative content and approach. Yet simple enough to grasp and apply in our daily work."

The next program that transforms managers into leaders will be held at the Colombo Taj Samudra Hotel during five Thursdays starting on 15 February. Details are available from asoka@intrinleaders.com.