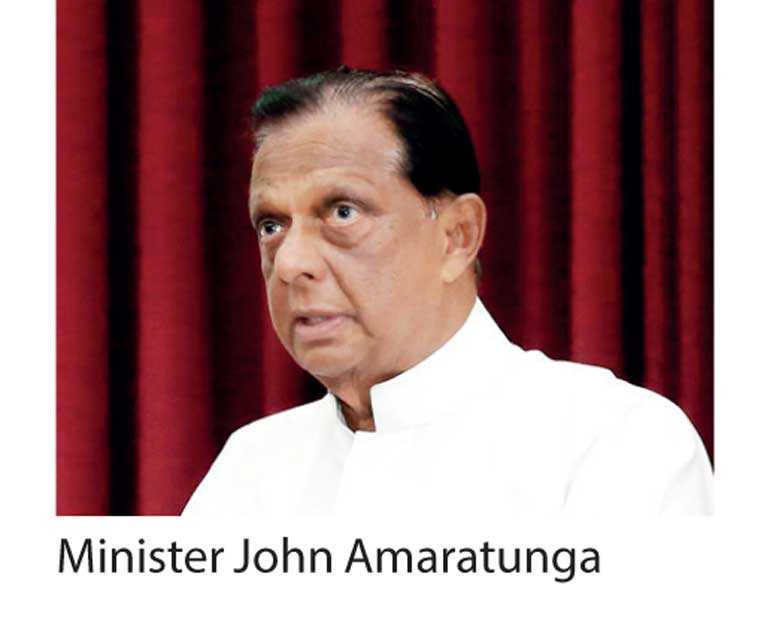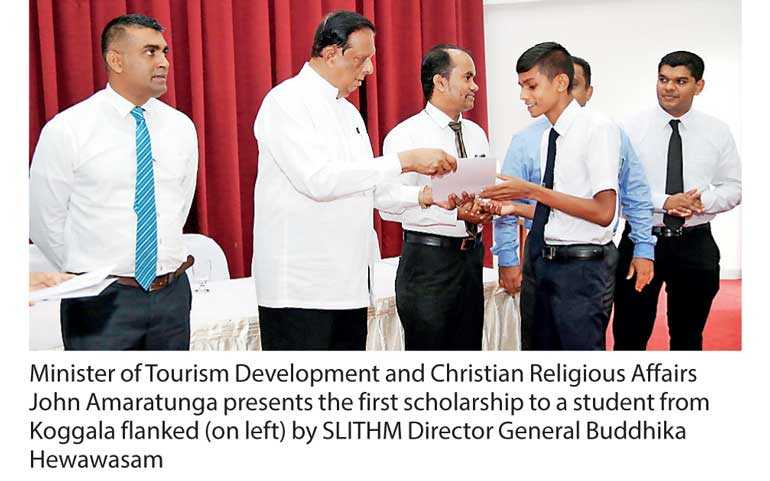 In a move to popularise careers in the hospitality industry among youth, the Sri Lanka Institute of Tourism and Hotel Management announced it would offer 175 full scholarships to deserving students across the country. Children of low income earners especially in rural areas stand to benefit from this pioneering initiative.

A ceremony was held Thursday (7) at the SLITHM Auditorium in Colombo to present the first batch of scholarships to students from the Southern Province. The ceremony was presided by Minister of Tourism Development John Amaratunga who is the architect behind the scholarship scheme.

According to SLITHM Director General Buddhika Hewawasam the total value of the scholarships is over Rs. 5.5 million and funds for this purpose would be channelled from the Tourism Development Levy and Embarkation Tax. This is the first time since the institution was established in 1966 that scholarships are being offered to students for hospitality courses. The scholarship will cover the cost of course fee, uniforms, accommodation and transport.

It is primarily targeted at children of families with an income of less than Rs. 10,000 who will qualify for a full scholarship while children of families earning over Rs. 10,000 and less than Rs. 25,000 will qualify for a half scholarship. The candidates will be chosen through a transparent process and based on the recommendations of the area Grama Sevaka.

One of the main drawbacks faced by candidates aspiring for a career in hospitality is the inability to communicate in English. "Having identified the problem we are in the process of setting up language training centres in various parts of the country. The first one has been already set up in Kuliyapitiya. We are also carrying out a massive countrywide awareness campaign on the prospects of a career in hospitality in association with the International Finance Corporation," explained SLITHM Director General Buddhika Hewawasam. "This is an effort to break down the barriers that prevent our youth from embarking on a career in hospitality," he said.

Tourism Minister John Amaratunga who presented the first scholarship to a student from Koggala noted that there was huge demand for well-trained hospitality personnel.

"At present SLITHM trains over 6000 individuals in different aspects of the hospitality industry each year. However nearly 17,000 star class rooms are currently under construction and will be completed in the next three years. It has been estimated that 400,000 trained personnel will be required to work in Sri Lanka's hospitality industry by year 2020," noted Minister Amaratunga.

"Although there is a steady stream of applicants for the courses on offer, many of the youth especially in the rural areas where most hotels are located, shy away from it due to financial constraints. Having identified this issue SLITHM has stepped in to offer scholarships to capable students to enrol in various courses. This no doubt will be a massive boon to all those young people both males and females who have kept away from the tourism industry due to financial reasons," he said.

"With Sri Lanka Tourism committing to achieve five million tourists by 2025, a long-term strategic plan has identified measures for the implementation of best practices to ensure that the industry continues to grow in a sustainable manner. While the government has put in place the policy framework and created an environment for growth, it is the responsibility of all stakeholders including SLITHM to work towards achieving these goals which will strengthen Sri Lanka's tourism industry," Amaratunga added.

SLITHM will conduct its 39th Graduation Ceremony on Monday 11 June at the Main Conference Hall of the BMICH in Colombo.