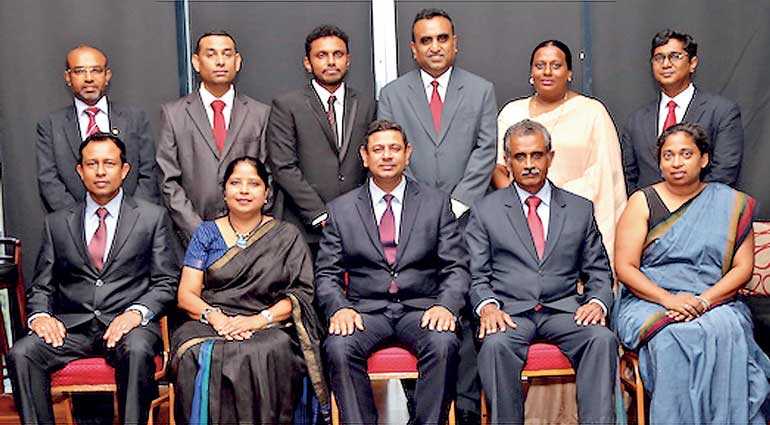 Standing from left: Ajith De Costa (Assistant Secretary), Dr. Ranjan Mallawarachchi, Tehan Muhandiramge, Dr. Jayantha Pathiratne, Andrea Jayathilake (Assistant Treasurer), Eng. Krishantha Wimalasiri

Seated from left: Anil Bandara (General Secretary), Dayalanie Abeygunawardana (Vice President), Jayantha Fernando (President), Col. Raj Vijayasiri (Vice President), Dinusha Wickramasinghe (Hon. Treasurer)
Association of Professional Coaches was launched on 20 June at IPM member's lounge with a mission to inspire positive change through professional coaching and to facilitate fellow coaches to continue their journey and to deepen their skills through shared stories.
It was a well-attended event, by many in the coaching fraternity and coaching enthusiasts and HR practitioners.
"Coaching is a journey not a destination and a coach is by nature a vision builder and a value shaper. Coming together as one group would assist all those who are passionate and enthusiastic to continue their coaching journey to unlock the greater potential of the people by maximising their own performance," explained the President of the association Jayantha Fernando PCC.
Jayantha in his presentation further stated that, the purpose of the association is to develop a community of coaches with strong professional coaching skills and to serve the development of Sri Lankan society as a whole with a vision to nurture Sri Lankan coaches towards global coaching standards. Jayantha also introduced the office bearers and invited the audience to join hands to continue the journey of coaching.
Vice President – Education, Col. Raj Vijayasiri PCC took the audience through the events that are lined up for monthly meetings of the association where it will host mock coaching sessions and webinars for the benefit of its members.
The growing recognition of the importance of coaching in nurturing an individual's potential led to a growing coaching profession in Sri Lanka, with several professionals receiving certification from international bodies such as the International Coaching Federation (ICF). This has necessitated a platform for Sri Lankan Life and Business coaches to share their experience sharpen their skills, network and collaborate to progress further.
Following office bearers were appointed for the year 2018/2019:
President - Jayantha Fernando PCC
Vice presidents - Col. Raj Vijayasiri PCC
Dayalanie Abeygunawardena PCC
Secretary - Anil Bandara – Certified Coach
Treasurer - Dinusha Wickramasekera – Certified Coach
Assistant secretary - Ajith De Costa – Certified Coach
Assistant Treasurer - Andrea Jayathilake – Certified Coach
Council members - Dr. Jayantha Pathirathne PCC
Dr. Ranjan Mallawaarachchi – Certified Coach
Tehan Muhandiramge – Certified Coach
Krishantha Wimalasiri – Certified Coach
APC was very happy to note the interest shown by the numbers registered to become members at the inauguration. APC is keen to develop the coaching fraternity through the association taking it towards and becoming a chapter of the International coach Federation. It is also planning to have an international coaching conference in Sri Lanka in time to come.
APC invites all enthusiastic fellow coaches and those who are aspiring to unlock the potential of people to join hands to build a better career.
You may send in your queries to VP Dayalanie Abeygunawardena via email dayalaniea@gmail.com and phone 0772721445.