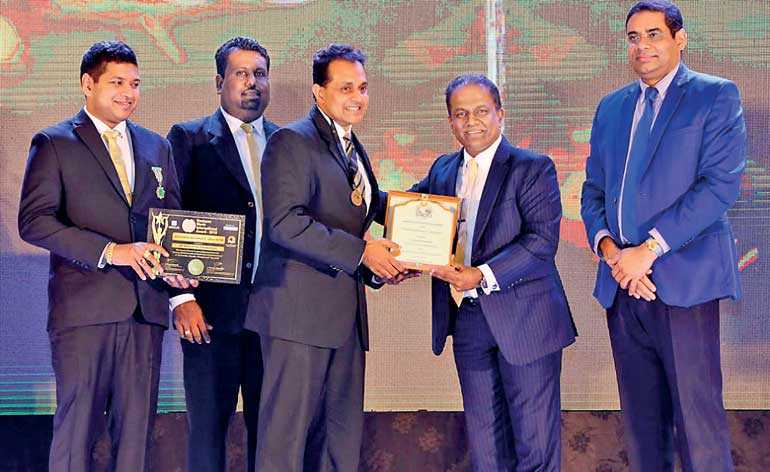 Dr. Rohantha Athukorala (centre left) receives the award from MP Thilanga Sumathipala as ICC Sri Lanka Chairman Dinesh Weerakkody, BWI Chairman Prof Dexter Fernando and BWI Vice Chairman Dr. Tharindu Wijenayake look on
---
Dr. Rohantha Athukorala, one of Sri Lanka's respected business personalities who has over a 17 years of working for private sector Multinationals - Reckitt Benckiser, Unilever and Diverseylever in India and thereafter served United Nations (UNOPS) was awarded the Icon - Public Sector Leadership for his service to the country by Business World International.

Dr Athukorala has the rare distinction of serving 3 Governments of Sri Lanka in his ten year tenure of serving the country.

Wayback In 2004 he was appointed Chairman Sri Lanka Export Development Board when the President was HE Chandrika Bandaranayake Kumaratunga there after he took over the reins of being the 1st Executive Director of the pivotal policy making body of the Ministry of Finance- National Council for Economic Development( NCED) when the President was HE Mahinda Rajapakse. Subsequently in the current government of President Maithripala Sirisena appointed him as the Chairman Sri Lanka Tourism Promotion Bureau( SLTPB) and Lanka Sathosa.

Many a times he was in the news for standing up to for Governance which is why we rewarded Dr Athukorala for his courage said Chairman of the BWI Professor Dexter Fernando. Sri Lanka needs more of such talent.

Commenting on the award Dr Athukorala mentioned "The talent and skill of the public sector in Sri Lanka is way above the private sector as a majority of them are either 1st of 2nd class honour graduates from the university system of Sri Lanka.

All what they need is strong leadership. I am now committed to driving Artificial Intelligence( AI) in Sri Lanka as this is the future.

He is currently the President/ CEO of the foremost AI based perception management company Clootrack- Sri Lanka, Maldives and Pakistan based in Sri Lanka whilst also being on many Director Boards.