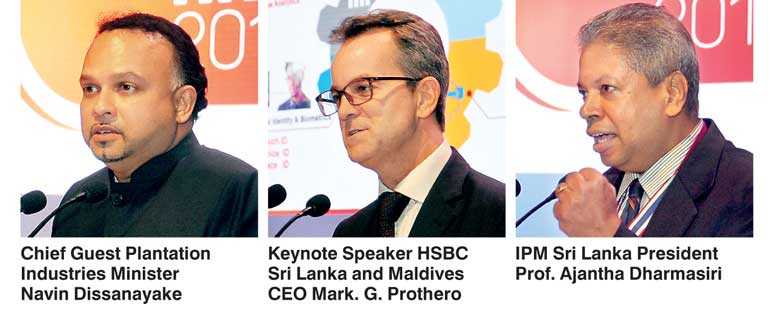 From left: National HR Exhibition 2018Chairperson Shiwanthie Wijesuriya, IPM Sri Lanka Vice President G. Weerathunge, NHRC 2018Technical Committee Chairman Chrishantha Obeyesekera, National HR Conference 2018 Chairman Priyankara Seneviratne, Keynote Speaker HSBC Sri Lanka and Maldives CEO Mark. G. Prothero, Chief Guest Plantation Industries Minister Navin Dissanayake, IPM Sri Lanka President Prof. Ajantha Dharmasiri, IPM Sri Lanka Immediate Past President Rohitha Amarapala, IPM Sri Lanka Hony. Secretary Ken Vijayakumar, IPM Sri Lanka Hony. Treasurer Ajith Bopitiya and IPM Sri Lanka CEO P. G. Tennakoon


IPM Lifetime Gold Award Winner Sri Lanka Insurance Corporation HR, Employee Relations and Administration Deputy General Manager Rohitha Amarapala receive

the award by Chief Guest Plantation Industries Minister

Navin Dissanayake. From left: Great HR Awards 2018 Chairman Anura Pandithage, IPM Sri Lanka President

Prof. Ajantha Dharmasiri and Keynote Speaker HSBC Sri Lanka and Maldives CEO Mark. G. Prothero are also present
By Rahel Kirinde

Institute of Personnel Management (IPM) on Wednesday inaugurated the annual National Human Resource Conference (NHRC) themed 'The transformation of HR in the digital world'.

The event enabled participants to showcase their work in enlightening the HR community to change their landscape into one that is in line with the digitisation and digitalisation trends of the global economy.

"Conferences of this nature are important to share and deliberate expert insights and knowledge in order to raise the level of knowledge of HR professionals and to prepare them to be globally competitive. It is in such circumstances that value is created in terms of new theories and practices too," said IPM President Prof. Ajantha Dharmasiri speaking at the inauguration ceremony.

Elaborating more on the significance of the event Prof. Dharmasiri said, "We are living in a volatile, uncertain, complex and ambiguous world, one solid rock in such a world is the power of human potential and capacity, this event celebrates this reflecting and reinforcing the most precious resource of any organisation."

The IPM NHRC 2018 being the largest HR conclave in South Asia gives the HR fraternity the opportunity to exhibit the importance of digitalisation as a strategic and competitive tool in the field of HR management to garner support for underlying initiatives along the lines of the conference theme.

Speaking on the importance of keeping up with advancing technology keynote speaker HSBC Sri Lanka and Maldives CEO Mark G. Prothero said, "As a business leader I am acutely aware of the importance of the digital revolution, it brings huge opportunity for many businesses but also potential for disruption as well for those who do not move with advancing times."He further spoke on his view of the digital world and its impact on the HR field.

The IPM NHRC technical committee led by its chairman U.A.C. Obeysekere organised 4 technical sessions and two panel discussions which were conducted by eminent speakers and panellists where each speaker spoke on the different ways of adopting digital practices to different branches of HR management.

The IPM National HR Exhibition held alongside the conference gave participants an opportunity to assess and experience the various HR related solution especially those with digital disruption capabilities.

The IPM Great HR Awards ceremony which recognised and honoured unique and passionate individuals who have excelled in the field of HR and have contributed to the betterment of the HR fraternity.

Speaking on the service of the IPM to the HR sector of the country Chief Guest Minister Navin Dissanayake said, "The IPM has played a crucial and vibrant role in the human resource development and management of our country, considering events such as this I know that it will continue to play much larger and dynamic roles in years to come."

The IPM is a Professional body affiliated to the Asia Pacific Federation of Human Resource Management (APHRM) and the World Federation of People Management Associations (WFPMA). The main focus of the IPM is on raising Professional Standards in Human Resource Management and Development of the Human Resource Management Profession in Sri Lanka through a process of conducting professional examinations, seminars, workshops, conferences, HR consultancy and research studies.

Through its significant contributions to the development and nurturing of the HR management profession the IPM has become the leading authority on Human Resources in Sri Lanka. Through the years the IPM has adapted many alterations and advancements within the profession and remains committed to upholding the highest standards and best practices of HR management.

Pix by Ruwan Walpola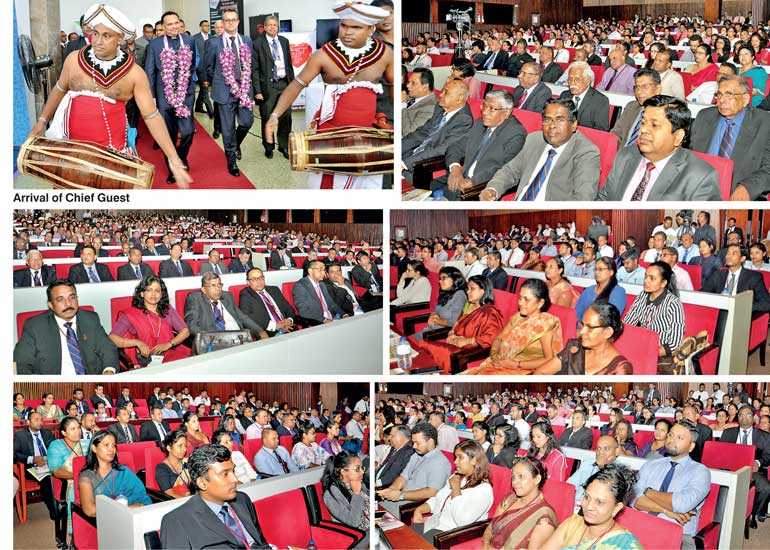 ---
Time to reconsider amount spent on health and education sectors: Navin Dissanayake
Plantation Industries Minister Navin Dissanayake stated on Wednesday that it is time we make some hard political decisions on the amount of money invested in the Health and Education sectors and to start focusing more on achieving national goals of the country.

Minister Dissanayake was speaking at the National HR Conference 2018 held at the BMICH emphasising that the national education system has not contributed to the development of human capital in the rural areas of the country.

"We spend 2% of our GDP on education it was Rs. 283 billion in 2016 out of which Rs. 179.3 billion rupees was on recurrent expenditure inclusive of teacher's salaries and Rs. 59 billion on capital expenditure, any human resource policy should be centred around the education system with a clear vision of achieving long term objectives of a country, if the education system is not aligned to produce the quality of human personnel the country needs we must seriously work on refocussing and recalibrating our education system," stressed Dissanayake.

He stated that a major challenge and also the foundation of the challenge that Sri Lanka faces is the development of human resources which begins with being inept in understanding those human resources. "I think in the long term interest of our country human capital development can begin in schools, but for that the education system has to be shaken up, reforms need to take place," said Dissanayake, he added that corporates also need to move away from their usual practice of hiring individuals from the western region and start recruiting people from the rural areas.

"The challenge we all face as leaders and policy makers is how do we retune and readjust the state sector along with the private sector, they must be aligned together to meet the aspirations of the people of this country," mentioned Dissanayake.

"Our country being one that is democratic and also being fundamentally true to its nature means Politicians are caught in a quagmire of politics therefore we cannot run governments like companies. The issue is there are lots of people that need to be satisfied day in and day out because they are government servants and we have to retain them," said Dissanayake explaining the inability to handle employees in the state sector similar to the private sector.

He further stated it is imperative that we change the mindset of people in the rural area thriving to get a government job only considering the benefit of the pension after retirement.