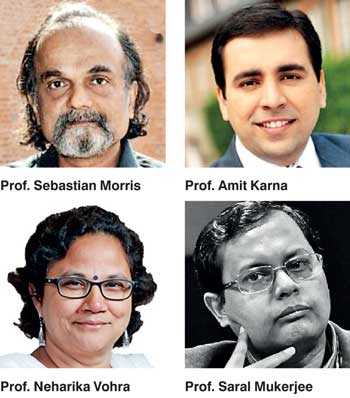 Indian Institute of Management Ahmedabad (IIMA) in collaboration with Institute of Certified Professional Managers of Sri Lanka (CPM) and Institute of Certified Management Accountants of Sri Lanka (CMA) supported by the Association of Management Development Institutions in South Asia (AMDISA) will conduct the IIMA Executive Education Program 2018 on 'Leading Organisations For Performance Enhancement,' a senior management program to take organisations to the next level from 26 to 28 November at Cinnamon Lakeside, Colombo.

IIMA, established in 1961, collaborated with Harvard Business School (HBS), the top business school in USA, and is the number one business school in India and was the first Indian business school to achieve international recognition in 2002. One of the most valuable aspects of IIMA's association with HBS was that of the case study approach, which will be used in the conduct of this program.

The top IIMA Management Faculty includes:

Prof. Karna Amit Fellow (IIM Ahmedabad), an Associate Professor of Strategic Management at the Indian Institute of Management Ahmedabad (IIMA). His interests lie in the areas of strategic management, technology, innovation and entrepreneurship. Earlier he was Assistant Professor EBS Business School in Germany, Visiting Scholar at University of California at Berkeley's Haas School of Business and at University of Sydney Business School.

Prof. Sebastian Morris (Faculty Chair) Fellow (IIM, Calcutta); MSc (Int.) (Phys.), IIT, Bombay. Morris is a Member of the Economics, and Public Systems Areas. He was recipient of the Ford Foundation Post-Doctoral Fellowship in International Economics and won the EXIM Banks International Trade Research Award.

Prof. Neharika Vohra Ph.D. (Manitoba) is a psychologist who teaches organisational behaviour at IIM Ahmedabad as a full time faculty. Her research interests are in the area of leadership, gender, diversity and inclusion, employee behaviour, CSR. She has been involved extensively in competency building of leaders across organisations.

Prof. Saral Mukerjee, Fellow (IIM Calcutta) is currently the Associate Professor Production and Quantitative Methods Area at IIM Ahmedababd. He specialises in operations management and is involved in research, teaching and consulting in the area of supply chain redesign, inventory policies, process analyses and project management. He has been awarded the 'Marti Mannariah Gurunath Outstanding Teacher Award' in 2014, 2015, 2016, 2017 and 2018 and the 'SRK Distinguished PGPX Faculty Award' in 2017.

This program will bring insights from cases of successful transformations covering various dimensions of strategy and functions, including operations, and the extant knowledge to enable leaders to bring about the transformation of organisations for high performance.

Programme highlights include: The idea of strategy and strategic change; Organisational processes; Operational strategies for high growth; Organisational leadership and change management.

The Pedagogy will be a mix of case studies and discussions.

IIMA believes in interactive sessions. A typical day would involve intense classroom sessions, with much prior preparation and syndicate work.

This program is meant for managing directors, CEOs, COOs, general managers, senior corporate managers of public quoted, group, multinational, banking, finance, insurance, industry, services, retail, exports, imports, agricultural and plantation, State corporations, Government owned and private sector companies facing the challenge of growth and organisational transformation.

The venue for the program will be Dukes Court, Cinnamon Lakeside, Colombo.

IIM Ahmedabad with CPM and CMA will issue a certificate of participation.

Those interested in participating please contact Dilshan via +94 714 775 125 or +94 11 2 590 995 or email registration@cpmsrilanka.orgon or before 20 November.