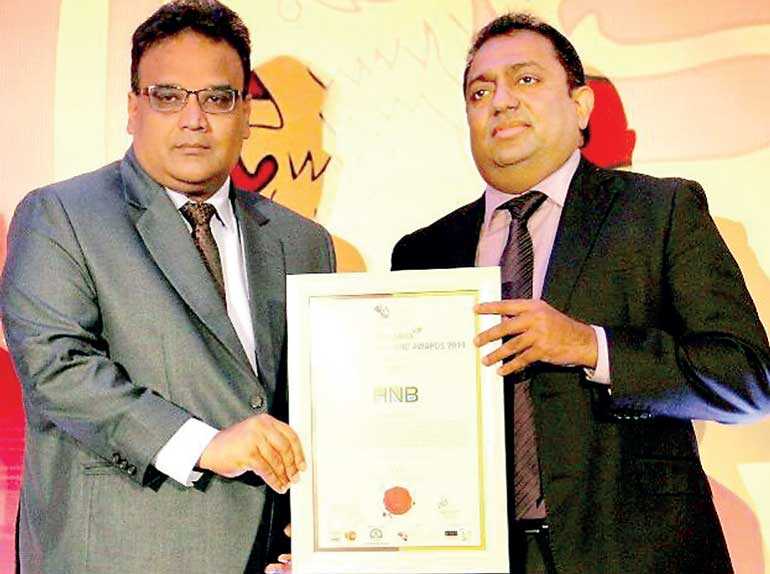 HNB Head of Human Capital Management Indrajith Senadhira receiving the award for Best Employer Brand 2019 from Minister of Education Akila Viraj Kariyawasam
Sri Lanka's most innovative bank, HNB PLC, continued to win praise and acclaim for its superior approach to human capital management, having been awarded the Best Employer Brand at the recently concluded fourth edition of the Sri Lanka Best Employer Brand Awards 2019.

"Our industry is one which requires each of our employees to be service-oriented at all times and provide value to customers. As a result, HNB places a major emphasis on training, development, staff welfare and motivation, in order to ensure that our people are always ready to give their best towards maintaining our bank's proud legacy as Sri Lanka's most customer friendly bank. It is therefore gratifying to be recognised for this commitment of the Hatna Family. It is because our employees give us their best that we have been able to continue to set local and regional benchmarks in best practices," HNB Head of Human Capital Management Indrajith Senadhira stated.

Endorsed by CHRO Asia and certified by the World Federation of HR Professionals, the awards were hosted by the Employer Branding Institute in order to showcase efforts of Sri Lanka's top corporates in utilising marketing communication to secure a competitive advantage by attracting and retaining the best talent in the market.

The award was presented to HNB following a comprehensive evaluation of the bank's entire HR strategy – from recruitment, talent management and development to remuneration and recognition, diversity and inclusivity, CSR, and the promotion of a healthy work life balance. This award symbolises the talents, efforts and commitment of 5,000 plus employees of the bank pursuing those values.

The bank's highly structured approach to human capital management includes in-depth succession planning at every tier of the organisation, together with continuous training programs aimed at upskilling them, both in terms of their core competencies, as well as more general skills designed to produce self-actualised, all-round performers who can serve as ambassadors of the HNB brand and its values.

Over the past year, the bank has received continuous praise for its pioneering initiatives across the entire spectrum of its operations. Notably, over the recent past, HNB was also adjudged 'Best Managed Bank in Sri Lanka' by the prestigious Asian Banker Magazine while the bank's Managing Director/CEO Jonathan Alles was also conferred with Asian Banker 'CEO Leadership Achievement' award – both of which are only given out every three years.

Similarly, HNB was also declared 'Sri Lanka's Best Bank' for 2019 by Euromoney Magazine for the third time, in addition to being ranked among Sri Lankan banks in its ranking among the Global Top 1000 Banks by the prestigious UK-based, Banker magazine, further strengthening its status as Sri Lanka's pre-eminent private sector bank. HNB's remarkable track record of excellence secured it a first place ranking ahead of all Sri Lankan banks included in the LMD Top 100 Club – a position which was evaluated based on its performance over the past 25 years.

Operating through 250 customer centres across the country, HNB is one of Sri Lanka's largest and most innovative banks, having won recognition from numerous international and local institutions for its achievement of excellence in diverse fields. HNB was also the first Sri Lankan bank to obtain an international credit rating and was assigned a foreign currency issuer rating of B1 on par with the sovereign rating by Moody's Investors Service, while it has a national long term rating of AA- (lka) by Fitch Ratings (Lanka) Ltd.