Setting a new standard in exemplary HR, leading private sector bank HNB PLC emerged ahead of the island's most respected corporates as one of the Best Employer Brands in Sri Lanka, at the prestigious Asia's Top 100 Employer Brands Awards 2019.

Taking place at a gala ceremony hosted at the Pan Pacific Hotel in Singapore, the awards are designed to showcase organisations that have leveraged strategic marketing communications to effectively attract, retain, and develop talent, and annually draws participation from some of the Asian region's most vibrant corporates.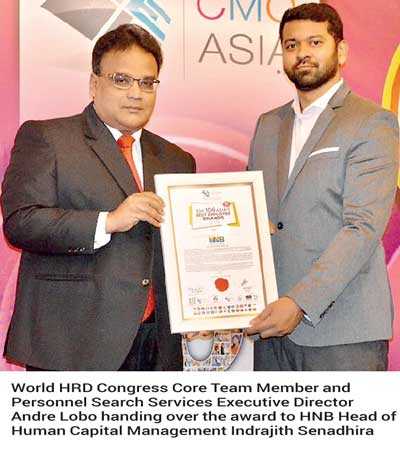 "For well over 130 years, HNB has served as a partner in progress to Sri Lankans from all walks of life. Throughout, our partnership with our employees have been central to our success, enabling HNB to continuously engage with and understand our customers, and provide them with an unparalleled level of service. We are therefore honoured by such a prestigious global award, which stands as further validation of our pioneering approach to identifying, nurturing and harnessing the talents of our employees, and we express our sincere gratitude to the Hatna family for their enthusiastic support for our ambitious vision to transform banking in Sri Lanka," said HNB Managing Director/CEO Jonathan Alles.

Chaired by former Dean of the prestigious Indian Institute of Management, Ahmedabad, Dr. Indira Parikh, Asia's Top 100 Employer Brands Awards features participation from some of the largest and most innovative corporates across the Asian region.

Nominees for the awards are stringently evaluated by a panel of expert judges, with particular attention focused on organisational HR strategies, cultural diversity, employee benefits, engagement, opportunities for women leaders, and the overall alignment of strategy with the wider vision of the organisation.

HNB has been a constant recipient of accolades at the annual event, especially when the Bank was crowned for Asia's Training and Development Excellence Award for five consecutive years, from 2012-2016.

The leading private sector bank also bagged the HR Leadership Award at the Asia's Best Employer Brands Awards in 2015, the Award for the Best HR Strategy in line with Business and CEO with HR Orientation Award at the event held in 2016.

HNB was adjudged 'Best Managed Bank in Sri Lanka' by the prestigious Asian Banker Magazine while the Bank's Managing Director/CEO Jonathan Alles was also conferred the Asian Banker CEO Leadership Achievement award, in addition to being declared 'Sri Lanka's Best Bank' for 2019 by Euromoney Magazine for the third time, and being ranked first among Sri Lankan banks in its ranking among the Global Top 1000 Banks by the prestigious UK-based Banker magazine.

Operating through 250 customer centres across the country, HNB is one of Sri Lanka's largest and most innovative banks, having won recognition from numerous international and local institutions for its achievement of excellence in diverse fields. HNB was also the first Sri Lankan bank to obtain an international credit rating and was assigned a foreign currency issuer rating of B1 on par with the sovereign rating by Moody's Investors Service, while it has a national long term rating of AA- (lka) by Fitch Ratings (Lanka) Ltd.