Human resource management and development has undergone many vicissitudes of transformation. The last three decades have seen the people management function in organisations the world over changing from a mere administrative function to people management business support function, and to a business partnering function as an active catalyst, enabling organisational performance and growth.

Therefore, in many an organisation, the human resource function is allocated a seat in the C- suites and Boards. In Sri Lanka this transformation has been slow. Yet it is encouraging to note that many leading corporates in the country and smaller progressive organisations are opening up senior positions at C-level and board level for HR professionals, recognising the function as a strategic business driver.

The Association of Human Resource Professionals (AHRP) Sri Lanka, which is the exclusive professional network of practicing HR professionals, has come forward to facilitate the empowerment of Human Resource professionals to reach boardroom recognition as a national and corporate need of the country. They have drawn up an elaborate agenda to address this need.

The Daily FT interviewed Association of Human Resource Professionals (AHRP) President Pradeepa Kekulawala, Head of Human Resources of SriLankan Airlines Ltd., and a senior corporate professional, to learn more.

Following are excerpts:
Q: Can you emphasise the vision and the mission of your organisation and the key objectives?

A: We being an exclusive forum for HR practitioners and students of human resource on their way to becoming professionals, have the vision of bringing HR to the forefront in the private and public sector of this country to drive the enterprises. In this context our mission is to act as a catalyst and an enabler of empowerment to the profession.
Our pillars of activity towards this end are:
Knowledge sharing and networking
Growth and development of members.
Introducing best practices to the country through affiliations with international practicing bodies both in human resource and other disciplines.
Addressing and facilitating solutions to national human resource development challenges.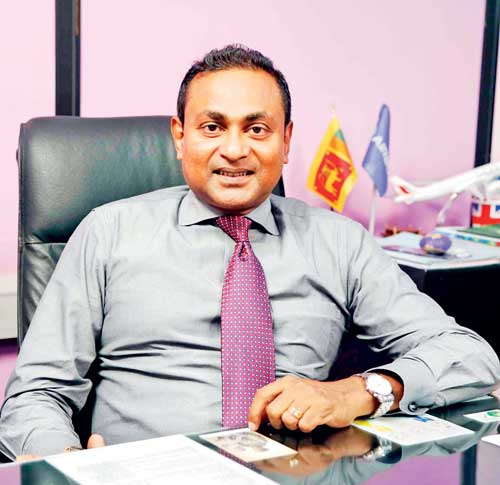 Q: Is there restricted access to human resource professionals to climb up the ladder to board level? Do CEOs and boards value HR inputs? How can the HR function be more welcomed in board rooms?

A: With our experience and having interacted with scores of business leaders and CEOs, we find that an HR professional's journey to the higher echelons of management and beyond to the boardrooms is not easy. There are certain specific skill sets and mindsets which are demanded in the boardroom. Being strategic in thinking, quantitative in analysis and decision making, value based judgment and cost benefit or ROI approach in whatever you do takes priority in this list.

These attributes are not easily found amongst many local HR practitioners. We are more qualitative with high emotional quotients whereas the need of the hour is to be both qualitative and quantitative in approach, having always business impact in mind.


Q: What value additions can AHRP bring to a corporate in this context?

A: We can be the professional partner of progressive corporates in developing the competencies and expanding the horizons of human resource professionals working in these organisations.


Q: Do you have a specific plan to achieve this and how can a company's HR team benefit from AHRP?

A: Well, I must say that even at present a number of practicing HR professionals are members of our Association and they have access and exposure to all the knowledge sharing activities that we execute and also pathways of knowledge transfer through networking and interacting with experienced HR professionals from diverse backgrounds.

In addition to this, we have come out with a unique concept of corporate affiliations by offering corporate memberships to organisations through which they can make their HR team members to be part of our organisation and benefit from what we have to offer.

Further, we are the exclusive local partner of the Society for Human Resource Management (SHRM), USA through their registered office in India. Founded in 1948, the Society for Human Resources Management (SHRM) is the world's largest HR membership organisation devoted to human resource management. Representing more than 275,000 members in over 160 countries, the Society is the leading provider of resources to serve the needs of HR professionals and advance the professional practice of human resource management.

In addition to bringing their (SHRM) top of the range training and competency development programs to the country, we also now exclusively offer HR professional competency certification from SHRM for individuals.

SHRM certification is applicable across industries, geographic borders, job responsibilities and career levels. SHRM certifications directly link to on-the-job scenarios and realistic work situations, making them the most relevant certifications available for HR professionals. To date, over 100,000 HR professionals all over the world have earned their SHRM certification.


Q: Please elaborate more on the corporate membership. What is the level of HR support that can be expected through AHRP corporate membership?

A: By partnering with organisations through corporate membership, we aim to create a platform to facilitate fruitful dialogues, share HR best practices and professional excellence, provide opportunities to take part in training programs, access to networking fora and develop high quality professionals in HR teams.

Benefits of corporate membership include free memberships, discounts on academic engagements, access to other HR professionals in the network and professional discounts when attending international events organised by the SHRM.


Q: How does AHRP keep abreast of global HR issues and trends?

A: We have direct access to the SHRM knowledge repositories. Our committee members and members attend global conferences and symposia organised by SHRM worldwide where we meet professionals from all over the world. Furthermore, we have established alliances with other professional organisations and work very closely with them to bring in non HR subject knowledge to our members.


Q: What is your level of assessment of HR competencies in the public sector?

A: We have highly qualified officials in the Public Sector and specialised professionals. In fact, some of them are world class. What has been lacking is the recognition given to HR as a driving force in public institutions and facilitating practicing HR skills and knowledge to the public sector. The National Human Resources Development Council (NHRDC) carries out a laudable service in meeting these demands and we have been extremely fortunate to be their professional partner in these endeavours. The hugely successful National Human Capital Summit 2016 is one such example of our joint efforts. In the current year and the future, we are planning to establish more such links with national and international entities to develop public sector HR skills and would in the near future promote the SHRM certification program to the public sector for which we have received a very positive response.


Q: Where do you see the profession in this country in another decade?

A: My organisation's dream is to have an HR professional in every boardroom and I see this being a reality in a decade.