Following is a summary of presentations at a forum on 'Emerging Careers for the Future' held during a monthly meeting of the National Human Resources Development Council of Sri Lanka (NHRDC) on 18 July. This event was co-organised by NHRDC together with the Institute of Chartered Accountants of Sri Lanka (ICASL), CareerMe, Chartered Institute of Personnel Management (CIPM), the International Chamber of Commerce of Sri Lanka (ICC), and the Daily Financial Times
We stand on the edge of a technological revolution that will fundamentally transform how we live, work and connect with one another. While we can speculate the myriad of changes it will bring into our lives and the economic climate, we are yet to grasp its unfolding in all its complexity. But one thing is clear: we must come together to successfully meet the challenges and opportunities before us.

A key challenge that lies ahead is the skills mismatch in the labour market. This must be addressed if Sri Lanka is to capitalise on the economic potential of the Asian region. All stakeholders from the public and private sectors must actively collaborate to find effective solutions to a dynamic and fast-changing landscape.
Keynote address by University Grants Commission Chairman Professor Mohan De Silva

The fourth Industrial Revolution has begun. While several jobs will undergo massive transformation (and some already have), there are certain jobs that will be resilient. Such jobs that will withstand change are those that require human attributes such as emotional intelligence, conflict resolution, persuasion, critical thinking, and concept creation.

It is important to understand the local context of the labour market and educational environments of students to meet rising needs. This includes addressing two questions:

1. How employable are State graduates?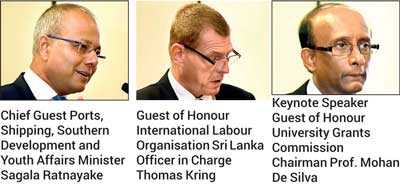 2. Are there safe and conducive learning environments in state universities?

To address the first question, we can look at a research study, 'Tracer Study of Graduate Employability 2017'. The study involved a sample of 5,000 graduates who graduated in the years 2014 and 2015, consisting of all disciplines except for medicine, dental science, veterinary science, and indigenous medicine. The key highlights from the research are depicted in the chart.

To address the second question, "Are there safe and conducive learning environments in State universities?" we need to look into the culture of ragging that occurs on Sri Lankan university campuses. A research study titled 'Ragging and sexual and gender-based violence in Sri Lanka' (2018) found that ragging is pervasive, multifaceted and disruptive to learning. Its prevalence on local university campuses has led to the normalisation of violence as it is not considered a crime. Moreover, it is reported that university staff members are complicit and disinterested in addressing the issue.

The occurrence of ragging plays out in a fear-based culture since the freedom to speak out against it is marked by shame. The consequences of ragging range from withdrawal from university and absenteeism from class to anxiety, depression and in extreme cases, suicide. If State universities are to produce moral citizens and workforce-ready graduates, student wellbeing must be taken into careful consideration.
Guest of Honour speech by International Labour Organisation Office in Charge Thomas Kring

Given that we are at the brink of unprecedented technological change, what are the tasks that lie ahead?

Earlier this year, the International Labour Organization (ILO) country office for Sri Lanka and the Maldives released 'The Future of Work in Sri Lanka: Shaping Technology Transitions for a Brighter Future,' highlighting factors that will shape the local labour market in the new world of work.

Both the type and quality of employment will transform. In the short-term, the tourism sector provides rich opportunities for careers and in the long-term, the care sector will significantly increase in importance due to a rising ageing population. Other sectors such as plantation and logistics will experience changes due to automation.

As Sri Lanka moves toward an upper middle-income country, basic education will no longer be sufficient. Skills such as life-long learning, analytical skills and IT skills are going to be critical in the new economy. This emphasises the importance of ensuring that every young child has access to education if they are to have an opportunity to live well in the future.

How do we prepare as a society? Investments into training and policies that support future work are required. We are at a time where collaboration among all stakeholders from Government and labour organisations to employers are necessary to propel us forward into a promising future.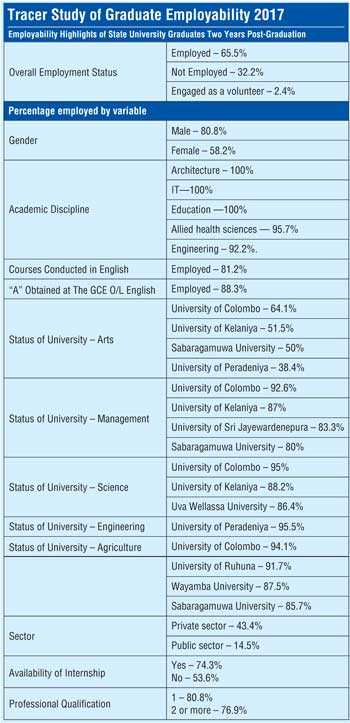 Launch of CareerMe mobile app by Anjana Kulasekara

For the first time in Sri Lanka, CareerMe launched a mobile app for career guidance in an effort to increase the availability of career guidance to youth across the island. The CareerMe mobile app and its revamped platform was launched by Minister of Ports, Shipping, Southern Development and Youth Affairs Sagala Ratnayake together with CareerMe CEO and Founder Anjana Kulasekara.

The app is now available on Google Play Store on Android. As the nation's career guidance platform, it is completely free and available in all three languages: Sinhala, Tamil and English. CareerMe is Sri Lanka's first-ever ICT-based hybrid career guidance solution and aims to ensure that all youth get access to career guidance based on international standards so that they can successfully transition from school to the world of work.
Chief Guest speech by Minister Sagala Ratnayake

We're at a time of enormous challenge. The Fourth Industrial Revolution has changed how we go about our lives. We must come together otherwise we'll be left behind. Disruptive technology has offered both challenges as well as opportunities and if we are to capitalise on this, we must work with an entrepreneurship mindset. It is important to look into infrastructure and economic development, not just the current provision of jobs.

One of the key issues faced by Sri Lanka today is attitude – one that involves a low desire for hard work. We must get our attitudes right if we want to have a thriving economy and country. Today, most people seek Government jobs since they find the benefits of working in the public sector more appealing than the hard-working nature demanded by the private sector. However, individuals who seek Government jobs are often either not adequately trained or are trained in a different field than in the one they're seeking employment. Such an attitude must be replaced by strong work ethics.

Big data will drastically transform healthcare and biotechnology industries, thereby changing the global market in the next five years. If such changes are managed poorly, we will experience the further widening of skill gap. Thus, it is critical to reform our education sector and labour laws to meet the rising needs of our times. Workers need to skilled and re-skilled which calls for the reinvention of vocational training beyond traditional approaches. Finally, it is important that we not limit addressing this issue to the forum but proceed with an action plan to materialise this important and necessary dialogue.
Panel discussion

The panel discussion was moderated by National Human Resources Development Council of Sri Lanka and International Chamber of Commerce Chairman Dinesh Weerakkody.

Panellists were: Ministry of Education Secretary Nihal Ranasinghe, University Grants Commission Chairman Mohan De Silva, Institute of Chartered Accountants of Sri Lanka President Jagath Perera, International Institute of Health Sciences Dean/Chairman Dr. Nihal De Silva, KPMG Managing Partner Reyaz Mihular, Standard Chartered Bank CEO Bingumal Thewathanthri, The British Council Director (Education and English) Louise Cowcher, Deloitte Partner Peeyush Arya, YouLead Deputy Director Chrishan Pereira and CareerMe Founder/CEO Anjana Kulasekara.

As the world moves toward a digital economy, it is critical that Sri Lanka adapts to the dynamic forces of technology. To this end, young woman entrepreneur, Anjana Kulasekara started an ICT-based hybrid career guidance platform to provide high quality career guidance to youth across the nation.

To kick-start the panel discussion, Kulasekara mentioned that the app is free of charge and available in all three national languages. It provides a personalised career test that helps youth figure out which work environment suits them best and lists matching occupations to aid career decision-making process. Part of career guidance is pursuing the right education and training. Pereira stated that in Sri Lanka, marketing of institutions is problematic and thus we need to move toward a more unbiased career guidance.

Within education, several changes are being witnessed. Secretary Ranasinghe stated that the current education system is being worked on to suit the prevailing needs. A push into making English language compulsory coupled with several changes such as new curriculums and delivery mechanisms, revised evaluation criteria and teaching quality are in the works.

De Silva highlighted the need for good governance because we face an issue of accountability. Teachers are paid salaries regardless of work outcomes. He compared our system to Scotland which also provides free education but the difference is that there is accountability which maintains quality standards.

In terms of national policy, the British Council is working with policymakers and relevant stakeholders to support economic development. Cowcher emphasised the importance of having cross-cultural engagement. Career guidance must be made mandatory for each student and it must be internationally benchmarked for equal opportunity. Echoing results from the keynote speech, she also stated that English has been identified as key in supporting economic development.

Sectors like banking are already seeing sweeping changes due to the digital age. In the last two years, digital banking has increased and, in the future, there won't be branch managers but experiential centres.

Thewathanthri pointed out that the key skill employers are looking for is agility. Moreover, a common mention throughout the forum has been the rising demand of healthcare in the future. Thus, increased study in biomedical science will be vital. This was reiterated by Dr. De Silva who stated that there is Immense potential for jobs for taking care of elderly and as such, jobs in healthcare such as surgeons, nurses, and occupational therapists will be in high demand.

To end the discussion, Thewathanthri highlighted the importance of following one's passion, as opposed to parent's aspirations and developing emotional intelligence to thrive in today's world of work.

Pix by Kithsiri De Mel