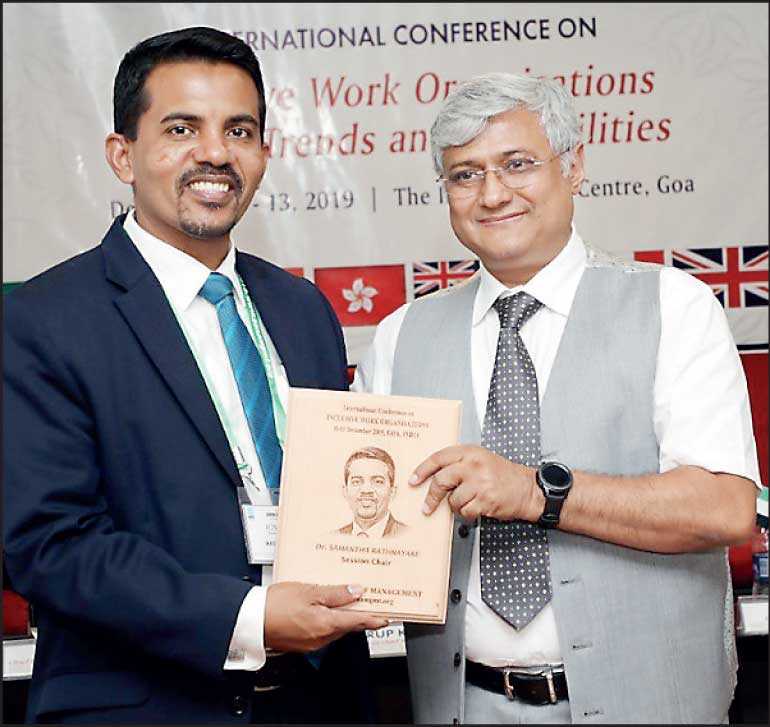 Dr. Samantha Rathnayake, a faculty member and Management Consultant at the Postgraduate Institute of Management of the University of Sri Jayewardenepura, addressed the 'International Conferences on Inclusive Work Organisations: Needs, Trends and Possibilities' at the Goa International Centre, organised by the Sona School of Management, India.

In addition to this address, he chaired one of the conference's technical research sessions.

This conference was driven in line with the changes and challenges of a leap from the linear to non-linear world of organisations and from the known to unknown by examining areas such as the principles which guide the success of 21st century work organisations. In order to remain viable and vibrant in current times, work organisations need to morph into open systems of opportunities to embrace and envelop diversity at every possible level as a means to an end. This conference endeavoured to raise some pertinent questions such as how we see and construct an inclusive organisation in the context of a structural-functional perspective; how do societal and organisational forces impact or facilitate organisational inclusiveness; how inclusiveness is important beyond the perceived purview of traditional work organisations such as learning organisations; what are the immediate global trends that may impose compositional change and challenges at organisations; what accountability and governance issues we need to consider in an inclusive organisation, etc. Furthermore, the conference explored tracks and subthemes that were not limited to inclusiveness at workplaces.

In a broader sense, what was deliberated and highlighted was what truly binds in networked organisations; the exploration of information technology versus other options for meaningfulness; and how work organisations make the shift from just spreading information around a network to building new knowledge.

Emphasis was also placed on the role which important technology would play to shape the future of inclusive work organisations and how work organisations would balance the need for radical change with the requirement of strategic continuity. In this context, what leaders should do to ensure that their corporate work culture is a strategic asset rather than a change anchor to meet future needs, roles and responsibilities of work within organisations was also examined. It is evident that the there is a shift from dependent managers to independent managers and now interdependent managers for the future. Other key points discussed were how emerging industries would require new jobs, skills and competencies which would differ from existing ones. The exploration of such skill sets and developing competencies for the workforce was highlighted as the need of the hour. It was concluded that future leaders needed to focus on the aspects of diversity and inclusion not just as things that were 'aspirational' but as a 'choice'. Corporate leaders need to identify emerging impediments within companies in terms of diversity challenges and create a new business case with regard to the formation of inclusive strategies. Among the other key personalities who attend the conferences were Chocko Valliappa - CEO, VEE Technologies Ltd; Thyagu Valliappa - CEO, Play Factory Ltd; Satya S. Khosla – Managing Director, Adimode Transnational Trading LLC, UAE; Dr. S. Padam - Ex-Dean, ASCI, Hyderabad; Soumya K. Mishra - Head of HR, GMR Varalakshmi Foundation; Debabrata Dash – GM, HR Tata Steel; Priyanka Mohanty – Vice President, Global Corporate HR, Startek (ESSAR); Prof. Swarup K. Mohanty - Convener-in-Chief, ICIWO and Director, Sona School of Management, Salem; Ramji Porwal – Vice President, Finance, Citi Bank, Hong Kong; Swarup Mohanty - CEO, Mirae Asset Global Investments (India) Ltd; and Prof. B. Ramesh - Executive Member, Goa University to name a few.