Hosted by Colombo School of Business and Management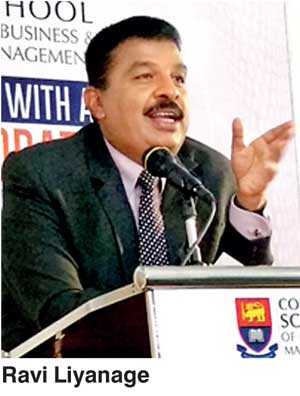 A man with discernment and character Ravi Liyanage Chairman and CEO of The Kingdom of Raigam, spoke on 'not putting all your eggs in one basket'. A lively rationale with a step-by-step description of his journey to success, enhanced by a question and answer session.

Evening with a corporate leader has been a thematic series held by the Colombo School of Business and Management for nearly two years. It is the only thematic series of its kind formed to nurture the next generation using storytelling and mentoring opportunity offered free to the public. It gives access to those who attend the forum to meet and greet first-hand corporate leaders that they admire, and get inspired and motivated through this experience.

It has showcased some of the greatest speakers, prominent corporates and public personalities such as Kishu Gomes (Chevron), Ashok Pathirage (Softlogic), Kulathunga Rajapakse (DSI), Dilith Jayaweera (Derana, Triad, George Stuart), Nandika Buddhipala (Commercial Bank), Sunil Wijesinha (United Motors, Watawala Plantations), Ranjith Pandithage (DIMO), Dilanka Jinadasa (Hela), Dr. Rohantha Athukorala (Sathosa), Dulith Herath (Kapruka). Dilshan J. Fernando, Director (Dilmah), Wegapitiya, Chairman (Laugfs), Dian Gomes, Chairman (Hela Clothing), Dr. Hans Wijayasuriya, (Dialog), Sumal Perera (Access Group), Dhammika Perera (Vallibel One), Nalin B. Karunaratne CEO CBL, Otara Gunewardena Embark and Otara Foundation, etc.

On this platform they have shared a fair selection of their own personal road to success stories, motivational topics and a selection of relevant business information. This method of information sharing is specifically targeted at inspiring and motivating the upcoming generation that engage in management trainee programs with a view to joining the corporate structure with leadership aspiration for the future.

Liyanage spoke on the urge he had to start a business. A passion he had from the early years of qualifying. He spoke of his tenor at the university which was extended due to the insurgency period within the country, what he started in 1983 went on for seven years to complete. He went on to explain the birth of Raigam Soya – an idea that was birthed in his very own mother's kitchen, a frequent food item enjoyed when observing a vegetarian mean day as in traditional Buddhist households on a poya day including his very own.

It was revealed that soya was often filled with 'gullas' a tiny creature that inhabits perishable high protein foods. Therefore, the longevity of the soya product was in question and wastage was inevitable. This got Liyanage thinking as to the solution and the long-term option of keeping this product fresh. Soya is mostly protein hence the attraction of viveens, double insulation on the pack solved this problem and distribution was easier. The inception of Raigam was in 1997 and this was a slow and steady climb. The product had to be researched, positioned and marketed to the right public under the right banner. This took a little time.

Referring to the theme of the evening 'don't put all your eggs in one basket' – he makes reference to diversification of businesses – in order to establish stability. "If the one basket falls the others will survive, and support it to rise again. If it's only one basket then it can all crack at the one drop. The idea is to provide stability of business through variety of products – ready to support each other if necessary, but preferably they should stand each on its own. Initially the one brand would diversify catering a variety to the same customer. "We have products such as soya, salt, hair dye, biscuits and cookies, Niroga (herbal products), string hopper mixture, food seasoning, instant food drinks, yeast extracts, sanitary napkins, coffee powder and bakery products encircle the wide range of items that are steering the Raigam brand ahead. It is a combination of these products that lends to the diverse stability of the parent company. Whilst Soya is the foundation all the products lend to its stability. It is the blueprint of my business and what keeps it on a steady platform."

One man alone cannot do it. You need a team – we need intrapreneurs (those who work and learn from others first in the corporate world), before we need entrepreneurs; Liyanage states, Sri Lanka lacks intrapreneurs and has a weak work ethic. He refers to employment integrity and the next generation who seeks employment how they lack the fluidity of honour. They attend interviews and promise to start work – but some don't even show up nor do they send an excuse. They use that as leverage in their existing jobs to get ahead.

The corporate sector should not encourage this kind of behaviour as we are not sending a professional message to the younger generation. He stressed that youth integrity must be developed and must define a better work ethic. Whilst we have huge potential for entrepreneurship we have a high turnover of new businesses which start up and then fail. So many youngsters want to work for themselves before even understanding the market they are dealing with. To avoid this youngsters need to first learn from those in the industry and then branch out on their own. This way businesses would last a lot longer. In conclusion Liyanage emphasised on having a dream and striving to achieve something in life. To look at the unusual for ideas that can flourish into businesses that way businesses become legacies. An idea is only as good as the success it is able to generate. Therefore, look for the uniqueness in a concept and the possibilities for it to expand.