CIPM Sri Lanka, the Nation's leader in human resources management, unanimously re-elected charismatic management professional Dhammika Fernando as its President for the Council Year 2019/20, at its Annual General Meeting held on 27 July, the first after achieving the Charter status,. Dhammika Fernando is the Secretary of BOI FTZ Manufacturers Association and Executive General Manager of Tropical Findings Ltd., a BOI company. At the helm of CIPM Sri Lanka for the second consecutive year, he shared his thoughts and plans on elevating one of Sri Lanka's most dynamic professional bodies, having the most sought-after business schools in the country recognised regionally and internationally.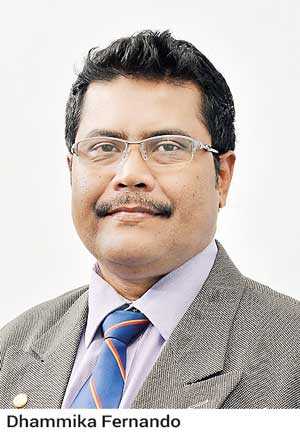 "I am delighted to continue to lead CIPM Sri Lanka for another year. Our goals for the upcoming year will focus on several critical factors aimed at driving growth in revenue streams which will be given the highest attention, membership development related growth activities, introduction of new product lines, enhancing the acceptance of CIPM qualifications including PQHRM (Professional Qualification in Human Resource Management) in the public sector and in the academic sphere worldwide, working closely with likeminded professional bodies both regionally and internationally in order to gain recognition and acceptance for our people professionals, and to continue with our good work and achievements in the policy related areas of governance and transparency in order to be recognised as an exemplary ethical corporate citizen," said Fernando.

"In order to rigorously expand our membership, we will be encouraging more young professionals to join CIPM. We will thus radically relook at the existing by-laws once more to achieve this objective, we need to create pathways for the aspirants. We also plan to increase the student base at the CIPM Business School which requires the expansion of our study centres to help to reach out to potential students residing in cities and towns in the other provinces. We will soon be rebranding our premium qualification to suit our Chartered status," he added.

"CIPM Sri Lanka's HR Services, Consultancy, Training and Development Division, which provides a yeoman service to the private as well as public sector in the areas of training and consultancies, executive & management development link to the private and public sector, has been earmarked to be radically reinvented to increase its contribution towards the identified sectors. In this endeavour, we will boldly pursue not only the people management area but also all other disciplines in the management sphere," he further added.

Fernando explained CIPM Sri Lanka's initiative to connect and collaborate with the local academia such as universities and similar outfits. He stated "We are already in conversation with some of the places such as Sri Lanka Institute of Information Technology (SLIIT), University of Jaffna, Open University of Sri Lanka, Ruhuna University, etc. We will make possible for those who come out qualified in people management academically, to become Chartered professionals through exceptions by accrediting those university curriculums."

CIPM Sri Lanka is also preparing to host the World Federation of People Management Association's (WFPMA) prestigious World HR Congress 2020 event in Colombo in July 2020. Considered as the elite and most high-profile People Management event which is considered as the world's largest conclave of People professionals, World HR Congress 2020 is expected to attract a large number of participants from all over the world. In order to handle an event of this magnitude, CIPM has already contracted with Paragon group – an internationally recognised PCO to handle the event as well as the logistics for the conference. "We are looking for a world figure such as a President or a former first lady of the USA as the Chief Guest for this world event," said Fernando.

Talking of the significant achievements in the year preceding, Fernando thanked the outgoing Council for their unstinted support and commitment in achieving the goals and objectives. Key amongst these achievements are the digitalisation strategy which saw the rolling out of the "Green HR" initiative at CIPM Sri Lanka, implementation of the LMS (Learning Management System), E-Library and the implementation of an ERP (Enterprise Resource Planning) MS Navision based solution, MS Edu 365 as the Business school Management system, revamping of the website, and the launch of the CIPM Events App which was launched at the announcement media briefing of the NHRC 2019. This app is available in both Apple as well Android platforms. The CIPM Events App will be used for all future events of CIPM Sri Lanka making it a sound investment towards Industry 4.0.

The former library area at the CIPM Head Office was converted to a state-of-the-art Knowledge Centre with a dynamic and modern design, embodying the ultimate in space utilisation with a welcoming ambiance. "We have opened the membership of this Knowledge Centre for all people management enthusiasts with a nominal subscription, where they have access to more than 8000 current people management-related print books and further thousands of eBooks via world renowned e-libraries that we have contracted with," he said.

As per the new plans for 2019/20 described by Fernando, the standards of the learning facilities at the CIPM Business School too will be raised, while a well laid-out framework for the assessment and development of lecturer competencies has been implemented in order to upgrade the Business School to international standards. On the cards for the year 2019/20 is the accreditation of the CIPD (Chartered Institute of Personnel Development, UK) approved Study Centre, which will provide international recognition for CIPM students. CIPM is also to establish themselves as the ISO, HR Standards certification body for the region by obtaining required accreditation and thereafter to represent Sri Lanka as a full member of ISO Technical Committee for HRM standards (TC 260).

"We as a highly acclaimed National Institute, especially of the people profession, need to help make this country a better place for all citizens of this country to live. It is increasingly imminent that the country is getting radicalised in multiple strata which is very dangerous for the future of our children and theirs. Therefore, we have so many reasons for CIPM to get actively involved in healing the nation and putting it in the right path, as we are the professionals that deal with people in the world of work. We need to work towards this in our own professional ways in espousing the inclusivity, diversity and civility agenda," said Fernando as his final thoughts.