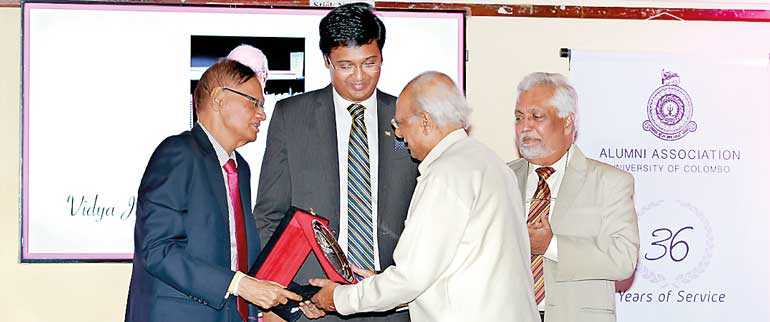 Vidya Jyothi Tissa Vitarana receiving his felicitation plaque

The 36th Annual General Meetingof the Alumni Association of the University of Colombo was held recently at the Senate Hall, College House, University of Colombo at which a charming felicitation ceremony was conducted to recognise and felicitate seven senior distinguished alumni of the University of Sri Lanka, which was the predecessor of the University of Colombo, for the outstanding services they have rendered to the nation.

They were former Director of the Medical Research Institute, founder Professor of Medical Microbiology at the University of Sri Jayewardenepura and former Cabinet Minister Vidya Jyothi Tissa Vitarana, educationist, promoter of women's rights, and Emeritus Professor of Education, University of Colombo Desabandu Kala Keerthi Prof. Swarna Jayaweera, Co-Founder of the Marga Institute Desamanya Dr. Godfrey Gunatilleke, Former Chairman and Managing Director of Aitken Spence and Company for almost twenty years, Founder Chairman of LOLC and several other organisations Desamanya Charitha Prasanna De Silva, Former Archaeological Commissioner and author of several publications including 'Sigiriya and its Significance' and 'Distortions in History'Vidya Jyothi Dr. Rajendra Hemapala De Silva, founding Dean of the Faculty of Engineering and Architecture, University of Moratuwa, the first Professor of Electronic Engineering in Sri Lanka's University system and the Chancellor of the University of Moratuwa VidyaJyothi Professor K.K.Y.W. Perera and Senior Public Servant and Secretary to seven Prime Ministers Desamanya Bradman Weerakoon.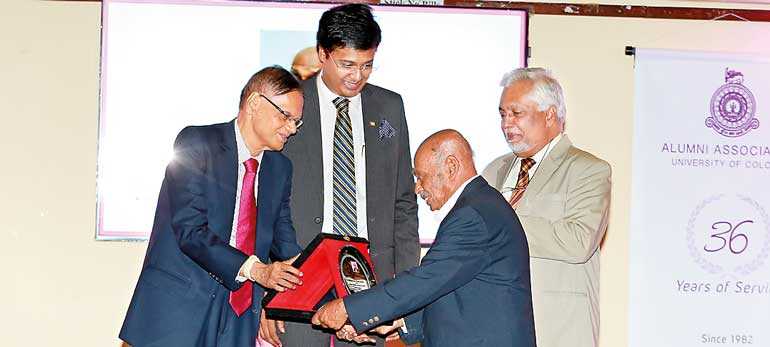 Vidya Jyothi Professor K.K.Y.W. Perera receiving his felicitation plaque


At the 36th AGM of the Association, Rajeev Amarasuriya was re-elected as the President and the office-bearers continued in office.

The Chief Guest was former Vice Chancellor Prof. G.L. Peiris. The AGM was attended by the Vice Chancellor Senior Prof. Lakshman Dissanayake, Past Presidents of the Association, academics and members.

In his address, Rajeev Amarasuriya apprised the membership of the activities undertaken by the Association and the achievements in the past year including positive changes seen in the mindset of most students. He also informed the Membership of Plans to commence an Annual felicitation to recognize Alumni who have significantly contributed in the various fields in society. He also briefed the Membership of the project to construct a professional swimming pool for the University of Colombo, which is the biggest project undertaken by the Association.

Speaking at the AGM, the Vice-Chancellor Senior Professor Lakshman Dissanayake updated the Membership on the developments of the University of Colombo including the commencement of several new faculties and departments. He spoke of the qualitative and quantitative developments the University of Colombo has seen in the last couple of years, and the continued ranking as the top university in Sri Lanka, and the progress in the world ranking as well.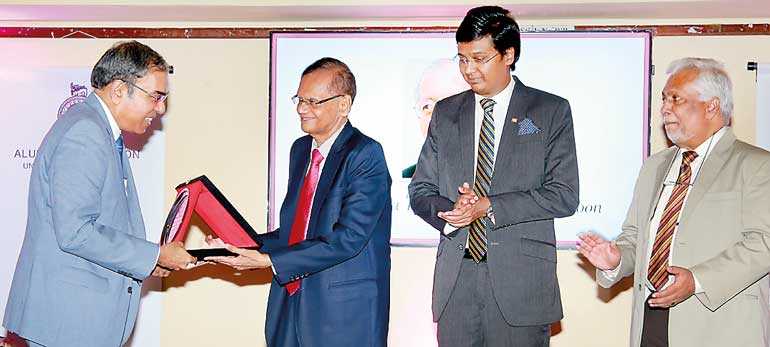 Esala Weerakoon collecting the felicitation plaque on behalf of his father Desamanaya Bradman Weerakoon


The Chief Guest Prof. G.L. Peiris who delivered the keynote address on the topic 'National Priorities and role of the University System Today' spoke on the changes that have taken place in university education in Sri Lanka, and the diversification that had taken place through which a wider range of students have been reached. He also talked about how the evolution of the language policy has enabled greater access. He stated that when the Law Faculty proposed to teach in Swabasha, there had been a lot of opposition from the staff, who felt that it would not be successful. However he said that this move has enabled thousands of lesser privileged students to access legal education, which had hitherto been the preserve only of the rich and well-connected. He said that now students are agitating to be taught the law course only in English - and that this is another sign of the times.

He noted that when the University began to open up and be accessible to a wider range of students, the University was not equipped to accommodate students who travelled from areas out of Colombo and stated that it was in this context that Sujata Jayawardena, who was the President of the Alumni Association of the University at the time, took the initiative to build a hostel.

He further noted that there is no dearth of talent in the university but that in order to produce successful graduates it must ensure that the education it offers stays relevant. He appreciated the many steps that the present Vice Chancellor has taken in this respect and noted the importance of proficiency in English for graduates.

The Alumni-University Corporate Partners including Nations Trust Bank PLC, LOLC Group, Deutsche Bank, 3Cs and Multiform Chemicals were also felicitated.

The Executive Committee of the Alumni Association for the year 2018/2019 comprises:President: Rajeev Amarasuriya;Vice Presidents Senior Prof.Lakshman Dissanayake, Vice Chancellor (Ex-Officio) and Suranjani Wickremeratne, Immediate Past President LakshmanKeerthisinghe, Secretary RuwandhiThanthrige, Assistant Secretary Dr.Naazima Kamardeen,Treasurer Jithendra Gunatilake Assistant Treasurer Milad Mubarak, Editor Mahesha Amarasuriya, Assistant Editor M.K. Gnanasekera,Past Presidents as Advisors Tissa Devendra, J. Charitha Ratwatte,Thilak Karunaratne,Ramanee Amarasuriya and P.W. Senaratne and the Executive Committee: J.M.S. Bandara, Milton Arandara, K.D.R Siriwardena, G. Wijemanne, Dr. Dayani Panagoda, Dinesha De Silva, Pradeep Uluwaduge, Asanka Ranhotty, S.R. Balachandran and Chathurika Akurugoda