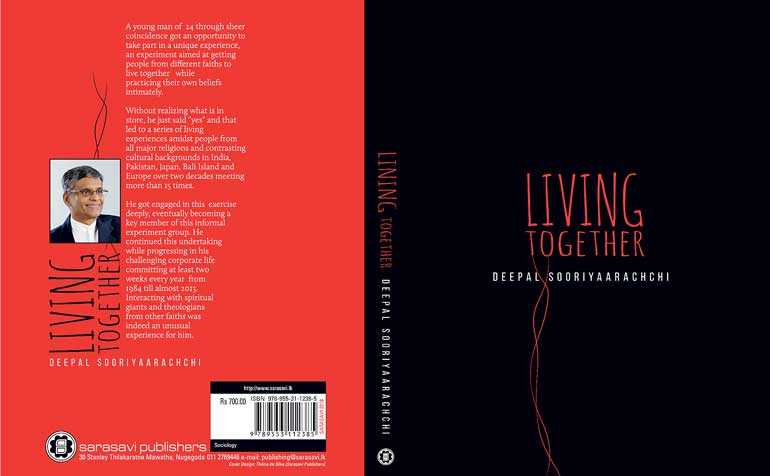 Multi-faceted corporate personality Deepal Sooriyaarachchi invites our attention to a very relevant subject by sharing his experiences spanning two decades. That is the question of 'Living Together', of course with people from different belief systems. He will do this by launching his latest book with the same title at the Post Graduate Institute of Management(PIM) on 12 September at 5:30p.m. with the participation of international speakers.

"I was just 24 years old when I got an opportunity through sheer coincidence to take part in a unique experience, an experiment aimed at getting people from different faiths to live together while practicing their own beliefs intimately.

Without realising what is in store, I just said "yes" and that led to a series of living experiences amidst people from all major religions and contrasting cultural backgrounds in India, Pakistan, Japan, Bali Island and Europe over a period spanning two decades meeting more than15times.

I got engaged in this exercise deeply, eventually becoming a key member of this informal experiment group. I continued this undertaking while progressing in my challenging corporate life committing at least two weeks every year from 1984 till almost 2013.Interacting with spiritual giants and theologians from other faiths was indeed an unusual experience for me.

But the insights I gained are tremendous and I always felt that I should share these with the wider world, especially since these could be useful in building understanding in our highly polarising society, with implications in work places as well."

This is indeed a unique opportunity that not many of the corporate world can get. When the religious differences create divisions it converts in to fears and conflicts even violence. These directly affect business. Secondly even work places tend to carry some of these prototyping others, thus preventing the opportunity to yield synergies from diversity of the work place. Religion offers a very strong identity persons and this is being used by various interested parties such as politicians who can then convert the followers of religions to form block votes. It is in this context understanding the deeper implications of living with persons from other faiths is important piece of knowledge all citizens live in diversified societies must possess. That is why Deepal's book is a timely intervention.

Deepal elicits deep insights that can affect dialogue, understanding and authentic communications with different persons.

The launch is hosted by the PIMAlumni considering the nexus the book has on the world of business as well.

The evening will feature two speakers Fromm the original Dialogue group one from Germany and the other from India. Prof. Ajantha Dharmasena will review the book.

Deepal in addition to being a business professional, a management consultant has been an author of repute. He pioneered disseminating management thinking in simple Sinhala by his book series 'Sinhalen Business'. 'Inward Bound for Mindful Living' was first published in UK and was reintroduced to the local readers last year and is very popular book. Responding to this popularity he has started a discussion series on ART TV hosted by Shaveen Bandaranayake on the same topic.

'Living Together' is a Sarasavi publication, with 400 pages and priced at Rs. 700.