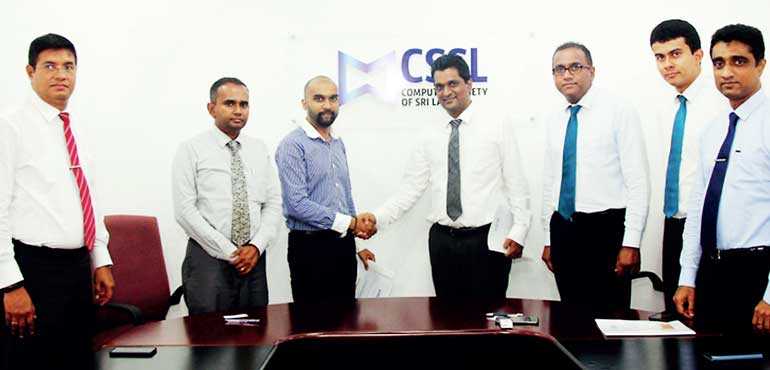 From left: CSSL Council Member Buddhika Senasekara, CSSL Asst. Secretary Dr. Malitha Wijesundara, Career Builders Director Shalinda Abeyawardana, CSSL President Yasas V. Abeywickrama, CSSL Vice President Prabath S. Wickramaratne, CSSL Council Member Heshan Karunaratne and CSSL Past President Dr. Dayan Rajapakse
Career Builders Ltd., a leading recruitment and outsource agency in Sri Lanka signed a Memorandum of Understanding (MoU) with the Computer Society of Sri Lanka (CSSL) recently regarding the upcoming National IT Conference (NITC) 2018. The MoU signing ceremony was held at the CSSL Secretariat Building and graced by top officials of both organisations including Career Builders Ltd. Director Shalinda Abeyawardana, CSSL President Yasas V. Abeywickrama and CSSL Vice President Prabath S. Wickramarathne.
"Regarded as one of the leading recruitment agencies in Sri Lanka for C-Level, IT and General recruitment we can assist companies of all shapes and sizes with finding highly skilled candidates for a variety of roles across a number of sectors. Our dedicated recruitment consultants have extensive experience in the fields they serve, giving them the unrivalled ability to understand the complexity of staffing requirements that are specific to different businesses. Discovering a customised local approach can help you build the winning team you deserve," Shalinda Abeyawardana said.
Abeyawardana further stated, "We are passionate about helping candidates find jobs that are both fulfilling and beneficial to their career goals and ambitions. As one of the leading recruitment consultants in Sri Lanka, we work intently to identify your specific needs and where you want your career to go. Finding jobs can be stressful, which is why we're here to guide candidates through the initial interview preparation, check CVs and salary negotiations. We support candidates at every stage of the journey in finding a great job."
Career Builders Ltd. is a recruitment and outsource agency in Sri Lanka, with a growing reputation for being "Your strategic Staffing Partner". Since establishment in 2012, Career Builders has successfully searched and delivered more than 5000 talented employees to over 100 businesses, emerging as a trusted executive search firm and recruitment agency. Career Builders is highly recommended and recognised by many organisations as the preferred choice human resource (HR) agency partner in Sri Lanka.
The NITC organised annually by the CSSL, is the flagship Information Communication Technology (ICT) conference held in Sri Lanka since 1982, involving ICT professionals, academia, technology experts, policy makers, entrepreneurs and private and public sector key decision makers both locally and internationally. It is the only national event which brings together the largest number of ICT professionals in Sri Lanka.
This year marks the 36th anniversary of NITC which will be run in partnership with the South East Asian Regional Computer Confederation (SEARCC) Conference as well as the General Assembly of International Federation for Information Processing (IFIP) and thus, it is anticipated to be one of the most important global ICT events in 2018, and also Sri Lanka's biggest-ever international ICT event.