Pearson VUE Senior Director – Client Development Divyalok Sharma exchanging the copies of the agreement for conduct of Computer-Based Testing with CMA, Sri Lanka President Professor Lakshman R. Watawala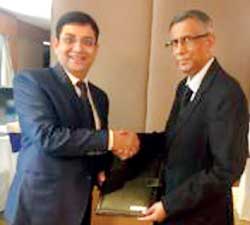 The Institute of Certified Management Accountants of Sri Lanka (CMA) entered into an agreement with Computer-Based Testing (CBT) global leader Pearson VUE to transform its exams into computerised form.

CMA, Sri Lanka – the national professional management accounting body incorporated by Act of Parliament No. 23 of 2009 in Sri Lanka – provides opportunities for students to undertake professional courses in management accounting at an affordable price.

CMA is a member of the International Federation of Accountants the global body for the accounting profession operating in 164 countries with 175 members and a total accounting fraternity of three million. CMA are also members of the South Asian Federation of Accountants (SAFA) and Confederation of Asian and Pacific Accountants (CAPA).

Through the new agreement with Pearson VUE, the Foundation Programme consisting of five exam papers will be transformed from pencil-and-paper exams to CBT. This means that candidates will be able to schedule their exams four times a year in March, June, October and December as well as on dates convenient to students. Students can sit the exam at a local, highly-secure Pearson VUE test centre in Sri Lanka, United Arab Emirates and Maldives. The results will also be released within a week.

The exams now being delivered via CBT are as follows: Management Accounting Fundamentals (MAF), Financial Accounting & Finance Fundamentals (FAF), Fundamentals of Management & Economics (FME), Quantitative Methods for Business (QMB) and Business English I (BE I).

Pearson VUE Senior Director – Client Development Divyalok Sharma said: "I am delighted that the CMA's candidates will now experience far greater convenience as they can now access our network of local test centres whenever they choose instead of travelling to a distant exam hall on one particular day."

CMA, Sri Lanka President Professor Lakshman R. Watawala said: "The transformation of our exams from pencil-and-paper to computer-based through our new partnership with the biggest name in global assessment delivery will both increase availability of the exams to our candidates and allow even greater levels of customer service and satisfaction." This is also in keeping with global practices and CMA is the first Sri Lankan professional accounting body to conduct CBT with a global leader Pearson VUE.