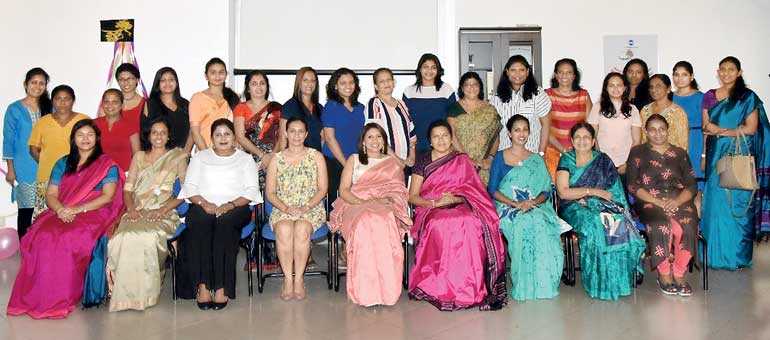 The Women's Committee of the Institute of Certified Management Accountants of Sri Lanka (CMA) celebrated the International Women's Day on 8 March at the CMA Auditorium.

CMA Sri Lanka formed a Women's Leadership Committee during the last year to educate, encourage and mentor the institute's female students, members and other interested women to become leaders in their field with intention of adding value to the Sri Lankan economy by enhancing more female participation. CMA are also members of the Women's Development Committee of the South Asian Federation of Accountants (SAFA).

CMA Women's Committee Alternative Chairperson Chamila Cooray welcomed the gathering and she emphasised on the important role of the women in corporate sector in business environment and she also said the objectives of the committee were to empower CMA women members and students in the professional and business environment by facilitating networking opportunities, professional development and community building, to collaborate with SAFA countries, to develop women activities unit to conduct seminars and workshops for women development and improve their leadership skills in the different fields and sectors mainly in professional education opportunities, SME sector development, self-employment and entrepreneurship, while also enhancing learning and developing strategies to advocate problem-solving alternatives at all levels in the context of gender.

CMA President Prof. Lakshman R. Watawala in his address stressed on the importance of the Women's Leadership Committee and said that while strengthening activities locally they should also work on a regional level with the SAFA Women's Committees. He also congratulated the committee for organising the event to celebrate International Women's Day and was hopeful that they would play an active role in the institute's activities.

Chief Guest and keynote speaker Diesel and Motor Engineering PLC Chief Human Resources Officer Dilrukshi Kurukulasuriya in her presentation said that there was good news according to TIME magazine that there would be 3Ws driving the world during the next decade – Water, Web and Women. "So women will be one of the three driving forces, whether in politics, business or society. The sad news is that it'll take another 200 years to achieve gender parity. Why? Because society is gendered and patriarchy is present in every corner of society consciously or unconsciously."

Further she said: "As we know a woman has to work lot harder than an average man in the same position to win her due place. A lot has been said about 'sticky floor,' 'glass ceiling,' 'gate keeping,' etc. Yes these situations are present in many places but how women can change this is what is important to us. If you want to shatter the glass ceiling you have to make yourself indispensable, and only our competency can do this for us. In order to do this we need to be our best version."

She concluded her presentation saying: "I would like to talk about three points that will help us to be our best version. We need to know who we are, the branded clothes we wear or the places we go do not define us. We need to know our roots, our strengths and our greatest fears. Once we know ourselves we need to understand our purpose in life, what we want to do and our mission. Finally if we know who we are and our mission, we need to hone our skills to achieve our purpose to make ourselves important because of our capability and contribution. We do not win all the time. We will fail and will get disappointed many times but we have to bounce back and pursue our purpose without giving up our dreams. Many women who have done this well have been able to shatter the glass ceiling."

Her presentation followed by a panel discussion moderated by Gowri Shankar and the panellists were Dilrukshi Kurukulasuriya, Chamila Cooray and Darshini Watawala.

The program was compered by Women Committee member Sinduja Kanagasundaram and Women Committee Secretary Dilhani Jayasinghe thanked the members for their participation. The celebration concluded with dinner.