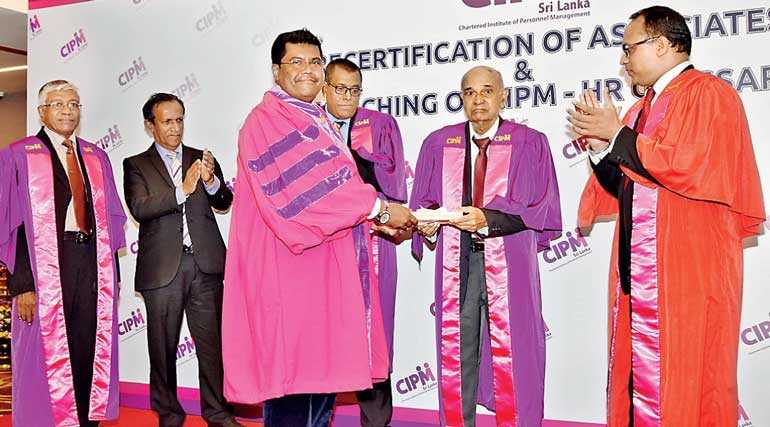 CIPM President presenting the first-ever HR Glossary to the HR Glossary Committee Members
CIPM Sri Lanka – the nation's leader in human resource management – set a blazing path in the HR space by launching Sri Lanka's first-ever English-Sinhala HR Glossary in at a ceremony held at Waters Edge in Colombo recently.

The ceremony was graced by CIPM Sri Lanka President Dhammika Fernando, CIPM Sri Lanka Secretary Ken Vijayakumar, CIPM Sri Lanka CEO P.G. Tennakoon, Business School Committee Chairman Jayantha Amarasinghe and its members, past presidents, council members, members of the HR fraternity, consultants and invitees.

The need for a comprehensive HR Glossary was felt within the CIPM Business School as well as the HR fraternity with the development of HR as a profession and the focus that it was receiving both from a business as well as from an HR education perspective.

"We have felt a burning need for an HR Glossary in order to ensure that everyone uses HR-related terms in a consistent manner so that exchange of information and data related to human resource management facilitates a common understanding devoid of any ambiguities. The HR Glossary is also important from the perspective of HR-related research which is being encouraged by CIPM," said CIPM Sri Lanka President Dhammika Fernando.

The objectives of the HR Glossary were to build a guide to comprehend technical terms relevant to Human Resource Management while being a tool for the HR fraternity to improve their knowledge on HRM. An eminent panel comprising four senior members of CIPM Sri Lanka namely M. C. Mathupala (FCIPM) – former Senior Lecturer & Council Member of CIPM and former Deputy Director of NIBM, Prof. Gamini De Alwis (Hon. Member CIPM) – Senior Lecturer, and Fellow Member CIPM, Senaka Muhamdiramge (FCIPM) – former Council Member of CIPM, and Director Professional and Academic Affairs G. Weeratunga (FCIPM) were appointed by the Business School Committee to research and publish the HR Glossary.

"Over 59 brainstorming sessions were held by the Committee in compiling the CIPM HR Glossary. We are pleased with the comprehensive outcome of our efforts, which will immensely benefit all of the stakeholders in the HR fraternity. Henceforth, the CIPM Glossary will be the single source of truth for all HR related definitions which will help avoid any confusion in the interpretation of HR terms and words," said Jayantha Amarasinghe, Chairman of the Business School Committee which was tasked with compiling the CIPM HR Glossary. The final editing of the comprehensive CIPM HR Glossary containing over 280 pages covering 7,500 HR related words including 15,000+ meanings and explanations was done by Prof. Anura Wickramasinghe, former Head of the Sinhala Department, University of Colombo.

CIPM was founded in 1959 and was subsequently incorporated by an Act of Parliament in 1976. CIPM is affiliated to the Asia Pacific Foundation of Human Resource Management and to the World Federation of People Management Associations. CIPM, being a professional institute, is also a constituent member of the Organization of Professional Associations [OPA] Sri Lanka. Currently, CIPM comprises of over 1,200 Professional Members who serve in both public and private organisations.