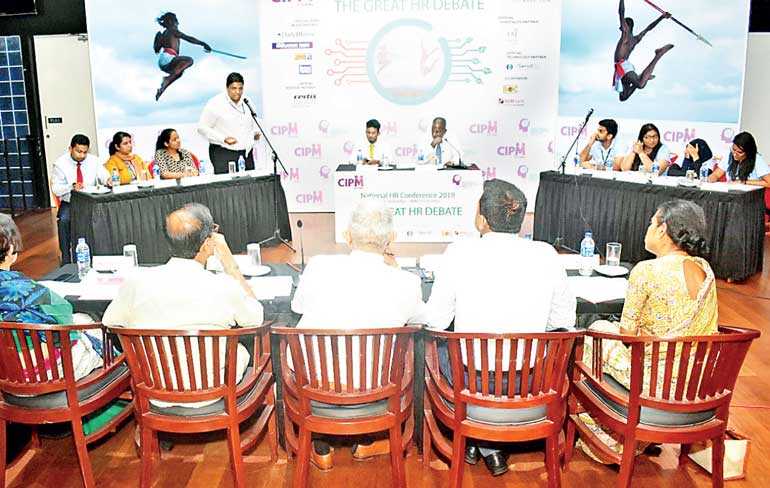 A heated debate during a preliminary round of the Great HR Debate 2019
---
CIPM Sri Lanka has organised its popular corporate debating championship 'The Great HR Debate 2019' to coincide with the National HR Conference 2019 (NHRC) to be held on 17 and 18 September at the BMICH in Colombo.

The finals of the Great HR Debate 2019 will be held on the inaugural day of the NHRC 2019 which is 17 September. The Great HR Debate is the only debating championship for the private and public sector companies that is dedicated to the subject of HR. The much-looked forward to debating championship is being held for the 10th consecutive year. "We are delighted to organise this yearly event coinciding with the NHRC 2019. The Great HR Debate which is a brainchild of CIPM Sri Lanka has been recognised and endorsed as a comprehensive programme for HR professionals to display their knowledge of HR and debating/public speaking skills by the Asia Pacific Federation of Human Resource Management (APFHRM). As a result, other member countries of APFHRM will soon be organising their own programmes based on the concept of the Great HR Debate," said CIPM Sri Lanka President Dhammika Fernando. "This year we have had 10 teams, namely Esquel Sri Lanka, NTB, Coca-Cola, CBL, BOC, Union Assurance, CDB, Hemas, Aitken Spence and Airtel, registering for the Great HR Debate, each team comprising of five members. The first round was held in July/August. The second round will be held in latter part of the month of August and semis in early September," said CIPM Sri Lanka Great HR Debate 2019 Organising Committee Chairman and Group Captain Manoaj Keppetipola.

All the participating members will receive a certificate of participation; the winners of the Great HR Debate 2019 will be awarded with the 'Great HR Debate 2019 Champions Trophy' while all members of the winning team will receive medals. The runners-up will receive medals for each member of the team.

The Great HR Debate Championship is judged by an eminent independent panel of judges selected from a pool of HR professionals and academics based on a pre-agreed scoring system. The Grand Finale is expected to be extremely competitive and entertaining as each team puts forward their points in support of the topic while the other will try their best to put forward their own arguments and negate the same.