'The Changing Role of the Financial Professional' took centre stage at the recently concluded general assembly of the Young Chartered Accountants Forum (YCAF) of CA Sri Lanka, with N-able Managing Director and Chief Executive Peter D'Almeida sharing some important insights on the need for young accounting professionals to remain relevant.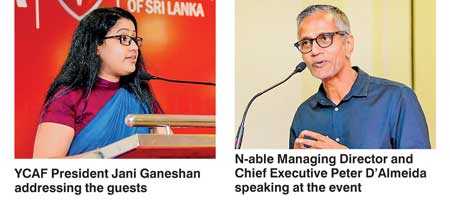 During his presentation, D'Almeida shared findings from global studies conducted from finance to technology and urged young CAs to research and be up-to-date on 'relevance and value', with a sense of curiosity and creativity, equipped with skills demanded by the future business world.

The YCAF general assembly brought together over 150 Chartered Accountants including Council Members of CA Sri Lanka.

The event kicked off with the lighting of the traditional oil lamp, followed by the national anthem. YCAF immediate past president Vindya Cooray welcomed the gathering and highlighted activities of YCAF during the tenure 2016-2018 including workshops, knowledge forums, fun events, and introduced the YCAF Governing Council for 2018-2020.

YCAF elect president Jani Ganeshan addressing the gathering shared her vision and plans for the future, which was followed by the appointment of auditors.

CA Sri Lanka President Jagath Perera shared valuable thoughts on YCAF and the accounting profession, all whilst stressing the importance for young CA members to stay relevant, while engaging in learn – unlearn – relearn process.

The event concluded with fellowship and dinner after YCAF Vice President J.M. Fazeer proposed the vote of thanks. The thought provoking session energised participants to walk away enabled with new ideas, and also set an ideal platform for future activities of YCAF.