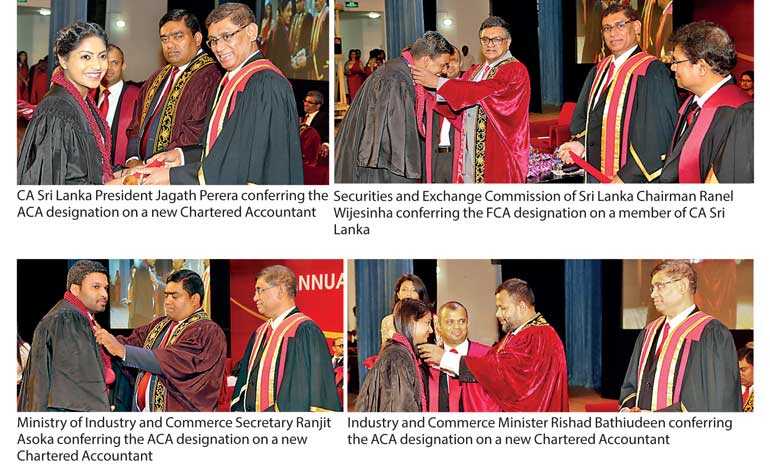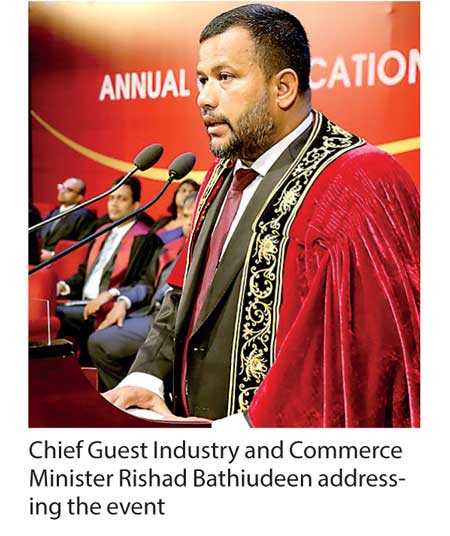 158 members conferred prestigious FCA designation
The Institute of Chartered Accountants of Sri Lanka (CA Sri Lanka) conferred the distinguished Associate Chartered Accountants (ACA) designation to 327 new Chartered Accountants, enabling them to take over the reins of the business world and steer it successfully with their unique and perceptive skills.

The 327 new Chartered Accountants received their membership at the annual convocation of the Institute on 1 October, which was held under the patronage of Industry and Commerce Minister Rishad Bathiudeen, who was the Chief Guest at the event, while Securities and Exchange Commission of Sri Lanka Chairman Ranel Wijesinha was the Guest of Honour.

During the convocation, 158 existing members of the institute were conferred with the prestigious Fellow Chartered Accountant (FCA) status, elevating them to the highest stratum in their professional careers.

Issuing a congratulatory message, Minister Bathiudeen said that Sri Lankan Chartered Accountants were reputed both at a local and international level, and as members of CA Sri Lanka, the integrity they demonstrate was renowned.

"I commend the institute for propagating the importance of this qualification in every part of Sri Lanka, thereby affording the opportunity to the youth in the country, both rural and urban, to realise their professional dreams, while commanding local and international recognition and respect."

Speaking at the convocation, CA Sri Lanka President Jagath Perera said that the institute took great pride in producing world-class Chartered Accountants who were known as a brand of unique and versatile professionals with the ability to successfully steer businesses both nationally and internationally.

"Whether you are a member just entering the accountancy profession or an experienced member, you are expected to deliver a service of distinction, which you need to ensure is up-to-date and in line with the latest standards and regulations. To continuously progress in your professional role, you also need to update your skills and knowledge to remain relevant because it is with knowledge, skills and experience that will you have the ability to convert challenges into opportunities and continue to be an integral part of not just the organisation, but also the profession, all while serving your country," he said.

Member Relations Committee Chairman Sanjaya Bandara said that Chartered Accountants bore a great responsibility towards their profession and nation. "Therefore I call on our new members to bear this in mind when performing their professional duties," he said.

Bandara said that he was certain the new members would play an important role in helping propagate the importance of the accounting profession. He also urged the new fellow members to continue playing an influential role, while safeguarding CA Sri Lanka's impeccable standing in the finance world.