The Institute of Chartered Accountants of Sri Lanka (CA Sri Lanka) conferred the distinguished Associate Chartered Accountants (ACA) designation to 291 new Chartered Accountants and the prestigious Fellow Chartered Accountant (FCA) status to 62 of its members at the 2017 convocation.

The convocation was held under the patronage of Minister of Industry and Commerce Rishad Bathiudeen, Minister of Skills Development and Vocational Training Chandima Weerakkody and Lanka Walltiles PLC Managing Director Mahendra Jayasekara.

Joining a fraternity of over 5,600 existing members, the new Chartered Accountants were officially granted associate membership during the convocation which also signifies the completion of their globally recognised professional qualification in chartered accounting offered by CA Sri Lanka.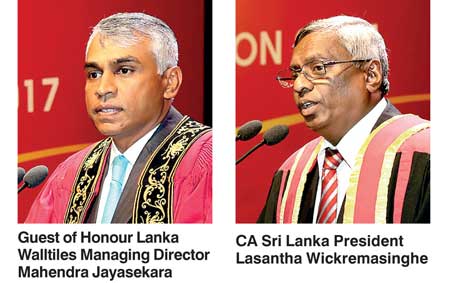 The convocation also witnessed 62 existing associate members being conferred the FCA, thus elevating them to the highest stratum in their professional careers as Chartered Accountants.

Addressing the new ACAs and FCAs, CA Sri Lanka President Lasantha Wickremasinghe said Chartered Accountants are known as contemporary professionals, who have to remain relevant at all times and be conscious of the local and global trends, standards and as well as challenges.

"So whether you are an ACA or FCA, your thirst for knowledge must continue, and you must continue to develop yourself professionally with the assistance of the continuous professional development programs the institute organises for the benefit of all members," he said.

Wickremasinghe said that being a professional is a privilege and it will bring both challenges and rewards. However, above all, being a professional is a responsibility and one must execute one's responsibilities diligently and ethically, at all times, no matter how challenging the situation is.

"The success of our profession ultimately depends on the respect that we as Chartered Accountants gain and continue to gain. We are in demand because we are good at what we do and because we discharge our duties ethically and respectfully. So, as guardians of the accounting profession, don't ever compromise on your values," Wickremasinghe urged.

Bathiudeen in his congratulatory message commended the institute for propagating the importance of this qualification to every part of Sri Lanka, thereby affording the opportunity to the youth in the country to realise their professional dreams.

Weerakkody said that as associate members, the new Chartered Accountants are now well geared to enter the corporate world and conquer it. "Forge ahead and contribute positively towards developing the economy of our country. Be an innovative thinker and enhance your contribution to achieve economic development and sustainability of the organisation you are associated with," he said.

Jayasekera said that the CA qualification open doors to new vistas and will give the necessary confidence to the new members to embrace their professional journey with the opportunities and challenges thrown at them.