We all have one dream; that is to be that energetic, healthy, successful and happy person who always makes the right decision and meets with success quite often! Now the Sri Lankan audience can realise this dream, with the 'breath@work' workshop due to be held in Sri Lanka, conducted by world class Master Trainer and renowned 'Happyness Coach' Murali Sundaram. The program is one of its kind; an award winning workshop that transformed more than 50,000 people across seven countries. In this workshop you will learn 22 techniques to beat stress and procrastination, in order to live a healthy, happy and prosperous life. It will be held on 9 June, at the Water's Edge, from 8 a.m. to 5 p.m.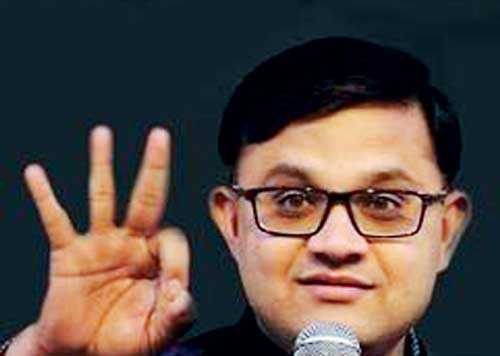 The happyness program will guide you to, gain high levels of energy, maintain a balance in your family life and work or business, gain the concentration skills you always wanted and live a more stress-free life.

Murali Sundaram, the Happyness Coach, Author, Entrepreneur, Keynote Speaker Healthcare & Wellness, NLP Trainer/therapist NFNLP USA, Neurofeedback and Biofeedback Trainer, Psychological Counsellor, is a Specialist in Neuroscience-Yogic Science-Management Science and Pharmaceutical Science. A Reiki Master and practitioner of Swara Yoga, Kriya Yoga and Gnana Yoga, will teach you how to train your mind and brain implementing ancient techniques for leading a successful and fulfilling life.

With his experiences in successfully training more than 150,000 business leaders, entrepreneurs and executives across the world and more than 2,000 directors being the Master Trainer for BNI Asia Pacific on Happiness, Peak Performance, Leadership and Personal Effectiveness he has come to guide you on how to power up your energy source and increase proficiency and efficiency of yourself.

Murali Sundaram, the best-selling author of more than seven books is the founder of 'Happyness Institute' and the managing trustee of 'Fortune Foundation'. He is also, the Co-Creator of Breath@Work – a revolutionary Mindful Happiness program that combines ancient Indian Science, Management Science and Neuro-Science.

Participants of the workshop will be able to experience this program for the first time in Sri Lanka, which features techniques of real-time measurement of breath-heart-brain using an advanced scientific tool, unique amalgamation of yogic science, neuro science and management science, techniques to anchor resourceful states to manage emotions at the workplace, and sustainable learning and continuous weekly support through 'TGR Happyness Circle'.

Readers, students, professionals, business owners and their family members are invited to experience this exciting and much needed program to enhance your productivity and learn secrets to leading a happy and successful life as well as maintaining the positive mindset right throughout.

Recommended by Jack Canfield, Author of 'Chicken Soup for the Soul' and America's #1 Success Coach, this is a program never to be missed, so make use of this once in a lifetime opportunity and book your seats today.

The breath@work workshop will be held on 9 June at the Water's Edge Battaramulla, from 8 a.m. to 5 p.m. Tickets can be collected from Hotel Galadari (The Management Club) or call Ajith on 0753360320 to reserve your tickets. The program also includes lunch and snacks.