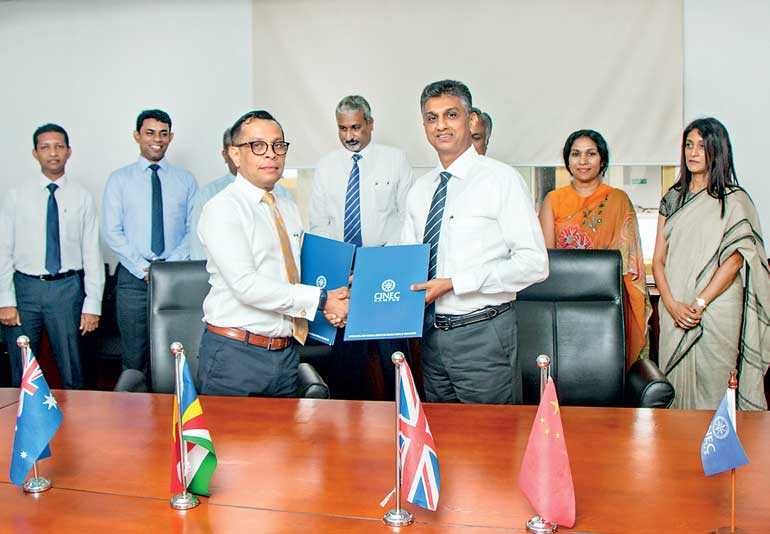 Brandix Group Chief People Officer Ishan Dantanarayana (left) and CINEC Campus

Vice President Prof. Nalaka Jayakody exchange the agreement for the establishment

of the BCCE in the presence of representatives of the two organisations.
Inspired Solutions provider Brandix, with an employee base of 60,000 globally, has embarked on a milestone collaboration with the Colombo International Nautical and Engineering College (CINEC) to launch the Brandix – CINEC Centre of Excellence (BCCE), a facility to train and inspire the Group's workforce.

Located within the Malabe CINEC Campus, the Brandix – CINEC Centre of Excellence will facilitate joint training programs and research for the Apparel sector, following the recent signing of an agreement between the Brandix Group and CINEC, one of the largest non-state sector higher education institutions in Sri Lanka. The BCCE will initially cater to the Associates and Supervisory grade employees of Brandix, offering programs covering technical topics and behavioural aspects as part of the curriculum at a later stage.

The signing of the agreement between Brandix Group Chief People Officer Ishan Dantanarayana, and CINEC Campus Vice President Prof. Nalaka Jayakody, in the presence of CINEC Chairman/ Managing Director Capt. Ajith Peiris, was followed by the induction of the first batch of trainees for the inaugural program designed for the Garment Technician position. The event was attended by participants and family members as well as Brandix management teams and CINEC officials.

"The focus of this initiative is to shape well-rounded individuals, following through on our commitment to create and foster inspired people," Dantanarayana said, commenting at the launch of BCCE. "We want to unleash the technical and leadership potential of our people through a carefully curated, comprehensive learning and development process in collaboration with CINEC to create the next layer of talent to take the industry on an inspired journey."

The learning received at BCCE will be further enhanced with the support and guidance of the Vocational Technical Authority of Sri Lanka (VTA) to align the program content with that of the nationally-accepted NVQ qualification equivalent to a Diploma, he additionally disclosed.

CINEC Campus Senior Consultant Admiral Thisara Samarasinghe addressing the trainees emphasised the importance of being competent in the chosen vocation through knowledge and skills acquired through practical hands-on-training and personality development. He added that the Brandix – CINEC partnership will endeavour to achieve this objective through a collective effort.

Notably, the Brandix Group has also signed two Memoranda of Understanding (MoU) with the VTA; one to create an NVQ Level 5 equivalent qualification for Garment Technicians – the first of that level in the Apparel industry, and the other to enable Brandix to identify and employ school leavers who have received a three-month training as Industrial Sewing Machine Operators at the VTA's island-wide network of vocational training centres.