Says it is the doorway to a world-class professional strategic HR qualification
The next step to advancing your career and developing the right skills to stay ahead is now available in Sri Lanka. The SHRM-CP (certified professional) and SHRM-SCP (senior certified professional) will help leverage the knowledge, skills and capacity needed for professionals managing teams of people or for those working in human resources strategy and operations.

Although the career journeys of successful HR professionals differ, some milestones are common to all. Relevant academic and professional qualifications play a pivotal role in progression – and necessary research to understand which qualifications enable better application of academia to converge with practical work is key. The qualifications offered by the Society for Human Resource Management (SHRM), the world's leader in HR professional development, are some of the most globally sought-after credentials by HR practitioners and their employers. HR professionals who implement policies and strategies serve as points of contact for staff and stakeholders, deliver HR services, and perform operational HR functions would be at an advantage by taking the SHRM-CP exam.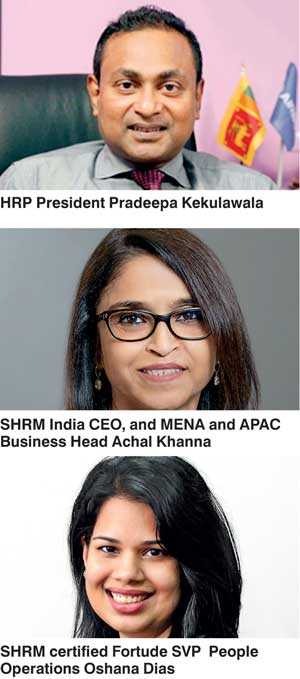 The Association of Human Resource Professionals (AHRP) is the only professional network of HR practitioners in Sri Lanka, offering the certification, and supporting and guiding candidates. These range from self-study programs with convenient customisation tools that provide ultimate flexibility for learning, to seminars conducted by qualified, SHRM-certified HR instructors to peer discussions from members who have already been through the program.

A certification that matters

SHRM-certified Fortude SVP – People Operations Oshana Dias said: "Taking on the challenge to become a SHRM-certified HR professional was definitely a step in the right direction of being empowered with knowledge and greater perspective. The role of HR continues to be more challenging with new thinking and younger talent – and being geared with a global outlook has proved valuable as I have a global workforce I engage with."

"I believe every HR professional should take the certification to better understand the value they can create in the boardroom, to their organisation and for the greater good of HR professionals in the country. I even encouraged some of my team members to become certified professionals. Together, we can apply the learnings and work to have an overall impact on resources we work with," she added.

HR professionals are expected to not only demonstrate avant-garde functional expertise, but also contribute to their organisation's overall business goals in understanding new age talent and global best practices. The SHRM qualification enables professionals to expand their focus beyond narrow HR concerns and attain a clear understanding of the organisation business and its context.

Perspective: Qualified SHRM professionals

"SHRM is an internationally recognised qualification, renowned by professionals worldwide, and we felt taking the qualification would add significant value to our profiles. Oshana's knowledge sharing excerpts post her certification was also instrumental in helping us decide to move forward," said Fortude Manager – Human Resources Yasodha Ratnayake, who completed the qualification together with her husband, who is also an HR professional, working at Nestlé.

She added: "It has been my long-term ambition to gain global exposure in HR, and I felt SHRM would help fast track my career. As Fortude and Nestlé are global organisations, it helped us to gear ourselves for expansive thinking beyond a local sphere. We are yet to fully reap the benefits, but the knowledge gained together with practical elements has broadened our perspective immensely. We also experienced the synergy of pursuing career goals together."

The eligibility requirements allow you to take on non-HR and HR related programs, with qualifications starting from less than a bachelor's degree to a graduate degree, varying in years and roles expected to be in an HR capacity. The exam covers knowledge items and situational judgment scenarios that provide comprehensive coverage of practical HR concepts.

Another recently SHRM-certified professional, Iron One Technologies Senior Project Manager Madhumal Gunetileke shared his thoughts on pursuing the course even though he is from a non-HR background, saying: "As a project manager, my work routinely involves HR-related tasks, such as recruitment, evaluation and feedback, developing communication and resource planning. Delving into the course content, I soon realised it would be relevant and impactful for the work at hand. So, I decided to take the plunge. A key convincer was that the SHRM examination was a well-renowned, internationally accepted qualification, much like the PMP exam I had pursued earlier."

He continued: "In just a few months, it has certainly helped me raise the bar in conducting more thorough performance review sessions for my team, career development and planning, and aiding employee engagement – all critical areas that are important for a project manager."

Regarding the program, SHRM India CEO, and MENA and APAC Business Head Achal Khanna elaborated: "The SHRM certifications, SHRM-CP and SHRM-SCP, directly link to on-the-job scenarios and realistic work situations, making them the most relevant and differentiated learning pathways to an HR professional's career development. Constant change in the nature and responsibilities of today's HR Professionals makes it imperative for continuous learning. In partnership with Association of HR Professionals (HRP), Sri Lanka, we bring to you these SHRM Certifications to help you become a recognised expert and leader in the HR field as well as help you become a valuable asset to your organisation."

HRP President Pradeepa Kekulawala said he was very convinced that the SHRM certification imparts high-level practicing knowledge and instils the required technical competence and confidence in HR professionals to meet today's people challenges.

"HRP, being the catalyst in the country bringing HR to the forefront, offers and partners only the best and most appropriate," he stressed.

The constantly evolving nature of HR professionals means it is important to continuously stay ahead of new trends and skills required. HR professionals in Sri Lanka now can undertake the SHRM certification exam in Sri Lanka through AHRP at a special introductory price. Interested HR professionals can contact the AHRP network by calling 077 7557 444 or emailing training@hrp.lk to sign up.

The Association of Human Resource Professionals (HRP) is the only professional network of practicing HR professionals in Sri Lanka. HRP, with its 15-year history, has made significant contributions to uplifting the standards of the HR profession in the country with a host of initiatives and interventions over the years. Amongst the activities for the year, HRP plans to be a catalyst in the nation's human talent building, share the latest best practices amongst the member fraternity, and offer a world recognised professional certification for HR practitioners in the country.

Founded in 1948, the Society for Human Resource Management (SHRM) is the world's largest HR membership organisation devoted to human resource management. Representing more than 275,000 members in over 160 countries, the Society is the leading provider of resources to serve the needs of HR professionals and advance the professional practice of human resource management. To learn more about SHRM, visit shrm.org.