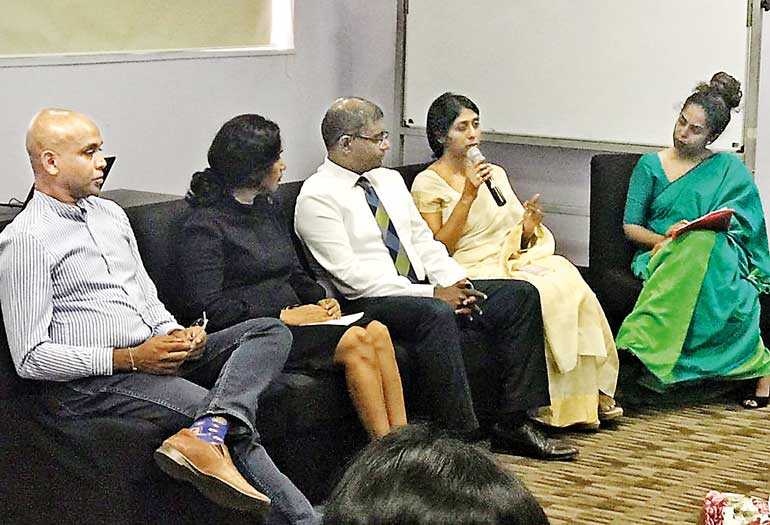 By Anisha Wijewardane

The Association of Human Resource Professionals (AHRP) is a network of practicing HR professionals in Sri Lanka. Founded over 15 years ago, AHRP has contributed meaningfully to the betterment of HR practice in Sri Lanka through strategic interventions and innovative initiatives.

AHRP regularly organises knowledge sharing forums to highlight thought leadership on key topics in the HR arena and to promote discussion and learning amongst its members. The second session for 2018 on 'Learning and Development' was held on 31 May at Fortude's offices and was fully subscribed with over 50 attendees from a range of organisations. Fortude Senior Vice President – People Operations Oshana Dias opened the session with an introduction to AHRP and a summary of its current initiatives.

Charitha Bandara, a Corporate Life Skills Trainer with over 14 years' experience, gave the keynote address. The crux of his message was that corporate training sessions should not be viewed as a "magic bullet" that will miraculously transform sales results or business outcomes. Too often, organisations identify a specific problem and expect a staff training session to be a one-stop solution or quick fix. They fail to recognise that what occurs after the training session is crucial to attaining the desired business outcomes.

Charitha highlighted this gap and explored theories of how people learn in a corporate environment, emphasising that formal learning, can account for as little as 10% of the way knowledge is absorbed. The bulk of learning occurs on the job, as well as through supervisor feedback, mentoring and peer coaching. It is an ongoing process that continues outside the seminar room. Charitha stressed the importance of recognising this when conducting learning needs analyses (LNAs) and designing training programs. He highlighted the importance of the organisation's managers taking responsibility for ensuring that staff are supported with the resources to build on what they learn, on the job and to apply that knowledge and those skills in a meaningful way. This is what will produce tangible changes from the business's perspective.

Another important factor to consider when designing learning and development programs is that not everyone learns in the same way. In order to have maximum impact, an organisation's training strategies need to cater to different types of learners and provide for the dissemination of knowledge in a combination of ways.

The keynote speech was followed by a discussion amongst a panel comprised of leading professionals in the HR arena, including Ashanthi Fernando (Head of Group Human Resources, Dialog Axiata), Chandana Wijeyanama (General Manager – Human Resources, SAGT), Nilangani de Silva (General Manager – Group Capability, Brandix Group) and Rukmal de Silva (Chief Visionary Officer, 361 Degree Holdings). The panel's discussion was moderated by Harini Indiketiya (Talent and Organisational Specialist, Fonterra).

The panel members shared information on how learning and development is handled in their respective organisations. The systems ranged from a formal academy-style format with great emphasis on digitisation and improvement of technical skills at Dialog Axiata, to collaborative learning and development programs developed in conjunction with other major corporates at SAGT, and flexible development programs formulated following formal performance evaluations to ensure targeted skill-building at the Brandix Group.

Amongst the challenges faced by organisations when developing their learning and development strategies, the panellists identified the large size of organisations which means that a one-size-fits-all approach simply does not work, and so blended, cross-functional learning solutions are required. Another challenge is creating a mindset shift in organisations that are already doing well to encourage even better performance – how do you refresh thinking to drive your people to go beyond doing well to doing even better?

When asked to consider what will happen in the learning and development space in the near future, Rukmal predicted that as the pace of business accelerates, the time available for training sessions will dwindle. Therefore, new and more efficient methods of disseminating knowledge will take prominence.

Despite the emphasis on new methods of learning, the panel members stressed that encouraging learning amongst staff doesn't have to be complicated, difficult or expensive. Ashanthi noted that there is a wealth of information and learning resources freely available online. In addition, she noted that informal learning is occurring all the time – the challenge is to be cognisant of this and to harness that learning to deliver results. She emphasised that HR professionals should avoid getting too bogged down with "buzz-words" and the search for the perfect formula or routine. Nilangani observed that not all learning platforms are digital and stressed the importance of encouraging knowledge sharing across different teams in an organisation. Chandana made this great observation: "The greatest learning tool is not in cyberspace – it is within you. [It is] the appetite to learn." Creating a shift of mindset to foster curiosity and to encourage continuous learning can have amazing results.

The forum concluded with some pertinent questions from the audience which were discussed by the panel. This session provided valuable insights from leading HR professionals on the challenges faced by organisations when formulating learning and development programs, including the importance of having the engagement of managers in order to ensure these programs deliver real results, by providing the resources to foster continuous learning beyond the classroom and on the job, and how learning in organisations is evolving in the context of faster paced business. The discussion highlighted that there must be a shift of focus when conducting LNAs and designing training programs which must cater to different types of learners and there must be scope for learning to continue after the formal sessions are completed.

This knowledge sharing forum was sponsored by Brandix, Camso, Dimo Sri Lanka, SGAT, SLT and its print media partner is the Daily FT. If you are interested in learning more about AHRP and its initiatives or joining, please get in touch by dropping an e-mail to info@hrp.lk.